See the Net Worth of Trump's New Millionaire Chief of Staff, Mick Mulvaney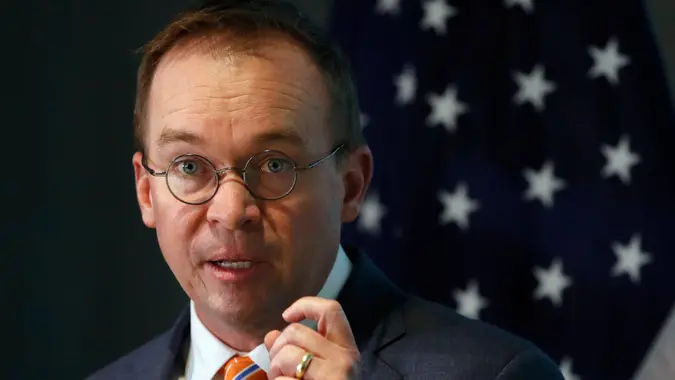 Jacquelyn Martin/AP/REX / Shutterstock.com
Mick Mulvaney got a promotion from his boss and golf buddy, President Donald Trump. Mulvaney, 51, the current White House director of the Office of Management and Budget and the acting director of the Consumer Financial Protection Bureau, was named as Trump's acting chief of staff on Dec. 14 after John Kelly resigned.
Here's what you need to know about the career and net worth of the White House chief of staff replacement.
Birthdate: July 21, 1967Net Worth: $2.7 millionPrimary Source of Income: Family real estate businessCareer Highlights: Director of the Office of Management and Budget; acting director of the Consumer Financial Protection Bureau
Mick Mulvaney Net Worth: At least $2.7 Million
Trump's chief of staff was the 132nd-richest member in the House with an estimated net worth of $2,660,533 in 2015, according to OpenSecrets. At least $966,000 of that number is reportedly invested in real estate.
Make Your Money Work Better for You
At the start of the Trump administration in 2017, Mulvaney's net worth, according to his financial disclosures, was between $3,239,057 and $7,335,000, the New York Times reported.
Mick Mulvaney vs. Medicare and Social Security
A self-proclaimed "right-wing nut job," Mulvaney's conservative ideals have manifested into an all-out attack on Social Security and Medicare — two government programs Trump vowed would remain as-is during his presidential campaign. While working in the OMB, Mulvaney proposed a plan to cut about $70 billion worth of Social Security funding. The acting chief of staff is also an advocate of building Trump's proposed border wall, slashing the Environmental Protection Agency, and cutting Medicare benefits. He has also called Social Security a Ponzi scheme.
See: The 5 Highest- and Lowest-Paying Jobs in Government
Mick Mulvaney Background and Career
Born John Michael Mulvaney, Mick has been the adopted nickname for this son of a teacher turned construction company owner. Mulvaney, born in Alexandria, Va. but raised in Charlotte, N.C., graduated from Georgetown University and got his first taste of elected official life as student body president.
After Mulvaney graduated from law school at the University of North Carolina at Chapel Hill, he practiced law and eventually opened his own firm. He also ran his family's real estate business, started a small homebuilding company and became a minority shareholder in a local family restaurant franchise.
Make Your Money Work Better for You
In 2006 Mulvaney transitioned into public service. He's held elected positions in the South Carolina state legislature and U.S. House of Representatives.
Mulvaney and his wife Pam are parents to triplets James, Caroline and Finnegan.
Click through to see the richest politician in every state.
More on Net Worths
We make money easy. Get weekly email updates, including expert advice to help you Live Richer™.