How Much Is Justice Stephen Breyer Worth Upon His Retirement From the Supreme Court?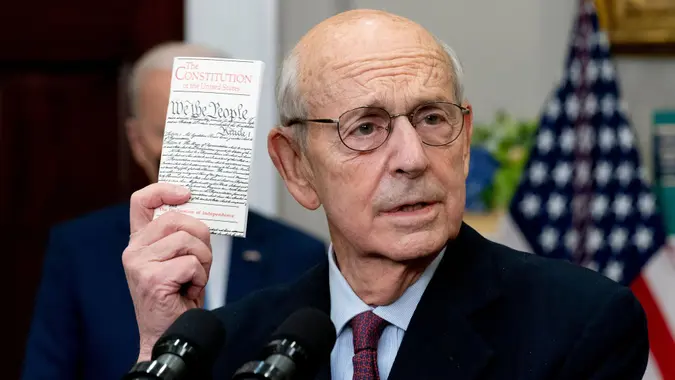 Andrew Harnik/AP/Shutterstock / Andrew Harnik/AP/Shutterstock
In January, Justice Stephen Breyer announced he would be stepping down from his position on the U.S. Supreme Court when the current term ended June 30. That was Breyer's last day on the bench, as Ketanji Brown Jackson — who was confirmed to the Supreme Court in a bipartisan 53-47 Senate vote in April — was officially sworn in.
See: Social Security Changes That May Be Coming for 2023
Find: How Rich Is Former President Donald Trump as He Turns 76?
At 83, Breyer was the oldest serving Supreme Court justice upon his retirement. He served on the Supreme Court since 1994, replacing Harry Blackmun, and was appointed by then-President Bill Clinton.
With his stepping down yesterday, it's a good time to explore the career and net worth of the retiring Justice Breyer.
Birthdate: August 15, 1938.
Estimated net worth: $30 million (as of 2021, per Market Realist).
Primary sources of income: U.S. Supreme Court justice for 28 years; shareholder in Pearson PLC; career in law and government.
Estimated Net Worth: $30 Million
In addition to his 28-year career as a U.S. Supreme Court justice, Breyer worked for 30 years in high-standing legal positions and has enjoyed several supplemental income streams as an author and professor. As such, Market Realist places Breyer's estimated net worth at $30 million as of 2021.
Make Your Money Work Better for You
When Breyer was first appointed to the Supreme Court in 1994, his salary as an associate justice was $164,100. Now, associate justices receive a yearly salary of $274,200 (the chief justice makes $286,700 per year), up $5,900 from 2021.
Back in 2016, NBC News re-published an article by The Center for Public Integrity about the wealth of each of the eight U.S. Supreme Court justices. Its rankings had Breyer on top, with an estimated $6.1 net worth. Authors Dave Levinthal, Lateshia Beachum and Carrie Levine speculated he could have been worth as much as $16 million in 2017.
Chief among his holdings is stock in publishing company Pearson PLC, which was founded by his mother-in-law's family, per The Focus. And, although justices do not have to divulge the value of their homes, Breyer owns properties in New Hampshire and on the Caribbean island of Nevis.
For last year's "The Court and the World," Breyer received about $117,000 from royalties, according to The Center for Public Integrity, and he is the author of a number of other books on his judicial philosophy.
Make Your Money Work Better for You
As the Center for Public Integrity notes, asset disclosure forms by justices, which are filed annually, are reported in broad ranges, making it difficult to pin down how much a justice is worth.
Early Life
Breyer was born in San Francisco, California, on Aug. 15, 1938, to Anne and Irving Breyer. According to Oyez, his father was a lawyer who worked for the San Francisco Board of Education while his mother worked in the public service.
After studying philosophy at Stanford University and as a Marshall Scholar at Magdalen College at Oxford University, Breyer studied at Harvard University, receiving his law degree magna cum laude.
Career
After graduating from Harvard, Breyer began his career in law as a law clerk to Justice Arthur Goldberg of the Supreme Court of the United States during the 1964 term — then as a special assistant to the Assistant U.S. Attorney General for Antitrust from 1965 to 1967.
In the 1970s, Breyer served as an assistant special prosecutor of the Watergate Special Prosecution Force in 1973, as special counsel of the U.S. Senate Judiciary Committee from 1974-1975, and as chief counsel of the committee from 1979-1980.
Make Your Money Work Better for You
Breyer has had an extensive career in education as well, holding professor, assistant professor and lecturer positions throughout the years at Harvard Law School and the Harvard University Kennedy School of Government. He has been a visiting professor at the College of Law in Sydney, Australia, and at the University of Rome.
Discover: How Rich Are Tucker Carlson, Rachel Maddow, Anderson Cooper and the Biggest Cable News Hosts?
POLL: Do You Think a Gas Tax Holiday Would Make a Difference on Your Wallet?
From 1980-1990, Breyer served as a judge of the United States Court of Appeals for the First Circuit, and as its chief judge from 1990-1994. He also served as a member of the Judicial Conference of the United States from 1990-1994, and of the United States Sentencing Commission from 1985-1989.
Personal Life
Breyer married The Hon. Joanna Freda Hare, a British aristocrat and psychologist, in 1967. They have three adult children.
More From GOBankingRates
Dawn Allcot contributed to an earlier version of this article.
Make Your Money Work Better for You