Doordash Driver Review: How Much Do DoorDash Drivers Make?
GOBankingRates Score
Our Take: Driving for DoorDash is a great way to earn extra income for many people. You can deliver food and other items from restaurants, grocery or convenience stores, gas stations and more. The company also offers bonuses as a way to maximize the money you can make. Work when you want, take the jobs you want and get paid quickly.
Flexibility
Earning Potential
Driver App Experience
Consistent Work Availibility
How did we calculate this?
In this DoorDash driver review, we'll cover the pros and cons, explain how to get started, and discuss how much money you can earn as a "Dasher" with DoorDash. Keep reading to learn how to make extra money delivering food and other items.
Pros
Work when and where you want. You're the boss. You can choose the days you'll work and the number of hours. You can even decide which cities to dash in. You're completely in control.
Pick only the jobs you want. Right in the middle of something? You can ignore the delivery alert and pick up the next one. You can also dismiss small orders or deliveries that aren't in an area you want to go.
Get paid quickly. Doordash pays dashers every week, so you don't have to wait until the end of the month to get paid. Once you reach a certain milestone, you also have the option to cash out your earnings every day for a small fee
Earn more with promos and bonuses. Doordash offers multiple ways to earn even more as a Dasher. New Dashers can take advantage of guaranteed earnings. During peak times, you can make more per delivery. Top Dashers can qualify for even more rewards. In addition, there are bonuses for referring friends to become Dashers.
Cons
Work depends on demand. Depending on your location and time of day, there might not be any deliveries available. The best way to overcome this is to work in busy areas and times of the day. Lunch and dinner are generally the best times and weekends are usually the most active days.
Your effective hourly rate can suffer. As a Dasher, you get paid per delivery, so you're not earning an hourly rate. Slow traffic, busy restaurants and long distant deliveries can slow down your deliveries and eat into your effective hourly rate.
You have a freelancer tax status. Since you're not a full-time employee with Doordash, you're responsible for making sure you pay all relevant taxes on your earnings. You'll want to save a percentage of all your earnings to pay your taxes. Talk to a qualified tax advisor to make sure you have a plan in place.
Make Your Money Work For You
What Is DoorDash?
DoorDash is a technology-driven delivery service company. The company operates in over 4,000 cities across North America and Australia. The company connects more than 390,000 merchants, 18 million consumers, and one million drivers. DoorDash filed for an IPO in November 2020, seeking a valuation of up to $32 billion.
The service lets people order food from nearby restaurants, grocery stores and convenience stores. Delivery drivers, called Dashers, accept the orders, pick up the food and deliver it to the customer. Payments are handled through the app, so no cash or credit cards are needed at delivery.
How To Become a DoorDash Driver
Becoming a Dasher is easy. All you need is a mode of transportation and a smartphone to manage your deliveries. There are some additional qualifications and requirements, including:
Must be at least 18 years old
Must have a driver's license number
Must have a social security number — if dashing in the U.S.
Must pass a background check
With those qualifications, getting started is simple. Go to the Dasher signup page on the DoorDash website or download the app and type in your email to begin. The website will ask for your phone number and zip code. Lastly, you will submit a background check form that also asks for additional information like your vehicle details and confirmation of active car insurance.
Make Your Money Work For You
Once your background check passes, you'll be able to fill out your W-9 form and bank account details for payments. At that point, you're officially a Dasher and can immediately start making deliveries.
DoorDash will also send you a free activation kit that contains a hot food bag, a Red Card–required for some deliveries, and a Getting Started manual. DoorDash says it will take one to four business days to deliver the kit to you. You can get started as soon as you finish the signup process, however. You don't have to wait for the kit to begin dashing.
How It Works
As a Dasher, you have access to the Dasher app. The app is your go-to place for all things dashing. In the app, you can dash now, schedule a dash, review your earnings and your customer ratings. You can also manage your account details, Red Card, and app settings.
To start dashing, tap the "Dash Now" button on the main Dash page to see if there's an opening now in your location. Otherwise, you can schedule a dash for another time.
Make Your Money Work For You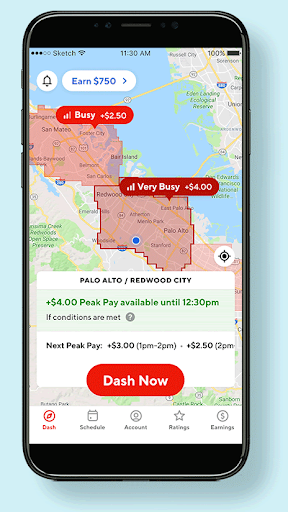 Source: DoorDash
When you begin a dash, you'll need to confirm that you have charged your phone, have enough gas, have your Red Card and your hot bag.
When a delivery is ready, DoorDash will let you know via text message and app notification. You'll see the restaurant, order size, delivery distance and how much you'll earn. To deliver the order, tap the "Accept" button in the app.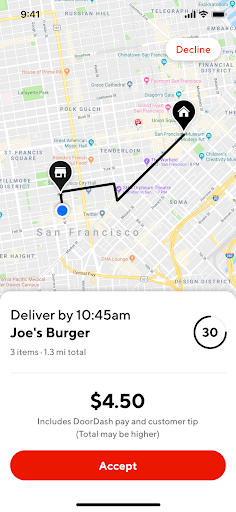 Source: DoorDash
The app will give you step-by-step instructions on how and where to pick up the order, as well as how and where to deliver it.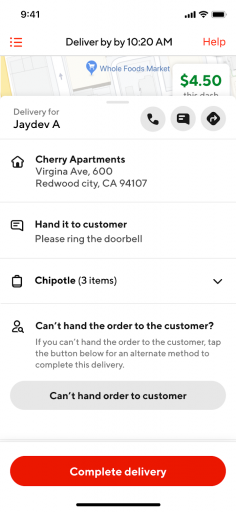 Source: DoorDash
How Much Do DoorDash Drivers (Dashers) Make?
You might be wondering how much DoorDash drivers make. How much you can make as a Dasher depends on several factors, including order size, delivery distance, and how fast you can complete your deliveries.
The Dasher Pay model is comprised of three elements that make up your total earnings:
The base pay is what DoorDash pays you directly for each order. This amount ranges from $2 to $10 or more depending on the order's time, distance and desirability.
Make Your Money Work For You
Promotions are additional pay for specific orders or circumstances. There are at least three types of promotions, including peak pay, challenges (coming soon) and larger grocery orders.
Tips are paid at the customer's discretion. You're allowed to keep 100% of the tips above and beyond the base pay and any active promotions.
Tips to Maximize Your Earnings
Experienced dashers will tell you that there are ways to maximize your earnings with DoorDash. Here are a few tips.
Ways To Increase Earning Potential

Be patient and only take large orders. It may be tempting to quickly accept the first order that comes your way, especially when you're starting out. However, you might be well served to pass on a small order in favor of accepting a large order. Large orders have a higher base pay, and customers typically tip as a percentage, so larger orders will also come with higher commissions.
Focus on peak times. You may waste a lot of time waiting for orders if you dash during slow times. However, if you deliver during peak times, you'll constantly be busy dashing and you might even get a peak pay bonus. In addition, you might get a batch order, which is when you can accept two orders near each other. Dashing at dinner time or on the weekends will be much busier than mid-afternoons during the week.
Avoid locations with lots of traffic. Remember, you get paid per order. The faster you can deliver orders, the more money you'll make. You don't want to waste time sitting in traffic when you could be in a less crowded area making more deliveries. You may also find it challenging to meet your customer or find a place to park in a high-traffic area as well.
Make Your Money Work For You
Comparison To Other Driving Gigs
There are other delivery services out there besides DoorDash, such as Postmates and UberEats. For the most part, the driver experience will be similar. Postmates will occasionally have you deliver for businesses besides restaurants, such as Walgreens or Apple stores. UberEats serves 500 cities, whereas DoorDash serves more than 4,000. Read our comparison guide for DoorDash versus UberEats.
Depending on your location, you might find one of the other services busy. Why not try all three and see what works best for you?
Final Take
If you're looking for a side gig where you can make decent money and be your own boss, DoorDash is a great option. You're in complete control of your schedule, including when and where you want to work. By focusing on the tips above to maximize your earnings, dashing for DoorDash can pay well.
Editor's Favorite

Delivering food for a service like DoorDash can be an excellent way to earn extra income as a side hustle. You can create your schedule, take only the jobs you want, and get paid quickly. Instead of delivering from just one restaurant, like a pizza place, for example, you can deliver food from hundreds of popular restaurants.
Make Your Money Work For You
DoorDash Driver FAQ
Here are the answers to some of the most frequently asked questions about becoming a DoorDash driver.
What do I need to get started?

You'll need a mode of transportation, active insurance and a smartphone. You'll also need to pass a background check.

How much will I get paid?

Your pay will be anywhere from $2 to more than $10 per order, plus any promos and customer tips.

How often will I get paid?

DoorDash processes payments every Monday, so you'll have your earnings deposited to your account by Wednesday.
Delivery Side Gigs

Reviews

Comparison