9 Best Jobs Like DoorDash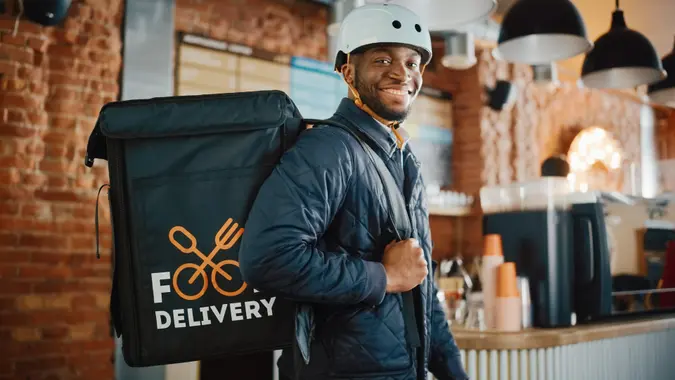 gorodenkoff / Getty Images/iStockphoto
If you have a reliable motor vehicle, you can make money with delivery jobs like DoorDash.
DoorDash is one of the top-rated delivery apps that allows drivers to make money delivering food from local restaurants to hungry customers. But there are several others, as well. You can even work for more than one delivery app in order to increase your income.
What Is DoorDash?
DoorDash makes the top of the list as one of the best delivery job services available. It was also one of the first delivery services of its kind, although you might be surprised to learn GrubHub pre-dates DoorDash by more than a decade — although Grubhub didn't offer food delivery at the time!
DoorDash launched in Palo Alto, California, in 2013 as a way to allow even the smallest of restaurants and merchants to provide delivery to their customers.
Dashers earn money through base pay, which is calculated depending on the time, distance and desirability of the order, according to the DoorDash website. They also earn 100% of any tips customers give, plus promotional bonuses for completing challenges or making deliveries at what DoorDash considers peak times.
You can track your earnings easily in the app, and get paid weekly via direct deposit to your bank account. If you need money faster, you can opt for Fast Pay. You'll pay a small fee but can have your earnings deposited immediately. If you use the DasherDirect debit card, you can get instant deposits with no fee, as well as 10% cash back on every gas purchase made with your card.
Make Your Money Work Better for You
But DoorDash might not be available in your area, or it might just not be the right fit for you. So, which are the best delivery jobs like DoorDash to consider?
Uber Eats
Grubhub
Instacart
Shipt
Amazon Flex
Gopuff
Saucey
Roadie
Local Businesses
1. Uber Eats
On the heels — or, perhaps, the wheels! — of DoorDash came Uber Eats in August 2014. An offshoot of the ride service Uber, Uber Eats gave drivers another option to earn money besides shuttling people back and forth to their destinations. It also gave consumers another choice in food delivery services.
According to Indeed, Uber Eats drivers earn an average of $14.90 per hour, after expenses. Uber Eats does not disclose a gross average income on its website. Uber Eats drivers get paid for each pick-up and delivery, and then a per-mile rate. Some high-traffic cities also pay drivers a per-minute rate. As with DoorDash, drivers get to keep 100% of any tips they earn.
2. Grubhub
Grubhub launched in 2004 as an online menu hub, but didn't start offering delivery service until 2015. Still, it quickly made a name for itself as one of the top restaurant delivery services.
Grubhub delivery drivers earn based on the mileage for each order, plus their time on the road. As with other delivery apps, drivers also keep 100% of their tips earned. There are opportunities to earn extra income by completing "Missions," which include completing specific deliveries during a specific time frame.
Drivers can cash out up to $500 per day using Instant Cash Out, which is free to Chase customers and 50 cents per transaction for other bank customers or those using a prepaid debit card. Otherwise, drivers get paid every Thursday via direct deposit.
Make Your Money Work Better for You
According to Glassdoor, full-time Grubhub drivers can earn about $25 per hour, or around $50,000 per year before taxes.
3. Instacart
If you'd prefer not to deliver hot, prepared food to customers and enjoy grocery shopping, you might want to consider delivery groceries with Instacart. Becoming an Instacart shopper and delivery driver may mean having more personal contact via text with customers, since you may need to ask them to clarify their order or suggest a substitution if their preferred brand is out of stock.
Instacart provides two options for workers. You can be a full-service shopper, which means you'll shop and make deliveries to customers, or an "in-store shopper," which means you'll do the shopping and let someone else handle the deliveries. An in-store shopper works regular assigned hours, up to 29 hours per week, in a specific store.
If you prefer freedom to set your own hours and work directly with customers, you'll want to become a full-service shopper.
Like other delivery services, Instacart shoppers get paid weekly. Pay depends on how many orders you complete and your location.
Instacart does not disclose its pay rates, or the average shoppers can earn through their app, on its website. However, according to Indeed, Instacart shoppers earn roughly $11 to $17 per job, plus tips. How much you can earn hourly depends on how quickly you can complete orders.
4. Shipt Shopper
If you like shopping and connecting with people, a gig with Shipt could be the best choice for you. Shipt reports that their shoppers gross an average of $16 to $22 per hour, before expenses, and, as with other services, keep 100% of their tips. Shoppers are paid per order and can also earn bonuses and tips. You'll get paid every Friday via direct deposit to your bank account.
Make Your Money Work Better for You
The process to get selected as a Shipt shopper is a bit more involved than becoming a DoorDash driver. In addition to a background check, you'll undergo an interview process. However, Shipt also touts a supportive community of shoppers that may help you feel like more of a team than many other independent contractor positions. This can be a bonus for some people who need extra motivation — besides money — to do their best.
Shipt advertises bonuses and perks for its workers, which include discounts on auto insurance and gas, tax services and even gym memberships.
5. Amazon Flex
While Amazon hires fleets of delivery drivers and also uses third-party businesses to make deliveries, the volume of their business requires independent contractors using their own vehicles to deliver packages, as well. Enter: Amazon Flex, the freelance program for drivers to set their own hours, use their own vehicles and keep the last-mile supply chain moving.
Amazon reports that drivers earn between $18 and $25 per hour, before taxes and expenses, and including tips you may receive. Unlike many other delivery services, you'll work in "blocks" of time of two to four hours. That way, you're not wasting time looking for work or waiting for a delivery to come through on the app.
Although the pay is competitive with other services, there are a few downsides. You'll need to be 21 to deliver with Amazon Flex, and most deliveries require a 4-door sedan or a larger car, such as an SUV, a van or a truck with a covered bed. Also, Amazon is only "actively recruiting" in a handful of cities at this time, according to the website.
Make Your Money Work Better for You
Amazon also offers drivers discounts on things like fuel, tires and automotive maintenance. The Amazon Flex debit card provides an easy way to get paid and gives drivers 6% cash back on fuel and EV charging purchases, 2% cash back at Amazon and Whole Foods Market and 1% on other purchases.
6. Gopuff
Gopuff is a delivery service founded in 2013 that combines some of the best aspects of DoorDash and Amazon Flex — no shopping required — with the benefits of Instacart and Shipt — the ability to deliver a wide range of products to consumers. By operating out of micro-fulfillment centers, Gopuff makes pick-up easy for drivers and delivery faster for customers. Unlike many other services, Gopuff can deliver everything from household goods to alcohol.
But how does it pay compared to other services? According to Indeed, Gopuff delivery drivers earn $19.84 per hour, on average, putting it in line with other delivery services.
Gopuff pays a base pay per delivery, plus 100% of tips received. If you prefer to reserve a delivery block of time, you will earn a minimum rate per hour, regardless of your base pay. Drivers also have the opportunity to earn weekly bonuses, "boosts" in pay on specific orders and first-time customer bonuses for bringing in new business to the app.
7. Saucey
If the idea of delivering alcohol to adults — and potentially helping to keep drunk drivers off the road — appeals to you, consider delivering for Saucey. This delivery job might especially be a good option if you are a night-owl or looking for part-time income after your full-time job. That's because deliveries can occur as late as 2 a.m.
Make Your Money Work Better for You
But how much can you make? The Saucey website does not disclose average rates. Indeed pegs Saucey delivery driver hourly salaries at an average of $18 per hour, with a low of $9 and a high of $27. Because you're delivering alcohol, you'll need to be 21 to deliver for Saucey.  
8. Roadie
If you're interested in delivering more than food, groceries or alcohol and don't want to work for Amazon Flex, you might consider a gig with Roadie. Owned by UPS, Roadie is a delivery service that hires drivers 18 and older to deliver packages of any size to local areas or across the country.
You can choose local deliveries or longer trips and earn $13 per delivery on average, according to the Roadie website. Roadie says you can complete an online application and get started driving that same day in many cases.
You can also earn discounts on food, drinks, rentals, maintenance and repairs when you drive as an independent contractor for the service.
9. Local Restaurants and Small Grocery Stores
Local restaurants often need their own delivery drivers to accommodate customers that don't use delivery apps like Grubhub or DoorDash. While many local restaurants will want you to work specific hours, you might gain other benefits.
You won't have the freedom, necessarily, of working as an independent contractor. But you don't have to worry about paying self-employment tax or tracking all your expenses if you are on the payroll as a full- or part-time employee for a local restaurant.
Also, pay rates may be negotiable. If you do a good job, you can ask for a raise. As long as your job as a delivery driver is "on the books," which means your boss deducts payroll taxes from your check, you will also be guaranteed minimum wage for your region. As with other delivery service jobs, you should be permitted to keep 100% of the tips you earn as a local restaurant delivery driver.
Make Your Money Work Better for You
What You Need To Become a Delivery Driver
In most cases, you'll need to meet minimum age requirements of 18 or 19, depending on the gig, to work for a delivery service like DoorDash. You will also need a reliable car that carries liability insurance as mandated by your state.
Some delivery services, including DoorDash, allow you to make deliveries on your bicycle or scooter, too. This type of job would work best for Dashers in urban areas, where delivery areas would be smaller and easier to reach by bicycle or scooter.
Some delivery services will do a criminal background check and also check your driving record to ensure that you are a safe driver and qualified to make deliveries.
What You Should Know Before You Work for DoorDash or Another Delivery Job
Keep in mind, DoorDash delivery drivers and workers for these other services are usually considered 1099 contractors. As a result, you will use your own car for delivery, pay for your own fuel and receive a 1099 for at the end of the year showing your earnings. You will be responsible for paying taxes on those earnings, since the delivery company does not withhold your pay for Social Security or other payroll taxes.
However, you can deduct your expenses — including your car lease or loan payments, mileage on your car, fuel, car insurance and tolls — from your annual income in order to reduce your tax liability. It's a good idea to speak with a tax accountant before taking on a position as a 1099 contractor with a delivery company. That way, you can understand which deductible expenses you will want to track and report.
Being paid as a self-employed 1099 contractor can add another level of complexity to your income, but it also gives you more freedom. For the most part, these apps allow you to set your own hours, work as much or as little as you want and hold multiple contract positions to increase your income.
FAQ
Can you make a living wage off of DoorDash?

According to the DoorDash website, Dashers earn an average of $25 per hour they work, including tips. If you work a full, 40-hour week, you would earn $1,000 per week before taxes, which is $4,000 per month or $48,000 per year. If you take two weeks of vacation, you would earn roughly $40,000 per year.
The Federal Poverty Level for a household with one person is $13,590, which means you would be earning well over the poverty line as a Dasher.

How can I make money other than DoorDash?

If you have a car or, in some cities, a bicycle or scooter, a good driving record and are at least 18 or 19 years old, you have many options for gig work with delivery services. You'll find nine of the best delivery service jobs like DoorDash in the article above. Some services require gig workers to be 21 or older.

Which delivery service pays the best?

Grubhub and DoorDash have some of the highest delivery rates in the industry, with drivers grossing an average of $25 per hour before taxes. However, it depends on your location and how much demand there is for delivery in your area.

Who pays better, DoorDash or Grubhub?

DoorDash and Grubhub are similar in their earnings model and pay potential. Both offer bonuses and challenges for drivers to earn additional cash. Both services let drivers keep 100% of the tips they earn. Both services also guarantee earnings equal to 120% of the minimum wage for your delivery area in California.
To determine which service will allow you to make more money, you'll want to consider the opportunities for deliveries in your area, since the more you deliver, the more you can make with both services.
This article was updated on Sept. 7, 2022, to update earning potential for Roadie. All other information is accurate as of Aug. 31, 2022, and subject to change.
Editorial Note: This content is not provided by any entity covered in this article. Any opinions, analyses, reviews, ratings or recommendations expressed in this article are those of the author alone and have not been reviewed, approved or otherwise endorsed by any entity named in this article.
Our in-house research team and on-site financial experts work together to create content that's accurate, impartial, and up to date. We fact-check every single statistic, quote and fact using trusted primary resources to make sure the information we provide is correct. You can learn more about GOBankingRates' processes and standards in our editorial policy.