Your Cost to Upgrade on These 10 Popular Airlines

7 min Read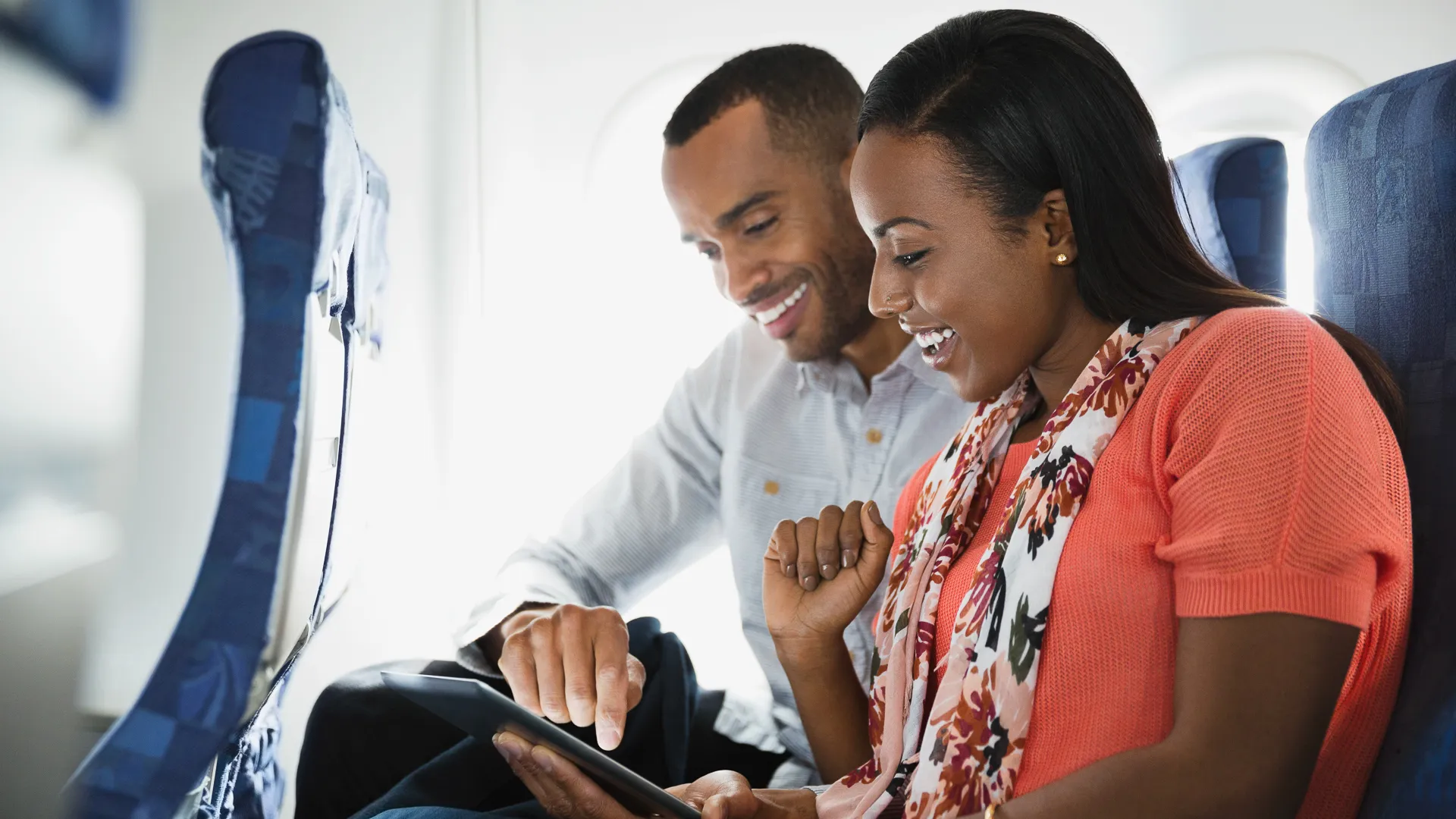 Whether you're taking the red eye for an early meeting or heading out to visit relatives across the country, you likely want to arrive at your destination looking fresh and well rested. However, with coach seats shrinking and free flight amenities becoming a thing of the past, that relaxing flight you seek is getting harder to attain.
Fortunately, a number of airlines offer upgrade options to make your flight that much more enjoyable — for a price. From extra legroom to swanky lounge amenities, here's a closer look at how to get travel upgrades on some of the most popular U.S. airlines, as well as what you can expect to pay.
1. Alaska Airlines Upgrades
Join the Alaska Airlines Mileage Plan™ to gain access to airline upgrades and other perks.
While Alaska does offer non-member airline upgrades for a fee, frequent fliers can take advantage of First Class and legroom upgrades once they've reached a certain status. Certain fares are eligible for immediate upgrades, but you'll need to verify if the fare you choose has upgrade options when you book your flight.
First Class upgrade: complimentary for qualifying Mileage Plan™ elite members; $50 to $200 for non-members, based on trip length plus taxes
Premium Class upgrade: complimentary for qualifying Mileage Plan™ elite members
Seats with more legroom: complimentary for Mileage Plan™ elite members
2. American Airlines Upgrades
Register with the American Airlines AAdvantage program to request perks and use your miles to make upgrade requests.
A $75 fee applies to mileage upgrade requests made less than 21 days prior to departure. If you're an elite member, you can get complimentary upgrades to the next class of service and buy 500-mile upgrades at a rate of $40 per upgrade, plus fees.
Next cabin of service: $75 to $350 fee depending on miles
Preferred seats: complimentary for AAdvantage elite status members
Priority boarding: complimentary for Executive Platinum, Platinum Pro and Platinum members via the First Class lane, regardless of class of service
3. Delta Air Lines Upgrades
Certain fare classes are eligible for Mileage Upgrade Awards through Delta Air Lines. You can use your miles to upgrade to the next class based on availability. Not all flights are eligible for upgrades, though, so you will need to check in with a SkyMiles representative to discover your options. You can use your miles and pay cash for the remainder for Award Tickets offered to SkyMile members. The Pay with Miles program has a value of up to $50 per 5,000 miles for credit card members.
First Class upgrade: complimentary for Medallion Members
Delta Comfort+ Upgrade: complimentary for Medallion Members
Delta Sky Club access: complimentary for Diamond Members; $59 for a Single Visit Pass
4. Hawaiian Airlines Upgrades
Hawaiian Airlines offers paid airline upgrades for travelers seeking additional legroom, priority boarding and early access to overhead bins — a perk that's especially valuable for long-haul flights. You can also make that extra-long fight more pleasant with Extra Comfort benefits, such as in-flight entertainment, a cozy pillow and blanket and an amenity kit on international flights.
You can upgrade a Coach ticket to include Extra Comfort perks for an additional fee, with costs being higher for flights to and from New York. If you travel First Class, enjoy benefits such as faster check-in, pre-assigned seats and access to Premier Clubs.
Preferred seats (one-way): $10 for neighbor island flights; $50 for North America flights
Extra Comfort seats: $80 to $145 for domestic flights; $125 for international flights
First Class upgrade: from $379 for domestic flights; discounted rates for Pualani Gold and Pualani Platinum members, plus day of departure upgrade fee of $50 each way for neighbor islands and $350 to $800 each way for North America
Plumeria Lounge pass: $40 for non-members; $35 for Pualani Gold and $30 for Pualani Platinum member
Check Out: Best Travel Credit Cards
5. Frontier Airlines Upgrades
Frontier Airlines already boasts wider, ergonomically designed seats, but you can pay extra for legroom and other perks. Just keep in mind that fees increase if you upgrade seats at the airport ticket counter or a self-service kiosk. You'll save money if you upgrade through Flyfrontier.com at the time of booking or up to 24 hours before your departure. Buy bundles for perks like waived fees on checked bags and priority boarding to save up to 30 percent off the regular rates.
The WORKS or the PERKS bundle: fees vary by route
Standard Seating upgrade: $6 to $11
Stretch Seating upgrade: $20 to $25
Don't Miss: Sneaky Ways to Save on Airline Baggage Fees
6. JetBlue Airways Upgrades
JetBlue Airways already offers a number of First Class perks in Coach, including free snacks and soft drinks, free DIRECTV and SiriusXM Radio, high-speed Fly-Fi access and more legroom. However, if you really want to soar the skies in luxury, book a Mint fare. The option lets you enjoy lie-flat seats in the front of the cabin, seats with massage features and expedited screening — an attractive benefit for coast-to-coast travelers. Take advantage of additional room to stretch your legs or take a nap before landing.
You can also sign up for the Even More Space upgrade to enjoy stress-reducing early boarding privileges. This perk includes Even More Speed for a quicker trip through security in select cities.
Even More Space seats: from $10 one-way
Even More Speed: complimentary with Even More Space Seat purchase; fees for other bookings vary by flight
Mint fare upgrade: varies by destination or itinerary
Also in Travel: JetBlue Plus and the Best Airline Credit Cards
7. United Airlines Upgrades
United Airlines offers a number of exciting upgrades from an extra checked bag at no cost to increased legroom, extra award miles and a United Club pass. Choose from the Economy Plus Essentials and Economy Plus Enhanced packages, based on availability. Don't want to pay for each flight's perks individually? Opt for the subscription upgrade to secure upgrades on every flight when available. Subscriptions start at $499.
Premier access: from $15
United Club access: $59 one-time pass; complimentary for MileagePlus members
Economy Plus Essentials or Economy Plus Enhanced: fees vary by itinerary
8. Southwest Airlines Upgrades
Southwest Airlines' Rapid Rewards members automatically receive upgrades and perks when they reach A-List or A-List Preferred status. Still, you don't have to rack up points to be eligible for an upgrade. You can pay a flat fee for priority boarding in the A1-A15 boarding group, with rates depending on itinerary. Upgrade to Business Select to enjoy a premium drink and fast Fly By lane access and earn extra points as a Rapid Rewards member. And if you want to get a head-start on the check-in process, Southwest gives you the option of purchasing EarlyBird Check-In perks.
Upgraded boarding: $30 to $40, depending on itinerary
Business Select: varies by itinerary
EarlyBird Check-In: $15 one-way, per customer
Don't Miss: Hidden Fees Airlines Don't Want You to Know About
9. Spirit Airlines Upgrades
Famous for its bare-bones Bare Fare and $9 Fare Club, Spirit Airlines still gives guests the option to add some frills to their flight experiences. You can pay a fee to shortcut boarding or security, select wider seats with additional legroom or request a special seat online or at the airport.
Requested seat: $1 to $50
Big front seat: $12 to $199 in advance
Flight Flex: $35 to $45 fee for flight modifications within 24 hours
Shortcut Boarding: $5.99 each way
Shortcut Security: up to $15

10. Virgin America Upgrades
Virgin America offers guests more flexibility than other airlines, with options to purchase upgrades and perks a la carte or buy a package of services for your trip. You can secure a seat in Main Cabin Select, upgrade to Main Cabin Select up to 24 hours before departure or score a First Class seat up to six hours before departure. Additional fees, such as baggage fees and taxes, might apply to these reservations. If you have Elevate Silver or Elevate Gold status, you are automatically eligible to receive upgrades, such as preferred seating, Main Cabin Select seating and First Class options in advance.
Elevate Silver members pay a discounted rate of $15 for Virgin America Loft access, while Elevate Gold members can enjoy the lounge for free.
Upgrade from Main Cabin to Main Cabin Select: $39 to $199
Upgrade from Main Cabin Select to First Class: $70 to $240
Upgrade from Main Cabin to First Class: $99 to $399
Power Trip Package: $39 to $79
Virgin America Loft Access: from $30 for non-Elevate members, depending on the destination; $15 for Elevate Silver members; complimentary for Elevate Gold members
Priority security and boarding: $15 to $19 based on flight
Preferred seats: $10 to $40 based on flight
About the Author