YNAB vs. Mint: Budgeting App Comparison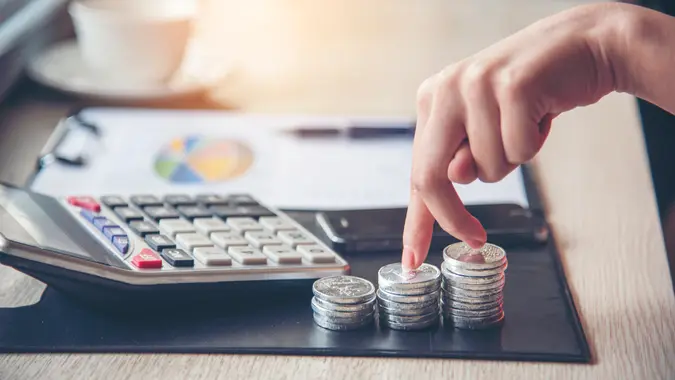 howtogoto / Getty Images/iStockphoto
When it comes to budgeting, you don't have to drag out the old pen and paper anymore. Instead, you can turn to one of the many budgeting apps to simplify your life. Two of the best options out there are YNAB and Mint.
Both offer a straightforward way to stay on top of your expenses. But the right fit for your situation varies based on your money tracking needs. Here's a closer look at each so that you can decide which option is the best fit for your unique situation.
| | YNAB | Mint |
| --- | --- | --- |
| Best For | Diving into details | Hands-off budgeting |
| Budgeting Style | More complex and involved | Simple and straightforward |
| Features | Customizable categories, but no credit score monitoring | Monitor assets and expenses in pre-existing categories, track your credit score |
| Security | Biometric login | Biometric login, two-factor authentication |
| Accessibility | More complex, takes time to learn to use effectively | Straightforward and easy to use |
| Technology | Desktop and mobile; Apple Watch compatible | Desktop and mobile |
| Cost | $14.99/month or $99/year | Free with ads |
What Is YNAB?
YNAB stands for You Need A Budget. The tool is designed to help you manage your money with the principle that every single dollar of your income should have a job. With the help of YNAB, you can map out exactly where you want your funds to go. You can plan out where your dollars are going for as many months ahead as you'd like.
Make Your Money Work for You
If you want to give every dollar a job, YNAB is the perfect tool. But it will require some hands-on effort to tackle this strategy, even with the assistance of YNAB's helpful tools. Although there is a learning curve involved, YNAB's interface is very user-friendly for those looking to keep an eye on every single dollar.
What Are the Pros and Cons of YNAB?
Every financial product has some advantages and disadvantages. Here's what to know about YNAB before diving in.
Starting with the pros:
Free trial
Detailed financial tracking for every dollar
Built-in education to help you use the tools most effectively
And now for the cons:
Monthly subscription fee
Only helpful for a specific type of budgeting style
What Is Mint?
Mint is a free budgeting tool owned by Intuit. With this free tool, you can track your expenses and budget without breaking a sweat. It's a straightforward way to keep an eye on where your funds are going. Additionally, you'll be able to easily track your net worth and check in with a free copy of your credit score.
Make Your Money Work for You
What Are the Pros and Cons of Mint?
Of course, Mint also comes with some benefits and drawbacks to consider. Here's what to know about Mint.
First, the pros:
Now for the cons:
Reported syncing issues

Ads on the platform
Budgeting Style
On the surface, you might think that all budgeting tools are created with the same goal in mind. But while that is true to some degree, each platform takes a different approach in terms of budgeting style.
Ultimately, YNAB takes a more granular approach to budgeting that can take some time to get used to. Mint is likely more similar to most budgeting methods, which are more focused on adjusting your spending to fit within specific categories instead of nailing down exactly where the funds should be spent ahead of time.
Mint
Mint takes a more familiar approach for most. Within their budgeting platform, you'll find an easy way to track your spending to make sure your allocated categories are staying on track. You can either set up a budget with specific spending goals or simply track your spending to find out where your funds are going.
Make Your Money Work for You
YNAB
On the other hand, YNAB takes a more specific approach to how you budget. Instead of simply tracking how your spending stacks up against budgeting goals, it helps you create a budget with the goal of giving each and every dollar a job. With that, it's not optional to set up a specific budget with YNAB because it's a core part of how the system operated.
Features
At their core, both platforms offer budgeting solutions. After linking your accounts to either platform, you'll have the ability to see all of your transactions in a single place, set up savings goals and see where your dollars are going based on specific categories.
But at some point, the features diverge a bit.
Mint
Mint allows you to monitor your bank accounts, credit cards, loans and other assets. When you have cards and bank accounts linked, Mint will categorize all of your expenses. Although you cannot add your own category, you can create subcategories.
For example, you could create a take-out subcategory within the main category of Food & Dining. Additionally, you'll find an easy snapshot of your finances in your net worth report. Plus, the platform offers a view of your credit score and tracks your investments on a basic level.
YNAB
YNAB also allows you to track your expenses, but the platform is designed with customization in mind. You can create or remove as many spending categories as you want.
For example, you could create a customized spending category for your favorite hobby. Each category is color coded, which makes things a bit easier to keep straight. YNAB also offers net worth reports. But there is no opportunity to track your credit score.
Security
When it comes to keeping your information safe, both YNAB and Mint have safeguards in place. Both offer biometric login options on supported devices, like fingerprints and facial recognition. Mint offers two-factor authentication and password protection to make sure you are who you say you are.
Ultimately, you'll likely feel safe working with either platform. But of course, data breaches can happen even when the best security features are in place.
Accessibility
When you start using a budgeting app, you likely want a streamlined process to eliminate the need for a complicated spreadsheet or messy notebook.
Mint
Mint offers the most straightforward budgeting tools. If you simply want to track your spending by category and set up a basic monthly budget, then Mint offers everything you are looking for.
YNAB
But what if you are looking to really take a deep dive into the numbers? If you are looking for a way to budget that gives each dollar of your income a job and makes projections far into the future, then YNAB could be a solution. The downside is that it will take a bit of time and effort to learn the ins and outs of the platform.
Although it may come with a steep learning curve, YNAB does everything it can to streamline your journey. The company offers an extensive collection of financial education resources to help you set up your budget and make the most of the YNAB tools at your disposal.
Technology
Mint and YNAB each offer a desktop and mobile version of the platform. If using one of the mobile apps, you will find both in the Apple App Store and Google Play Store. In addition to the mobile app for Andriod and iOS devices, Apple Watch users can access YNAB through their wearable tech.
When it comes to syncing up your information, the reviews on Trustpilot seem to indicate that Mint has a big problem with syncing your spending transactions in a timely manner. Although YNAB users report some syncing issues, the problem seems to be much less pervasive. If you aren't willing to put up with extensive syncing issues, then YNAB is the clear winner on this front.
Cost
Both offer a suite of features. But how do these two platforms stack up in terms of cost?
Mint
Mint is completely free to use. You won't have to fork over a subscription fee. But the trade-off is that you'll have to suffer through ads while looking at your budget.
For some, the ads are a deal breaker. After all, you might not want to see ads while you do your best to stick to your budget. But others don't mind the ad-supported budgeting tool because it keeps their costs lower.
YNAB
In contrast, YNAB charges a subscription fee. If you pay on a monthly basis, you'll pay $14.99 per month. But if you opt for the annual plan, you'll pay $99, which works out to $8.25 per month. Of course, you won't see any ads when zooming around YNAB. You'll have to decide for yourself if the cost is worth it.
If you are on the fence about YNAB, the good news is that you can give it a try before committing a single dollar. You can lock in a 34-day free trial to learn all the ins and outs of YNAB. If you like what you find, then you can sign up for a subscription. If not, you can walk away without any harm done to your budget. And the best part is that the free trial doesn't even require a credit card. With that, you won't get charged for forgetting to cancel your subscription.
Mint vs. YNAB: Which Is Best for You?
By now, you've likely realized that Mint and YNAB offer two very different versions of a budgeting solution. It's clear that the right budgeting platform isn't one size fits all. So which one is best for you?
Mint: Best for Hands-off Budgeting
If you are looking for a simple way to see where your funds are going, then Mint provides everything you need. With your bank accounts and credit cards linked to the platform, it will pull in the information you need to see where your funds go each month.
Although there are some setup requirements, this platform offers a hands-off approach to managing your budget. You can check in whenever you want to and see where your funds are going on a category-by-category basis.
Another reason to choose Mint is if you aren't willing to stomach a fee for your budgeting tool. Instead, you can opt for a free approach to your budget tracking. Of course, that's if you are willing to accept ads in your experience.
YNAB: Best for Diving Into the Details of Your Budget
Are you looking for a way to track where each and every dollar is going? YNAB offers everything you need to accomplish that goal.
If you are able and willing to put in the time required to learn this new budgeting approach, it's possible to see major changes in your personal finances. Sometimes, the system of assigning every dollar a job really helps you get clear about what your financial priorities are. For those with a specific goal in mind, like paying off debt or a major purchase, you might find the tools offered by YNAB especially useful.
The only downside is that you'll have to add a subscription cost to your budget. However, many reviewers report that the cost is well worth the robust features.
Alternative Option

If you are looking for a personal finance platform more focused on your investments, then scope out Personal Capital. It offers more robust investment tracking features than either Mint or YNAB.
Final Take
Mint and YNAB are both useful budgeting tools for the right person. If you aren't willing to pay for a budgeting tool, then Mint is a better fit. But be prepared to accept some of the shortfalls that come along with the ad-supported option.
If you are ready to try an entirely new budgeting style that could transform your finances, then consider giving a YNAB a try. Its robust features are worth the cost for some budgeters.
Editorial Note: This content is not provided by any entity covered in this article. Any opinions, analyses, reviews, ratings or recommendations expressed in this article are those of the author alone and have not been reviewed, approved or otherwise endorsed by any entity named in this article.
Our in-house research team and on-site financial experts work together to create content that's accurate, impartial, and up to date. We fact-check every single statistic, quote and fact using trusted primary resources to make sure the information we provide is correct. You can learn more about GOBankingRates' processes and standards in our editorial policy.
Make Your Money Work for You