How Much Should You Tip Your Ride-Share Driver?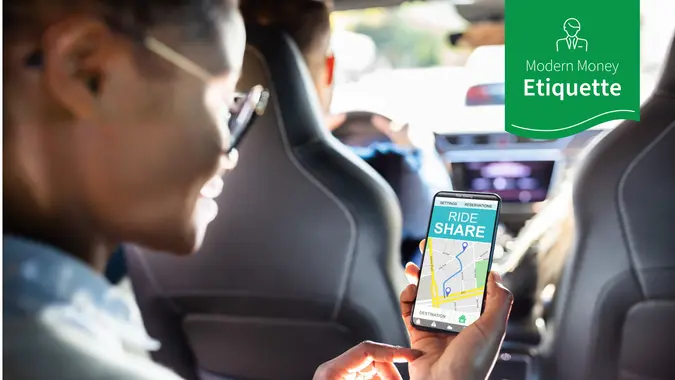 AndreyPopov / iStock.com
Determining the appropriate amount to tip your ride-share driver can be a tricky balancing act. How much more should you tip if your driver helps you with heavy luggage? Or if your location is difficult to find? Should you reduce the tip if your driver chats loudly on the phone throughout the ride? What if the drive goes smoothly but the car has trash lying around and smells like fast food?
When you're in a ride-share vehicle, the last thing you want to be worried about is how much to tip. To address these tipping concerns and more, we turned to etiquette specialists to share their insights on this topic and help you tip confidently after your next ride-share trip.
Tip 10% to 20% of the Fare
A good general rule of thumb when tipping ride-share drivers is to stay between the 10% to 20% range.
"Most rideshare drivers make very little per hour," said Arden Clise, business etiquette and customer service trainer for Clise Etiquette. "Tipping helps them make a somewhat liveable wage and it is a form of gratitude for their service. You should tip 10% to 20% of the fare. The better the service, the higher the tip should be."
As long as the ride went well and you felt the service was adequate, be sure to leave a tip in this range for these independent service providers.
Take the Time of Day, Weather Conditions and Friendliness Into Consideration
When deciding what percentage of a tip to leave, there are several factors to consider.
Make Your Money Work for You
"If the driver is friendly and efficient, the car is very clean, and maybe treats or bottled water is offered, the driver should be tipped 20%," Clise said. "You should tip above the standard if your starting or final destination is hard to find or you have a lot of luggage that the driver helps you with. Tip up to 25% in these situations."
Drivers are not required to help you lift your luggage or groceries. If they are offering these additional services or allowing you to borrow items such as a charging cable or water bottle, make sure to show your gratitude by giving them a little extra when tipping.
Also, be sure to take note of the time of day and weather conditions your ride-share driver is navigating. These additional caveats are often deserving of a higher tip percentage to offset the extra inconvenience.
"Try to be as generous as your budget allows and add premium tips for unique circumstances: early morning or late night transportation, carrying heavy luggage, driving in peak rush hour traffic or extreme weather conditions," said Jennifer Porter, an etiquette and manners expert with Satsuma Designs.
When ordering a ride-share, remember that these drivers are not paid for the commute required to drive to the pickup destination. If you live in a rural area, it's considerate to tip a little extra to help the driver offset the gas costs required to drive back to the city to get to their next pick-up.
Should You Tip If the Service Is Bad?
The answer is — it depends. It can be difficult to navigate the tipping situation when the service is not ideal. How can you determine when to simply do a small tip and when to skip the tip altogether? Clise and Porter offered some fantastic expert insight on what to do.
Make Your Money Work for You
"If the service is less than stellar, I recommend reducing the tip, but still adding a small amount," Porter said. "It's important to remember the hard work that each of us does to make a living to help ourselves, our families and communities."
While in some situations, it's appropriate just lower the tip percentage, in others, it's perfectly acceptable to skip the tip altogether.
"If the driver is rude, the car is a mess, or he talks on the phone throughout the trip, a tip is not necessary," Clise said.
More From GOBankingRates