How Much Does Tesla Car Insurance Cost?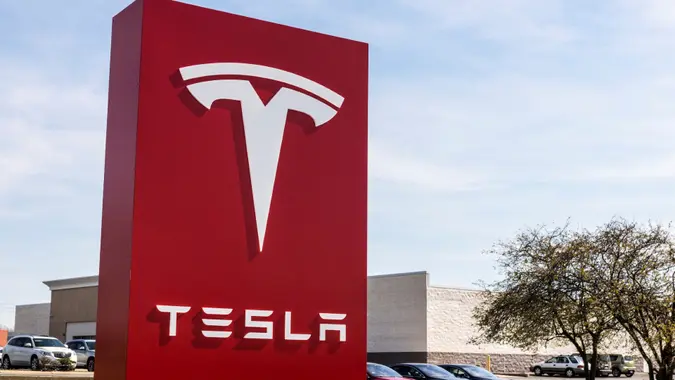 jetcityimage / iStock.com
If you own or want to buy a Tesla electric car you should consider all possible insurance options and costs. Drivers new to Tesla may be unaware that the electric car manufacturer now provides its own car insurance coverage packages. Buying your car insurance directly from Tesla instead of another insurance provider may give you cheaper rates and more coverage. 
Read: 3 Ways Smart People Save Money When Filing Their Taxes
Average Annual Insurance Cost for Tesla Cars
Insurance for Tesla cars can get expensive. The following list is what the average American would pay annually for insurance on each Tesla model. Prices are obtained by averaging quotes from various providers and states:
Tesla Model 3: $2,503
Tesla Model S: $4,318
Tesla Model X: $3,759
Tesla Model Y: $2,599
When it comes to insuring your Tesla, rates can vary widely based on your insurance provider and your car model. Here is a breakdown of some of the top insurance providers and the average annual insurance cost for various Tesla models.
| Insurance Provider | Model 3 | Model Y | Model X | Model S |
| --- | --- | --- | --- | --- |
| Tesla Insurance | $1,750 | $1,812 | $2,629 | $3,022 |
| Allstate | $3,250 | $3,869 | $5,779 | $6,480 |
| Farmers | $2,747 | $3,074 | $6,718 | $6,883 |
| GEICO | $1,816 | $1,670 | $2,850 | $2,938 |
| Nationwide | $1,719 | $1,764 | $3,908 | $2,224 |
| Progressive | $1,853 | $1,662 | $1,832 | $2,283 |
| State Farm | $1,336 | $1,452 | $1,644 | $2,243 |
Make Your Money Work for You
Are Teslas Expensive To Insure?
Tesla's electric vehicles may be more expensive to insure than regular combustion engine cars. According to a Consumer Reports investigation, a Tesla Model 3 was $318 more expensive to insure annually than a comparatively priced gasoline car, the Audi A4. This rate is not exclusive to Tesla vehicles, as the report found that electric vehicles from many manufacturers are more expensive to insure than hybrid or gasoline cars.
What Is Tesla Car Insurance?
Tesla launched its car insurance service in August 2019, pledging to give drivers up to 20% cheaper rates than its competition. Tesla claimed that because it knew its vehicles best, it could "leverage the advanced technology, safety and serviceability of Tesla cars to provide insurance at a lower cost." 
At first, Tesla car insurance was only available in California, but since then, the program has expanded to many other states. Currently, these are the states where Tesla car insurance is available:
Arizona
California
Colorado
Illinois
Maryland
Minnesota
Nevada
Ohio
Oregon
Texas
Utah
Virginia
Tesla Insurance vs. Other Insurance Providers
Here are some key factors to keep in mind when comparing Tesla to other car insurance providers.
| Factor | Tesla | Other Providers |
| --- | --- | --- |
| Price | As much as 20-30% cheaper for a car insurance policy  | More expensive if only purchasing car insurance |
| Bundling | Doesn't offer home or life insurance, so no option to bundle | Bundle car insurance with other insurance for cheaper deals |
| Coverage | Only covers Tesla cars as the primary car on a policy outside of California | Can insure all types of cars |
| Availability | Only available in 12 states | Available nationwide |
| Calculating Premiums | Calculates premiums based on your real-time driving behavior | Calculates premiums based on factors like age and accident history |
Make Your Money Work for You
Why Is Tesla Insurance So Cheap?
Tesla states that its car insurance plans can be, in some cases, up to 30% cheaper than the competition. Factors affecting your Tesla Insurance premiums include your vehicle, where you live, how much you drive, what coverage you select and the vehicle's monthly Safety Score.
Tesla says that many other insurers calculate rates based on information that has little to do with your driving. Instead of doing that, Tesla says that they use their cars' advanced sensors to collect information on your driving and calculate your premiums based on your driving behavior.
Unlike other insurers, Tesla excludes the following factors from premium calculations:
Credit
Age
Gender
Marital status
Accident history
Violation history
Safety Score
Your real-time driving behavior, including hard braking, aggressive turning, unsafe following and the amount of late-night driving you do, is used to calculate your Safety Score. Your Safety Score can range from 0 to 100 and is calculated based on the past 30 days of data. At the end of the month, your Safety Score is used to calculate your premiums for the next month. The higher your safety score, the lower your premiums. Because of this, you can directly affect how much you will pay for car insurance next month by driving more safely.
Make Your Money Work for You
Unfortunately, California's insurance coverage based on driving behavior is unavailable. If you're a California resident, compare quotes with other providers to see whether Tesla is still a good option for you.
How To Buy Tesla Insurance
Tesla car insurance can be purchased directly from the Tesla mobile app on iOS or Android. Current Tesla vehicle owners can buy a policy in-app by tapping the profile picture icon in the top-right corner and selecting "Get Tesla Insurance." New Tesla vehicle owners can purchase a policy in the Tesla app before their delivery once they have an assigned VIN in their Tesla Account. 
Tesla vehicle owners with non-Tesla vehicles can also insure their non-Tesla vehicles by adding them when they purchase a policy. Existing policyholders can contact Tesla to add non-Tesla vehicles to their policy.
Customers can pay their premiums using a credit or debit card inside the app. Tesla does not offer users the option to purchase plans or pay premiums through other methods.
Final Take
Picking a provider for your car insurance is a big decision. Since rates differ based on location and other factors, it is best to request quotes from both Tesla and other insurance providers to find the best rates for your budget.
FAQ
Here are the answers to some commonly asked questions about Tesla Insurance.
Can you bundle with Tesla Insurance?

Tesla allows car owners to bundle multiple Tesla cars on the same policy. Customers can add non-Tesla cars to a Tesla Insurance policy. However, because Tesla only sells car insurance, you cannot bundle Tesla car insurance with other types of insurance like home or life insurance.

How do you file a Tesla Insurance claim?

You can file an insurance claim directly from the Tesla mobile app. You can also request roadside assistance and schedule repairs from the app.
Information is accurate as of Jan. 17, 2023. 
Editorial Note: This content is not provided by any entity covered in this article. Any opinions, analyses, reviews, ratings or recommendations expressed in this article are those of the author alone and have not been reviewed, approved or otherwise endorsed by any entity named in this article.
Our in-house research team and on-site financial experts work together to create content that's accurate, impartial, and up to date. We fact-check every single statistic, quote and fact using trusted primary resources to make sure the information we provide is correct. You can learn more about GOBankingRates' processes and standards in our editorial policy.
Make Your Money Work for You