These 10 Cars Could Drain Your Savings Through Constant Repairs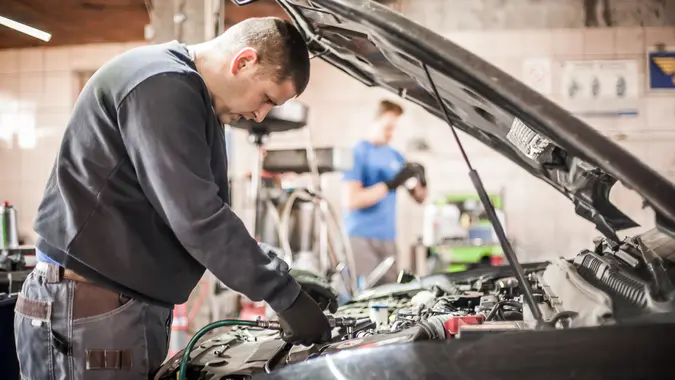 guruXOOX / Getty Images/iStockphoto
Modern America was built around the automobile, and it's nearly impossible to get around without one in many cities. Car payments, insurance and filling up at the pump are some of the biggest car-related expenses, but another one that people often overlook is the cost of maintenance.
According to Cox Automotive, Americans spend an average of $548 fixing their cars, and the American Automobile Association recommends budgeting for car maintenance by setting aside $50 per month — or closer to $60 per month due to inflation, Carvana reported.
Motor1.com identified the most expensive, popular and luxury cars to maintain using data from CarEdge. This list was ranked by each vehicle's average 10-year maintenance cost. Here are the 10 most expensive cars to keep on the road.
Ram 2500-5500
10-Year Cost: $25,134-$25,844
Annual Costs: $778 in Year 1, $4,889 by Year 10
Chance Of Needing Major Repair: 79.2%
Porsche Cayenne
10-Year Cost: $20,552
Annual Costs: $721 in Year 1, $3,827 by Year 10
Chance Of Needing Major Repair: 60.9%
Porsche Macan
10-Year Cost: $20,137
Annual Costs: $679 in Year 1, $3,786 by Year 10
Chance Of Needing Major Repair: 60.9%
Ram ProMaster City/Cargo Van
10-Year Cost: $19,870-$20,061
Annual Costs: $621 in Year 1, $3,845 by Year 10
Chance Of Needing Major Repair: 63.2%
BMW X6 M
10-Year Cost: $18,900
Annual Costs: $693 in Year 1, $3,479 by Year 10
Chance Of Needing Major Repair: 54.6%
Mercedes-Benz Sprinter Van
10-Year Cost: $18,634
Annual Costs: $621 in Year 1, $3,513 by Year 10
Chance Of Needing Major Repair: 56.7%
BMW X7
10-Year Cost: $18,550
Annual Costs: $658 in Year 1, $3,444 by Year 10
Chance Of Needing Major Repair: 54.6%
BMW X5
10-Year Cost: $18,389
Annual Costs: $642 in Year 1, $3,428 by Year 10
Chance Of Needing Major Repair: 54.6%
Make Your Money Work for You
Porsche 911
10-Year Cost: $18,231
Annual Costs: $780 in Year 10, $3,208 by Year 10
Chance Of Needing Major Repair: 47.6%
Land Rover Range Rover
10-Year Cost: $18,228
Annual Costs: $735 in Year 1, $3,267 by Year 10
Chance Of Needing Major Repair: 49.6%
More From GOBankingRates