UAW Strike: The No. 1 Biggest Shakeup for Car Prices, Your Wallet and the US Economy Was Probably Not on Your Radar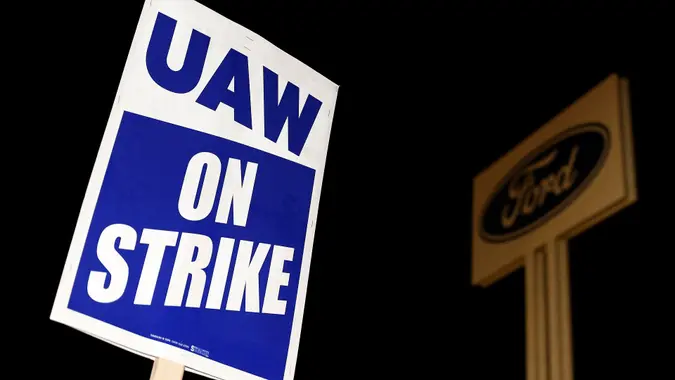 MIKE MULHOLLAND / EPA-EFE / Shutterstock.com
The United Auto Workers (UAW) union has entered what is being deemed an "unprecedented" strike against the "Big Three" automakers — Ford, General Motors (GM) and Stellantis, as negotiations failed. This could have expansive ramifications not only for the car industry and consumers, but also for the U.S. economy at large.
"The UAW Stand Up Strike begins at all three of the Big Three," the UAW posted on X, the platform formerly known as Twitter.
The "Stand Up Strike," is "a new approach to striking. Instead of striking all plants all at once, select locals will be called on to 'Stand Up' and walk out on strike," according to an UAW statement. "As time goes on, more locals may be called on to 'Stand Up' and join the strike. This gives us maximum leverage and maximum flexibility in our fight to win a fair contract at each of the Big Three automakers."
The first targeted plants are GM's assembly plant in Wentzville, Miss., Ford's assembly and paint plant in Wayne, Mich. and Stellantis' assembly plant in Toledo, Ohio, according to the UAW.
According to an analysis by consulting firm Anderson Economic Group (AEG), a strike on all three automakers by 143,000 United Auto Workers (UAW) members could result in a total economic loss of more than $5 billion after 10 full days.
In a late Sept. 14 statement, Ford said that "unfortunately, the UAW's counterproposal tonight showed little movement from the union's initial demands submitted Aug. 3. If implemented, the proposal would more than double Ford's current UAW-related labor costs, which are already significantly higher than the labor costs of Tesla, Toyota and other foreign-owned automakers in the United States that utilize non-union-represented labor."
Make Your Money Work for You
In turn, several analysts said the strike could take a bad turn, not only for the industry — which is still reeling from the pandemic — but also for consumers. This could be "a long and nasty strike which would be an absolute debacle for the Detroit Three," Dan Ives, Wedbush Securities analyst, wrote in a Sept. 15 note.
Tesla Might Be a Clear Winner, but EV Consumers Are Clear Losers
An unintended consequence of the strike is that Tesla, a non-union company, could emerge as the clear winner, according to Ives' note. "The clear winner in this 'Game of Thrones' battle between the UAW vs. GM/Ford is Musk and Tesla, with champagne now on ice," he stated.
The situation could be a potential nightmare for GM and Ford, especially given the increasing competition in the electric vehicle (EV) market. The timing could not be worse, he added.
If the strike persists for more than four weeks, it could ultimately lead to production delays and impact the EV roadmap, potentially pushing it into 2024 — a critical period for GM, Ford, and Stellantis.
Conversely, if negotiations occur and major proposals are accepted, "the billions of incremental annual costs will be damaging and ultimately increase the prices of EVs rolling out over the next 12 to 18 months to consumers," Ives noted. Passing these costs on to consumers would negatively affect demand, he added.
Other Impacts
The strikes aimed at specific plants could evolve into a logistical challenge for the Detroit Three, impacting their supply chain, according to CFRA research analyst Garrett Nelson in a note dated Sept. 24.
Make Your Money Work for You
"The average automobile contains over 30,000 parts and the automotive supply chain is among the most complex of any industry," Nelson noted. "Not knowing which plants the UAW will target in advance could create a massive level of uncertainty and have a crippling impact on production."
In addition, Nelson wrote that if the strike goes on for too long, auto suppliers could have to cut production and furlough workers at their plants, creating a ripple effect across the industry.
Effect on Car Prices
If the number of new cars coming off the production lines is significantly reduced for a substantial amount of time, the effect, especially on specific models and brands, will be higher prices, said Dr. Ryan M. Yonk, economist with the American Institute for Economic Research.
"Currently around 13,000 workers are on strike from three major automakers. While the strike could have an effect on the price of new cars, it is only likely to be substantial if it persists and grows beyond the current numbers of striking workers and involved companies," Yonk added. "In the shorter run, we would likely see consumer movement to other brands made without Union contracts and where greater supply exists where the effect on price is lower."
Meanwhile, the broader economic repercussions hinge on the strike's duration and whether it significantly extends beyond the current 13,000 individuals participating, he noted.
"The auto industry in the United States is no longer completely unionized, so we are not likely to see overall production drop as dramatically as we might expect," he concluded.
More From GOBankingRates