How Much Is a P.O. Box?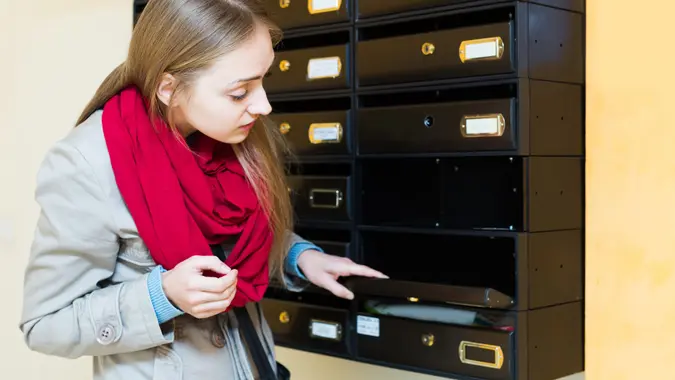 JackF / iStock.com
A post office box, commonly known as a P.O. box, can be a great solution for people and businesses who want to receive mail at a location other than their physical address. But how much is a P.O. box and is the expense worth it? See below for everything you need to know about P.O. boxes, including cost, requirements and extra fees.
Read: 3 Signs You're Serious About Raising Your Credit Score
How Much Is a P.O. Box?
P.O. boxes have different prices based on the post office location. For detailed pricing information, call your local post office or check the detailed USPS price sheet on their website. 
The USPS website lists starting prices for their five sizes on their website:
XS — 3″ X 5.5″ — $4.50 per month
S — 5″ X 5.5″ — $5.83 per month
M — 5.5″ X 11″ — $8.67 per month
L — 11″ X 11″ — $12.83 per month
XL — 12″ X 22.5″ — $22.50 per month
You can pay for three months, six months or 12 months. However, be aware that choosing the three-month option auto-enrolls you in automatic renewals with no option to opt out. 
Make Your Money Work for You
You can pay for your P.O. box online with a credit or debit card. You can also pay with cash or check by mailing your local postmaster or visiting the location in person.
What Is a P.O. Box and How Does It Work?
A P.O. box is a numbered, locked mailbox at your local post office. Each P.O. box has its own unique mailing address. After you rent a P.O. box, mail addressed to it will be deposited there until you retrieve it using your key. 
In most post office locations, P.O. boxes are accessible 24/7. However, since this may vary based on your local post office, be sure to confirm business hours before you rent if 24/7 access is important to you.
P.O. boxes are usually available in five sizes from XS to XL. The smallest size can hold 10-15 letters, while the largest can fit multiple packages. If a package is too large for your P.O. box, you will receive a slip that you can use to pick it up from the post office during normal business hours.
Make Your Money Work for You
Who Is a P.O. Box Best For?
A P.O. box is best for someone who cannot or would prefer not to receive mail at their primary address. There could be multiple reasons for this, including security, privacy or the need for a temporary address in another state. 
For example, if you have a small business and need to publish a mailing address, a P.O. box can be a good way to keep your home address private. P.O. boxes can also be good options for people who are moving but want to keep a permanent address, or people who are in another town or state for work and need to receive mail there.
Another reason to get a P.O. box is if you are having issues with stolen mail. Since your packages can only be accessed with your key, they will usually be safer in a P.O. box than on your porch. 
Do You Have To Have a Physical Address To Open a P.O. Box?
You do need a physical address to open a P.O. box. The USPS website states that customers are required to bring two forms of ID when opening a P.O. box. The primary form of ID can be a valid U.S. government-issued ID, passport, or corporate or university photo ID. The secondary form of ID must be proof of current address, such as a lease, or a vehicle or home insurance policy.
Make Your Money Work for You
This means that if you do not currently have a physical address, you cannot open a P.O. box. However, if you need to receive mail and do not currently have an address, you can use USPS General Delivery. To receive mail using general delivery, simply have your mail addressed like this:
Your name

General Delivery

City, state, zip code 
General delivery is usually available at the main post office in your area. To pick up your mail, you will need to bring some form of photo ID to the post office with you. For more information on General Delivery, contact your local postmaster.
Final Take
Is having a P.O. box worth it? If you need to receive mail or packages at a place other than your primary address, then a P.O. box may be your best solution. If a USPS P.O. box is not a good fit for you, then you can take a look at alternatives from companies like UPS.
FAQ
Here are the answers to some of the most frequently asked questions regarding P.O. boxes.
Do you pay monthly for a P.O. box?

While prices on the USPS website are listed monthly, P.O. boxes can only be paid in three, six or 12-month intervals.

How much does it cost to send mail to a P.O. box?

P.O. boxes are treated like any other address, which means that sending mail to them costs the same as sending mail to any other address.

Are there fees for extra P.O. box keys?

When you rent a P.O. box from USPS you receive two keys. You can pay a $10 fee to receive an extra key.

Is it cheaper to get a P.O. box at USPS or UPS?

D

ifferent UPS locations have their own prices for their personal or business P.O. boxes, so depending on your location either UPS or USPS could be cheaper. Therefore it's best to contact your local UPS store and post office and ask for their pricing. 
Information is accurate as of March 8, 2023. 
Make Your Money Work for You