7 Ways Football Season Is Making America Poor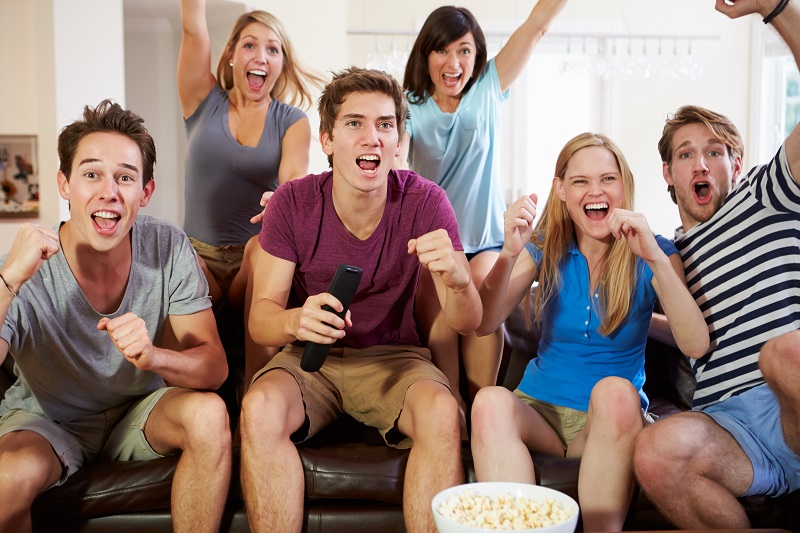 The National Football League is one of the richest sports organizations on the planet. The league earns about $10 billion each year, and its leaders project that number to rise to $25 billion by 2027.
Although lucrative licensing, advertising and media deals fuel the NFL money machine, in the end it's the NFL's legions of loyal fans who are responsible for the organization's fortune. They fill the stadiums, watch the games on TV and buy NFL-licensed merchandise.
With the 2015 football season underway, the NFL is once again gearing up to make record profits on the backs of its fans. Here are the top seven ways the NFL is getting rich off of you.
Related: 78% of NFL Players End Up Broke — These 6 Athletes Didn't
1. Stadium Tickets, Food and Beer Are Overpriced
If you're a fan of the Cleveland Browns or the Jacksonville Jaguars, you can still see your favorite team play live at local stadiums for under $60. The average ticket prices for the league's two least-expensive live-game teams are $54.20 and $57.65, respectively. Unless your team is at the bottom of the pack, however, a $60 ticket is likely to be out of reach.
The average price for NFL tickets to a live game is $84.43. The eight most expensive teams to see live — the New England Patriots, San Francisco 49ers, New York Giants, Dallas Cowboys, Chicago Bears, New York Jets and the Baltimore Ravens — all charge more than $100 per ticket.
All told, attendance and ticket sales earn the NFL roughly $2 billion every year. NFL ticket prices, however, are not the only hit your wallet will take at the stadium. If you plan on having a beer while you watch, be prepared to pay. The average price of a small draft is $7.53. If you drive, plan to spend $31 for parking per game, or $248 each season.
2. Your Cable TV Subscription Is Expensive
The NFL makes about one-half of its $10 billion yearly earnings from television and broadcast rights. CBS, ESPN, Fox and NBC are paying the NFL a total of between $5 billion and $6 billion each year in contracts that run through 2022. By 2027, that number might reach $17 billion.
Read: 10 Ways to Cut $500 Off Your Monthly Bills
The structure of television distribution is horribly unfair to people who don't watch sports — especially when it comes to the NFL media juggernaut. There is an astounding 154 percent gap between NFL viewership and non-sports prime-time programming. Those who do not watch sports but pay for cable are subsidizing the cost for those who do. If a subscriber pays $90 a month for cable, $76 a year is going toward NFL, whether the subscriber watches football or not.
ESPN is by far the most expensive channel for viewers, costing subscribers $5.13 a month. In comparison, subscribers pay Disney $1, CNN $0.57 and MTV $0.37 each month.
3. NFL Sunday Ticket, Game Pass and RedZone Are Overpriced
DirecTV recently renewed the contract for its NFL Sunday Ticket package, which will earn the NFL $12 billion over eight years. Meanwhile, the NFL announced that non-DirecTV viewers can get NFL Sunday Ticket for between $199 and $359 a season. If you want to watch more football on your cable subscription, NFL RedZone costs anywhere from $19.80 to $90 per season depending on your provider.
In 2015, the NFL launched Game Pass, a streaming service that allows subscribers to watch games as soon as they end. The service — which targets cord cutters who don't have cable or satellite subscriptions — allows fans to listen to the audio from regular season games live, and they can watch preseason games as they happen. The service costs subscribers $99 a year.
4. Fantasy Football Costs You Hundreds
33 million Americans play fantasy football, the wildly popular gambling activity in which participants draft teams of real players and then compete against each other in leagues based on the performance of those players during actual games.
The Fantasy Sports Trade Association reports that, on average, fantasy players shell out $465 a year on fantasy sports. People who participate in fantasy leagues spend $257 a year on daily fantasy and $162 on traditional fantasy. The remaining expenditure is an average of $46 spent on fantasy sports-related materials, including:
$14 for website subscriptions
$9 for print publications
$7 for draft boards
$6 for draft preparation kits
$5 for software
$4 for apps
Related: Chris Borland's Early NFL Retirement Carries Cost of Millions
5. Hosting Super Bowl Weekend Is Expensive
The Super Bowl is one of the most-watched single-day sporting events in the world. 111.5 million people tuned in for Super Bowl XLVIII. Altogether, consumers spent $12.37 billion on the game, with the average fan spending roughly $80 on Super Bowl weekend.
The bulk of that $80 was spent on food and beverages, apparel, decorations and furniture. In Nevada alone gamblers wagered about $100 million on the Super Bowl in 2013.
6. Season Tickets Cost You Hundreds
For the most committed fans, NFL season ticket packages offer a chance to see every home game. Depending on the seats, a ticketholder can shell out just a few hundred dollars or several thousands on a package.
The average cheapest available season ticket package costs $463. This brings the price of a ticket to $47 per game. The average for the most expensive package is $2,668, which makes the price per ticket $266 per game. Your cost however, doesn't stop with season ticket packages.
Some teams require applicants to purchase a Permanent Seat License (PSL), which grants the right to "own" a seat. This can cost anywhere from $500 to $150,000, depending on the team and seat location. The Minnesota Vikings, for example, charge $10,000 for the privilege of paying for a single seat. This figure does not include the cost of the actual tickets.
Many NFL teams have a waiting list, too. To get on the list, fans are required to pay a fee — usually $100 — just to get in line. For season tickets for the Seattle Seahawks, the wait could be as long as a decade. For the Green Bay Packers, the wait is roughly 955 years.
7. Football Memorabilia and Jerseys Are Overpriced
Nike is the current official NFL team uniform brand — and they recently raised their prices for jerseys. To get their hands on a "limited" jersey, fans will have to cough up $150. If they splurge for the "elite" version, it will cost them a staggering $295.
When Nike won the title of official uniform supplier from Reebok in 2012, they immediately raised the cost of the cheapest jersey from $85 to $100. The reason for the increase, according to Time, is simply due to the fact that Nike has a monopoly on the merchandise.