Happy National Comic Book Day 2015: 5 Most Popular Comic Book Franchises From The Avengers to Spider-Man
Celebrate your favorite comic book franchises this Comic Book Day 2015. Learn about these top-earning superheroes.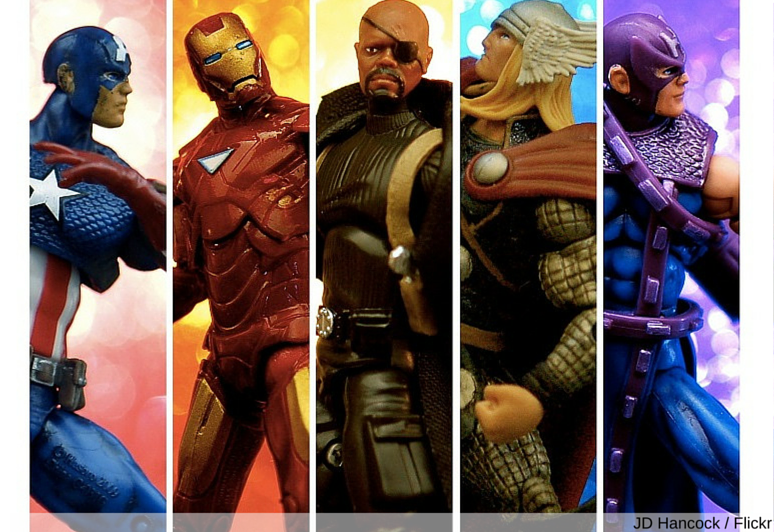 Though superheroes have been fighting the forces of evil for generations, recent years have seen them rise up from the dens of geeks to the mainstream. From blockbuster adaptations cleaning up at the box office, like the recent "Avengers: Age of Ultron," to San Diego Comic-Con, comic books have become a celebrated art form.
In honor of National Comic Book Day on Sept. 25, find out which of your favorite superheroes are bringing in so much cash even Lex Luthor would be envious.
Read: Comic-Con Costs $1,853 to Attend in 2015
National Comic Book Day 2015: 5 Highest Grossing Comic Book Franchises
1. Spider-Man
When New York City's nimble web crawler first appeared in comics in 1962, Stan Lee introduced a new breed of vulnerable superheroes to join the ranks of Superman and Batman in the comic book universe. From the beginning, young photographer Peter Parker has been a fallible character who, after being bitten by a mutant spider, has used his powers to fight crime while dealing with the highs and lows of teenage life.
Spider-Man's first appearance was in issue #15 of "Amazing Fantasy." Since then he has had a long-running career in "The Amazing Spider-Man" comic book series. The superhero has also appeared in children's cartoons and a campy, 1970s live-action TV series.
The success of the Spider-Man movie franchise is what makes this Marvel superhero among the most valuable creative properties. Combined, the five Spider-Man movies have grossed $1.58 billion domestically and $3.96 billion worldwide, according to 24/7 Wall St. Over the past 50-plus years, Spider-Man comics have sold more than 360 million copies, according to What Culture.
Spider-Man is the biggest retail money earner, too. In 2013 alone, he brought in $1.3 billion in global retail sales.
2. Batman
The Caped Crusader first appeared on the streets of Gotham City — and the pages of "Detective Comics" — in 1939, making fans during the World War II era as a shadowy crime fighter committed to avenging the murder of his parents. As millionaire Bruce Wayne by day, and Batman by night, comic readers were introduced to the world's first hero with a dark alter ego that seems more in line with the villains he fights than any traditional hero the world had seen at that point. While Batman has been joined over the years by sidekick Robin and other supporting players, he'll always be known as a solitary, nocturnal detective ridding the world of injustices.
The Batman movie franchise was kicked off by Tim Burton's smash 1989 interpretation, which spawned numerous sequels that have — in total — grossed $1.9 billion in U.S. ticket sales and $3.8 billion worldwide. A new installment, pitting Ben Affleck as the Dark Knight against Superman, is currently in production.
Batman's comic book franchise has been DC Comics' shining star, selling more than 460 million issues. Batman is DC Comics' most licensed character and biggest money earner too, raking in $494 million in merchandise sales in 2013 alone.
Read: How to Invest in Comic Books
"Batman v Superman: Dawn of Justice" Movie Trailer
3. X-Men
The X-Men, a Stan Lee-Jack Kirby creation, was among the first ever superhero teams, debuting in 1963. The original team, comprised of Cyclops, Marvel Girl, Beast, Angel, Iceman and Professor X, were pitted off early on against archenemy Magneto.
Over the past decades, the X-Men have grown into a multibillion dollar franchise, spawning toys, cartoons and blockbuster films. In the last 15 years, there have been seven X-Men movies produced, grossing $3.05 billion worldwide and $1.3 billion domestically.
The franchise's comic book sales are nothing to sneeze at either. What Culture reports over 270 million X-Men comic books have been sold over the years.
4. Iron Man
Iron Man's popularity as a superhero comes from his alter ego, Tony Stark, who once used his industrial know-how to build a high tech suit of armor to escape captors. Since the superhero's introduction in the 1960s, Iron Man has seen more than 50 years of success as one of Marvel's most popular characters.
A popular movie franchise has helped make Iron Man a front runner in the Avengers, making Robert Downey, Jr. one of Hollywood's highest-paid actors. While the actor is raking in millions in paychecks, the films are bringing in billions.
The Iron Man trilogy of movies brought in $2.42 billion in international ticket sales and $1.04 billion domestically. Apart from his own series, Iron Man is happy to team up with superhero colleagues, and can be seen sporting cameos in other Marvel films.
5. The Avengers
It would be hard to imagine a universe without the X-Men or the Avengers, Marvel's other star-studded superhero team. Unlike other superheroes of their ilk, the Avengers didn't make a special appearance in another comic series — the team confidently made its debut in their own issue, "Avengers #1," in 1963.
Since their debut on the big screen, the Avengers have made billions for Marvel. The first Avengers movie, appropriately named "The Avengers," grossed $623 million domestically and $1.53 billion worldwide. The 2012 film broke Hollywood box office records, making $207.4 million its opening weekend.
Read: 'Harry Potter,' 'Jurassic Park,' 'Avengers' and 14 Other Multi-Billion Dollar Movie Franchises

Thus far, "The Avengers: Age of Ultron" movie has brought in $1.4 billion worldwide, according to Box Office Mojo. Avengers comic book sales, meanwhile, have made $132 million in the last decade. Because of the franchise's superpowered success, sales of Avengers-themed merchandise surpassed $1 billion last year, according to NPD Group.