My 5 Tips for a Fun and Affordable Coachella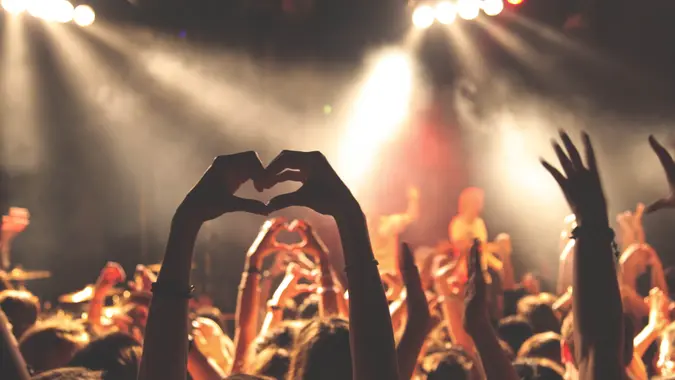 Anthony DELANOIX / Unsplash
So you want to go to one of the biggest music festivals in the U.S. — nay, the world — but the cost is slightly terrifying. Even the cheapest way to do Coachella will set you back hundreds of dollars, so how on earth do you save money? I've got a few tips that will keep the party (and your wallet) going all weekend long.
Click to read more about how much Coachella is really costing you.
Go Thrift Store Shopping
Coachella is basically one giant fashion show. And if you're not dressed like an alien or a boho queen, then did you even go to Coachella? Fear not. Just because you can't afford a $350 crop top doesn't mean you still can't go in style. Being a fashionable baller-on-a-budget means hitting up the local thrift store and finding some real vintage clothes. Anything with fringe, bell bottoms, florals, frayed denim or funky statement pieces and you're on the right track. Just don't forget a chic backpack to store your goodies and a vintage bomber jacket for those cold, desert nights.
Eat Smart and Pregame at Home
And by pregame, I mean stuff your face with carbs and protein in the parking lot. Unfortunately, bringing breakfast, lunch and dinner into the polo fields is a no-go. Eventually, you'll be starving and Coachella expects you to shell out $7 for an Instagrammable popsicle (which you will succumb to if you're not prepared). What you can do is make a grocery run before your trip. Load up on breakfast so you're not starving on arrival. And drink as much water as possible so you're not mistaking your dehydration for hunger.
Drink Your Weight in Water
Alcohol is probably where you're going to splurge the most, and it would be unrealistic of me to tell you to "skip the beer" at one of the biggest music festivals on the planet. But what will save you money is the amount of water you drink. Drinking water will fill your stomach, which will make you forgo that extra drink without losing your buzz. Staying hydrated will also keep you from making some bad, money-making choices that would only come from a super inebriated party-goer. Don't forget to bring your own water bottle to help save our planet. #EarthMonth
Make Your Money Work for You
Actually Use Your Shuttle Pass
I know how tired you are, I know how cold you are and I know how drunk you are. Resist the urge to Uber home and enjoy that Any Line, Anytime Shuttle Pass that you actually paid for. Besides, Uber prices go up dramatically for the festival, so you know it won't be cheap. Just make sure to bring a jacket or blanket, some water and get comfy before you go crashing those after-parties. If you were smart enough to camp out at Coachella this year, you're not only saving money on the transportation but the accommodation as well.
Get Campy With It
By now, it's already too late to cancel your expensive Airbnb and get that camping ticket, but keep this in mind for next year. It's hard to find accommodations in Joshua Tree, Palm Springs and Palm Desert during the off-season that won't break the bank. Add a trendy, annual event and the prices skyrocket. Skip the expensive homestays and go for the extra camping pass. This will save you a lot of money and will even create some camaraderie with your fellow Coachella-goers.
Click through to read more about the insane cost to host Coachella.