MoviePass Is Back: Is It Worth the Cost and How Do You Sign Up?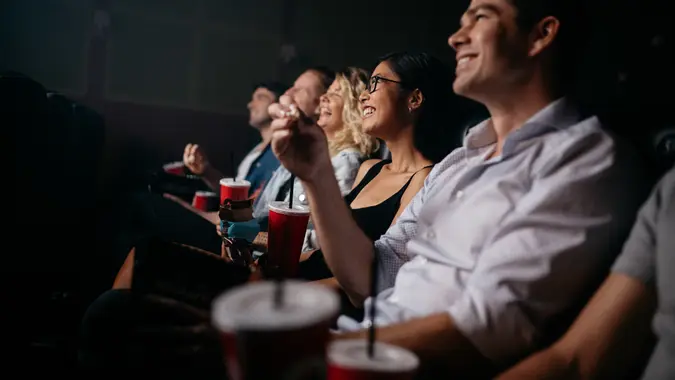 ©Shutterstock.com
MoviePass launched nationwide in 2012 as a subscription-based movie ticket service. Basically, customers paid a flat fee each month in exchange for being able to see up to one movie per day in a movie theater. When a subscriber wanted to see a movie, MoviePass loaded the funds for the cost of the movie ticket onto the customer's MoviePass debit card, which the customer then used for payment at the movie theater.
Also: How Much Is Prince Harry Worth?
Find Out: If Your Credit Score Is Under 740, Make These 4 Moves Now
However, in 2017, the company lowered the subscription price under $10 to boost signups, and a huge influx of new subscribers appeared almost overnight. As a result, the MoviePass business model proved unsustainable and the company shut down in late 2019 and filed for bankruptcy in January 2020.
Recently, MoviePass announced it's back in business. While there's no denying that MoviePass has had a rocky history, what its future holds remains to be seen. Read on to find out about MoviePass's new business model and whether it's worth the cost.
Make Your Money Work for You
What's Different About MoviePass Now?
To once again find success, MoviePass has made several important changes. In the past, MoviePass paid theaters full price for its customers' movie tickets. MoviePass no longer has to shoulder that full cost because it has negotiated deals with over 25% of movie theaters.
Also, rather than charging subscribers one price as it did before, MoviePass now features a tiered pricing structure of $10, $20 or $30, with the amount you'll pay depending on your location. Subscribers will also receive a certain amount of credits each month that they can use toward movies they want to see. The amount of credits they will have to use per movie will depend on when they choose to see the movie.
"And so, if I want to go only on Friday night of opening weekend, I'm probably going to use the maximum number of credits, if you think of peak and off-peak pricing," MoviePass co-founder Stacy Spikes told NPR. "But let's say I don't have a problem going to see that movie a few days later on a Monday, Tuesday, Wednesday night. I can use far fewer credits because the theaters are more open to allowing a lower price."
Make Your Money Work for You
As of now, that's all the information MoviePass has released regarding its pricing structure. However, its website states that more details are coming.
Take Our Poll: How Long Do You Think It Will Take You To Pay Off Your Credit Card Debt?
How To Sign Up for MoviePass
MoviePass is now in beta stage, so the only way you could become eligible to sign up for MoviePass on your own was to join the waitlist. Unfortunately, the deadline to join the waitlist has passed; it opened on Aug. 25 and closed on Aug. 29.
The good news is that everyone who joined the waitlist received 10 friend invites, so if someone you know is on the MoviePass waitlist, you could potentially ask for one of the invites they received. If not, you'll have to wait and see if MoviePass opens its subscription to more people in the future.
When Will the New MoviePass Service Relaunch?
According to the MoviePass website, the service relaunched on or around Labor Day, Sept. 5. However, it did not relaunch throughout the U.S. all at once. Instead, the service was slated to relaunch in waves, based on how much engagement occurred for each market on the waitlist and the locations of MoviePass exhibition partners.
Make Your Money Work for You
On its website, MoviePass states that it will notify waitlisters via email when their market will be opening so that they and their friends can sign up for the service. MoviePass will feature all major theaters that accept credit cards.
Is MoviePass Worth It?
According to market data gathered by The Numbers, the average price of a movie ticket in the U.S. is currently $9.17. Considering that MoviePass's new pricing structure is $10, $20 or $30 per month, your subscription could easily pay for itself each month if you see two to four movies.
However, it's important to remember that a credit system is involved. According to preliminary information from Spikes, to maximize your credits, you'll need to avoid going to movies during the day of their release and the first few days afterward. Also, you should plan to see movies on Monday through Wednesday rather than Thursday through Sunday — or whatever day the movie theater you visit is willing to accept a lower price of admission.
The bottom line? If you are someone who enjoys going to the theater and watching movies two to four times per month, MoviePass could be well worth it — especially if you are willing to forgo movie premieres in favor of maximizing your MoviePass credits. Stay tuned to announcements about MoviePass, however, because pricing and credit details could change.
More From GOBankingRates
Make Your Money Work for You