Should You Invest In Ticket Insurance for Concerts and Other Big Events?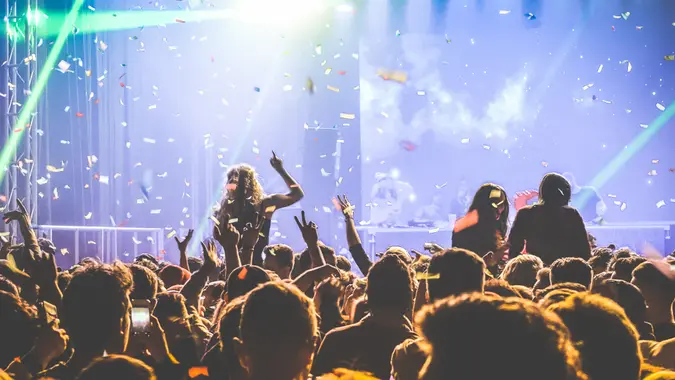 View Apart / Shutterstock.com
Do you regularly purchase ticket insurance for concerts or big events? Amid the COVID-19 pandemic, many event patrons began making it a habit to purchase ticket insurance as a financial buffer. If an artist or venue canceled a show, attendees with ticket insurance could be eligible to receive a refund.
Is ticket insurance worth it? The general consensus is yes, even if it means paying a little extra to cover the price. Read on to learn more about how ticket insurance works and what to know about this type of insurance before buying it.
Holiday Spending: Get Top Holiday Spending and Savings Tips
Find Out: If Your Credit Score is Under 740, Make These 4 Moves Now
What's Ticket Insurance?
If you haven't purchased ticket insurance before, you might wonder how it works and why you should consider buying it. 
Concert and event tickets are an investment. You're going to see your favorite artist or attend an event you budgeted carefully to pay for and set aside the time to attend and enjoy the show. However, there are often factors beyond your control at play. You might get sick or have an unexpected personal emergency come up which makes it impossible to attend. Similarly, there may be unforeseen circumstances impacting the venue or performer, like sudden changes in weather or a performer's illness, which may lead to the event's cancellation.
Make Your Money Work for You
Making the choice to purchase ticket insurance helps safeguard your investment. If you don't have insurance, it can be difficult to receive a refund for the money spent on the event. 
Many entertainment companies, like Ticketmaster, also make it easy to purchase ticket insurance. If you purchase tickets directly through the Ticketmaster website, you'll have the option to include Allianz Event Ticket Insurance to your total before checkout. Ticket holders who have purchased insurance and are unable to attend due to a qualifying circumstance will be reimbursed for their purchase. This gives ticket holders additional peace of mind in knowing their tickets, and bank accounts, have an added layer of financial protection.
Take Our Poll: Are You Struggling To Keep Up With Your Utility Bills?
What Should I Know Before Buying Ticket Insurance?
Throughout the course of the year, there will be many shows, concerts and live events we will want to see and spend money on to attend. Some of us may spend hundreds of dollars, or even thousands, to ensure we have the best seats or to buy tickets for multiple people who will attend the event with us.
It's critical to do your homework before buying tickets, or ticket insurance, to make sure you're not being accidentally scammed out of your money. Before making your ticket insurance purchase, the Better Business Bureau (BBB) recommends reviewing the following considerations.
Make Your Money Work for You
Read the Fine Print
What are the qualifying circumstances which would allow you to be reimbursed for your tickets? Which circumstances don't qualify? The BBB recommends reading the fine print to understand the specific ticket insurance policy and what it covers and does not cover.
Research the Insurance Company
Even if you feel confident the insurance company is trustworthy, it doesn't hurt to review their website and read reviews from customers.
In a pinch, you can always look up the insurance provider through the BBB and see what their business rating looks like. If you find they are not listed on the BBB or every review you read is negative, you may decide to use a different ticket insurance provider.
Keep Your Eyes Peeled for Scams
This is true of purchasing tickets and ticket insurance. The BBB recommends steering clear of phishing emails which promise extremely cheap ticket insurance and being on or redirected to fake websites to make these purchases. 
Contact the Ticket Seller
According to the BBB, those who have concerns about certain events being postponed or canceled can contact the ticket seller directly to learn how they handle these situations. You may receive a refund through the primary ticket vendor in the event of a cancellation or recommended to purchase ticket insurance.
Make Your Money Work for You
More From GOBankingRates
Make Your Money Work for You