Which Streaming Services Are Raising Their Prices?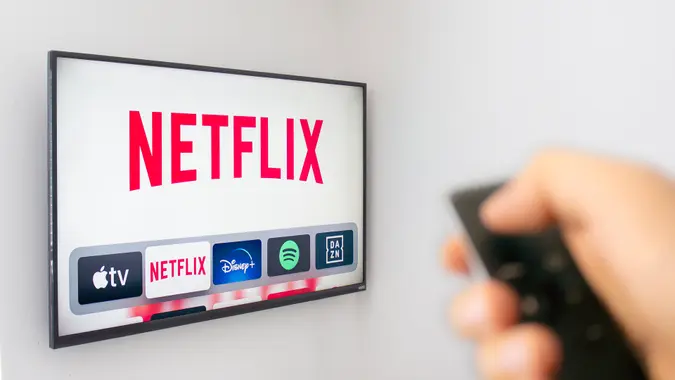 Marvin Samuel Tolentino Pineda / Getty Images
If you are one of the tens of millions of people who use streaming services, then you may have noticed a slight hike in your bill. Many of the streaming giants have increased their prices over the past 12 months. So, if you subscribe to more than one service, you may really feel the impact of the added costs.
Find Out: 4 Reasons You Should Cancel Amazon Prime
Tax Lessons: 3 Ways Smart People Save Money When Filing Their Taxes
Read on to find out about the streaming services raising prices and how much you are going to have to pay this year to watch your favorite shows.
While you're at it, check out these free streaming services and movie providers.
Netflix
Netflix subscribers will recall that the streaming giant raised prices in January 2022 by $1 to $2 depending on the plan. The standard plan jumped from $14 to $15.50, while premium users saw an increase from $18 to $19.99. Basic subscribers also saw a hike from $8.99 to $9.99 at the beginning of last year. Then, on Nov. 3, Netflix made headlines by debuting a new, less expensive tier referred to as Basic with Ads for $6.99. 
Make Your Money Work for You
The good news is that Netflix users now have more options than ever; the bad news is that most of them are more expensive. Plus, if you were logging in with someone else's credentials before, you might not be able to much longer. The streaming service has announced that it will crack down on password sharing.
Take Our Poll: What Are Your Financial Priorities in 2023?
Disney+
Disney+ members may have had sticker shock near the end of last year when their ad-free monthly subscription jumped from $7.99 to $10.99. Disney, like Netflix, is now offering an "ad-supported" basic tier for $7.99 for individuals hoping to keep their costs down. 
Hulu
Disney-owned Hulu joined the ranks of price raisers last fall. The basic tier with ads saw an increase from $6.99 to $7.99, while the ad-free plan jumped from $12.99 to $14.99. The streaming service further increased its Hulu Live TV bundles from $64.99 to $74.99 for their basic plan and $75.99 to $82.99 for the premium plan. 
ESPN+
ESPN+ followed suit with its Disney counterparts, announcing an increase of $3 from $6.99 to $9.99 per month. Subscribers to the Disney bundle — which includes Disney+, Hulu and ESPN+ — also saw their monthly bills go up $1 to $14.99 for the ad-based version. 
Make Your Money Work for You
HBO Max
HBO Max customers will see their monthly costs increase by approximately 7%, according to Fast Company. An ad-free subscription will now cost $16 per month. Subscribers who aren't averse to ads will still pay just $10 per month. 
Apple TV+
If you can't get enough of "The Morning Show" or "Ted Lasso," you likely noticed the $2 increase for an Apple TV+ subscription. In fall 2022, the streaming service increased monthly subscriptions from $4.99 to $6.99 and annual ones from $50 to $69.
Sling TV
Dish Network's Sling TV let customers know in November 2022 that it would be increasing its price by $5. Sling Orange subscribers now pay $40 per month, whereas Sling Orange and Blue subscribers are paying a hefty $55.
More From GOBankingRates
Make Your Money Work for You