SNAP 2023: Low-Income College Students At Risk To Lose Food Stamp Eligibility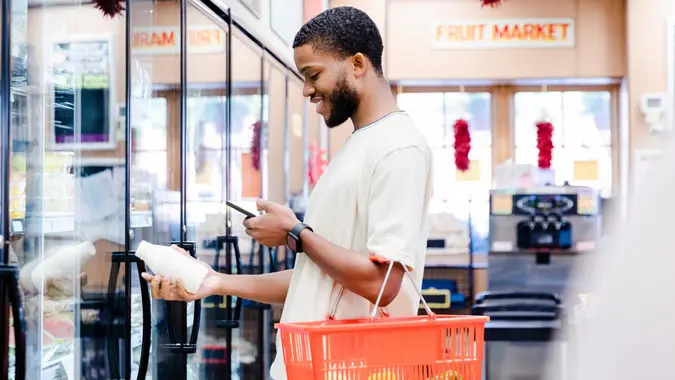 SDI Productions / iStock.com
Contrary to what some people might think, not all college students come from comfortable backgrounds. Nearly one-third lack the financial resources to even afford healthy food, according to one estimate. Many of these students depend on Supplemental Nutrition Assistance Program (SNAP) benefits to help purchase food — and they might lose their SNAP eligibility because of new rules.
One of those rules is that able-bodied SNAP recipients must work 20 hours a week to receive benefits. As GOBankingRates previously reported, the working-hours rule was temporarily lifted during the COVID-19 pandemic, but has since been reinstated due to the recent end of the pandemic emergency.
Nearly 1 million students could be at risk of losing benefits because of the 20-hour work requirement, The Washington Post reported, citing estimates from an unnamed member of Congress. That's mainly because many students don't have enough time to put in 20 hours of work a week while also going to school full-time.
SNAP, formerly known as food stamps, is a food purchasing assistance program available to low-income individuals and households. It is overseen by the U.S. Department of Agriculture and administered at the state level.
The 20-hour work rule isn't the only one that will change now that the COVID emergency has been lifted.
As The Associated Press reported, SNAP eligibility requirements for college students were relaxed during the pandemic, allowing in students on financial aid with no expected family support as well as anyone who qualified for work-study programs — regardless of the number of hours worked. Researchers estimate that as many as 3 million college students were added to the program under the COVID rules.
Make Your Money Work for You
With the pandemic emergency over, students who already received SNAP benefits had until June 30, 2023, to recertify and stay in the program under the COVID-era rules. Expanded SNAP eligibility will only last one more year. After that, the program will revert to pre-pandemic rules at varying points over the next year, determined by individual state schedules.
In a recent memo, the USDA said as of July 1, 2023, temporary student exemptions "are no longer available" to students applying or recertifying for SNAP. Some students might no longer be eligible for SNAP, or might need to provide additional information when they recertify to continue their SNAP benefits, according to the agency.
These changes could have a big negative impact on low-income students who depend on SNAP to help buy food, experts warn.
"In the next couple months, potentially thousands of college students could be losing access to this program. It's going to be coming in waves," MacGregor Obergfell, assistant director of governmental affairs at the Association of Public and Land-grant Universities, told the AP.
Hunger among college students is more widespread than some might believe. Radha Muthiah, president of the Capital Area Food Bank, told the AP that student hunger is "a hidden crisis" that "came out of the shadows during the pandemic." She estimates that at least 30% of college students are food insecure.
Meanwhile, hunger among college students could be on the rise because of inflation, according to Robb Friedlander, director of advocacy for Swipe Out Hunger. "We have definitely seen a massive increase in the level of need across campuses, from red states to blue states," Friedlander told the AP.
Make Your Money Work for You
Some lawmakers aim to address the problem through legislation. One of them, U.S. Sen. Kirsten Gillibrand (D-N.Y.), recently announced the "Enhance Access to SNAP (EATS) Act," which would expand SNAP benefit eligibility to all college students attending 2- and 4-year universities who meet traditional SNAP income and eligibility requirements.
"With emergency COVID-19 SNAP benefits for college students set to expire […] we need to simplify eligibility for critical SNAP benefits to combat food insecurity plaguing low-income college students across New York State and the country," Gillibrand said in a May press release. "College students should never have to choose between food and their education — the time to act is now."
More From GOBankingRates