SNAP Payments Are Being Delayed in Some States — and Permanently at Risk for Thousands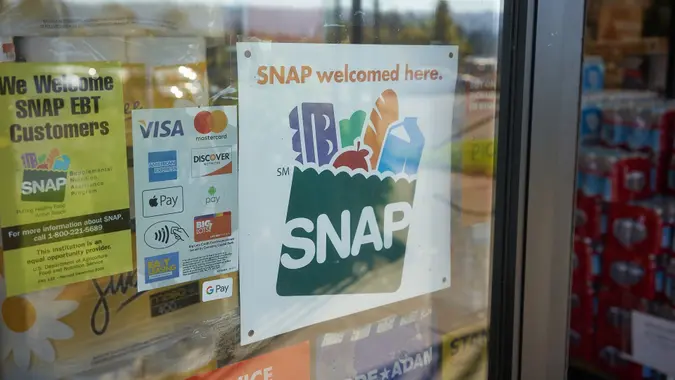 hapabapa / iStock.com
SNAP, the nation's most important anti-hunger program, provides essential food-purchasing assistance for low-income households. SNAP helped an average of 41 million Americans in 2021, according to the Center on Budget and Policy Priorities (CBPP), but now some states are failing to pay recipients on time, while others may even be at risk of losing their benefits.
According to state public records, Georgia failed to pay thousands of SNAP recipients in May, according to The Atlanta Journal-Constitution. Approximately 63% — or 46,234 applications — were delayed in May. On the Facebook page of the state Department of Human Services, which oversees the program, one SNAP recipient said they applied to renew benefits nearly two months ago and haven't received any food benefits since March.
Applications for SNAP benefits are supposed to be processed within 30 days.
"We are working as quickly as possible to get all applications/renewals processed, and are actively hiring to fill positions so we can serve our clients more expeditiously, but we are also being hampered by federal rules and requirements, which prevent us from streamlining this process," said Kylie Winton, a spokesperson with DHS.
SNAP recipients nationwide are at risk of losing their benefits by 2025 under new legislation. President Biden signed a bill into law to suspend the debt limit, but it also changed work requirements for older adults.
The new agreement will expand work requirements for adults 50 to 54. Currently, SNAP dictates that adults 18 to 49 can only receive food stamps for three months out of every three years unless they work at least 20 hours per week. The CBPP said this puts 750,000 older adults aged 50 to 54 at risk of losing food assistance.
Make Your Money Work for You
Veterans, kids aging out of foster care and the homeless are exempt from the new SNAP changes, reported WFTV. These changes will be in place until 2030.
SNAP Benefits: When Will My Card Be Reloaded?Find: When To File Recertification So You Don't Lose Your SNAP Benefits in 2023
But there are exemptions to the new rule. The Philadelphia Inquirer said state governments in charge of administering SNAP benefits can waive the work requirement for areas with high levels of unemployment. SNAP departments in Pennsylvania and New Jersey have already planned to apply for new waivers depending on what the U.S. Department of Agriculture will allow.
More From GOBankingRates