How Much Does a COVID-19 Test Cost?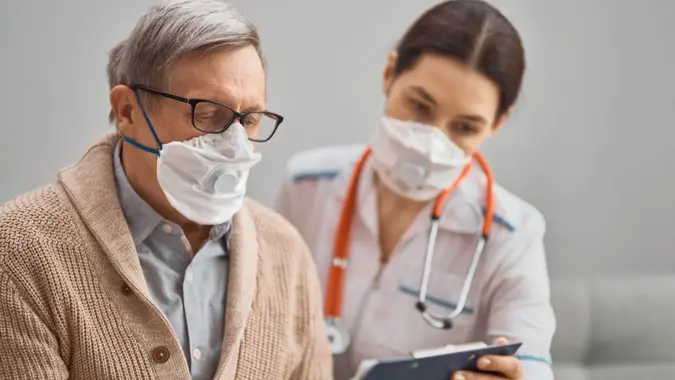 Yuganov Konstantin / Shutterstock.com
The coronavirus is part of the new normal, at least until the vaccine is available to everyone. There are many things the scientific community has yet to understand about the virus. Some people have COVID-19 and have no symptoms, while others become critically ill and even die.
One thing's for certain. The coronavirus is contagious, and getting tested can help you avoid spreading the virus and get treatment as early as possible. Read on to find out more about how you can get tested and get answers to the question "How much does a COVID-19 test cost?"
Read: Could Your Boss Make You a COVID-19 Vaccine To Keep Your Job?
How Can I Get Tested for Coronavirus Disease?
A couple of tests are available for the coronavirus disease: the viral test (PCR) and the antibody test (serological). The antibody test isn't designed to tell you if you currently have COVID-19. Instead, it can confirm if you've been exposed to the virus in the past. Therefore, it's not the most effective test to take if you have coronavirus symptoms and want to know if you're currently sick. COVID-19 symptoms include the following:
Fever and/or chills
Shortness of breath
Cough
Sore throat
Congestion or runny nose
Nausea or vomiting
Body aches
Fatigue
Loss of smell or taste
Diarrhea
If you have the symptoms or you feel you've been exposed to COVID-19, your doctor will likely administer or prescribe you a COVID-19 viral test, known as a PCR. Depending on the test on hand, a healthcare worker may:
Swab the back of the throat or the nasal area
Take a saliva sample
Collect a sample from the lower respiratory tract
See: 66 Famous People Who Caught the Coronavirus
How Long Does It Take To Get Results for a Coronavirus Disease Test?
Depending on the kind of COVID-19 test you take, it could take between one to three days to receive results.
How Reliable Is the Test for COVID-19?
The accuracy of a COVID-19 test depends on a few factors. Whether the sample was properly collected by the technician and how it was shipped to the lab could affect its accuracy. There's also a chance a COVID-19 test may come back incorrectly as negative if you just contracted the virus because there isn't enough of the virus accumulated in your saliva or membranes to detect.
Make Your Money Work for You
Nevertheless, false positives are less likely than false negatives. A positive test result is highly accurate and most likely means you have the virus. A negative test result does not necessarily confirm you're not infected, and you may need to take a second test a few days later to confirm.
Find Out: How Coronavirus Exposed America's Mistreatment of the Elderly
How Much Do COVID-19 Tests Cost?
The COVID-19 test is covered by the Families First Coronavirus Response Act and should be free to anyone — whether insured or uninsured. If you're covered by private insurance, Medicare or Medicaid, the Families First Coronavirus Response Act mandates free testing. It prohibits health insurance companies from cost sharing the COVID-19 test price — also known as charging deductibles or copays to insured patients. At this time, however, the act will not cover the cost of the coronavirus vaccine.
However, free testing is limited to community testing locations, select pharmacies and health centers. Some individuals may not be located near a free test center, or they may need a time-sensitive COVID-19 test to travel overseas — as required by other countries — and need to turn to paid testing.
How Much Does a COVID-19 Test Cost for Travel?
The COVID-19 test cost for travel or tourist visas depends on where you go for the test. If you can't make it to a free test center, consider the following information on private testing costs.
How Much Does a COVID-19 Test Cost Privately?
According to the Peterson Center on Healthcare and Kaiser Family Foundation, you may pay as little as $20 and as much as $850 for a COVID-19 test at a hospital or other medical facility. Besides a COVID-19 test without insurance, medical facilities may also bill you for the visit and specimen collection. Specimen collection could add $18 to $200 on average to the cost of a COVID-19 test.
Make Your Money Work for You
How Much Does a COVID-19 Test Cost Without Insurance?
Since the Families First Coronavirus Response Act provides free COVID-19 testing for everyone, you have options even if you're uninsured. If you're able to visit one of the approved testing centers throughout the country, you can be tested for the coronavirus for free.
Take a Look: The Cost of Health Insurance the Year You Were Born
Can I Buy a Test for Coronavirus Disease?
The Food and Drug Administration has not approved a COVID-19 test that you can process at home at this time. However, your doctor can authorize a kit to collect your sample from home that you can ship to the diagnostic lab for testing.
You might be wondering how much an at-home kit for a COVID-19 test costs. As mentioned, tests are available for free thanks to the Families First Coronavirus Response Act, even if you're not insured at this time.
Factors Affecting COVID-19 Testing Prices
If you don't have access to free testing in your area, the cost of testing may be affected by certain factors.
Testing Location
You may want to shop around to find the best COVID-19 test price. Some cities, hospitals or facilities may be more expensive than a comparable facility or town nearby. You may also be able to get a test from a free drive-thru facility without the need for a doctor's order, saving you on the cost of the medical consultation.
Make Your Money Work for You
Type of Testing
Another factor affecting the cost of a COVID-19 test is the kind of testing you're in search of. A COVID-19 test is generally free. If you need a COVID-19 antibody test, however, you'll have to pay for the test if your doctor does not prescribe it or you're not insured or covered by Medicare or Medicaid.
Here are current prices on COVID-19 antibody tests if you have to pay out of pocket:
Habersham Medical Center (near Atlanta): $65
Hunt Regional Medical Center (near Dallas): $25
Jersey Community Hospital (Jerseyville, Illinois): $100
LabCorp: Up to $42.13, plus a $10 fee
North Alabama Medical Center (Florence, Alabama): $113
Severity of Symptoms
If you have a high fever, difficulty breathing or an acute cough or chest pain, your doctor may want to order additional tests. Chest X-rays or additional blood work could add to the cost of COVID-19 testing.
Where To Get a COVID-19 Test
Your best bet to get tested is to visit one of the thousands of locations nationwide that provide COVID-19 testing for free. They include:
CVS Pharmacy
Rite Aid
Walgreens
Walmart locations with in-store Quest Diagnostics or eTrueNorth kiosks
Independent pharmacies that have partnered with Health Mart, TOPCO or eTrueNorth
You can also check with your state's health department for a list of drive-thru and community COVID-19 testing sites.
More From GOBankingRates
Make Your Money Work for You
Our in-house research team and on-site financial experts work together to create content that's accurate, impartial, and up to date. We fact-check every single statistic, quote and fact using trusted primary resources to make sure the information we provide is correct. You can learn more about GOBankingRates' processes and standards in our editorial policy.