Study: You'd Have to Put $3,381,818 in a Savings Account to Cover Your Obamacare Bill
Now that Obamacare has officially rolled out, and we finally have hard numbers surrounding its cost, debate over whether plans under what's officially known as the Affordable Care Act are truly affordable is beginning to heat up.
According to data released by the Department of Health and Human Services for 47 states and Washington D.C., the average lowest-cost "silver" premium is $310 per month — certainly affordable to some, who previously might have paid a much higher premium or not qualified for coverage at all. For others, this represents a sharp increase.
However, regardless of what the federal government does to bring down the cost of healthcare, one glaring issue still remains unresolved: The ability for Americans to save, whether for an emergency, for retirement or even for health insurance premiums, has all but been wiped out. Until the administration seeks to address the non-existent interest rates on savings we've suffered through for more than five years now, few things in life can be considered affordable for a large population of the country.
Click here to see average premiums compared against average savings account rates by state
Share this Image On Your Site
Please include attribution to GoBankingRates.com with this graphic.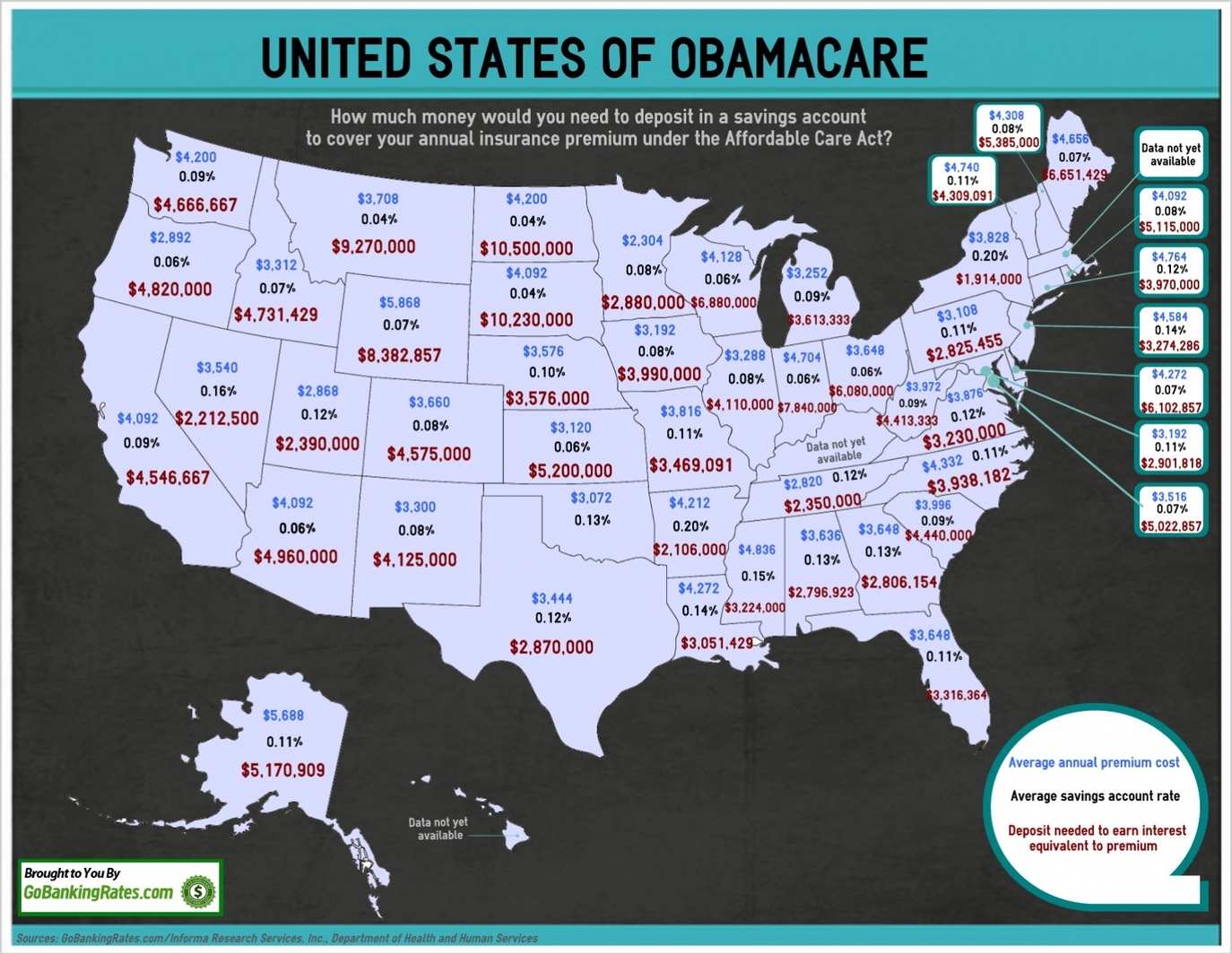 Obamacare Costs
The cost of health insurance under Obamacare will vary widely according to a number of factors like age and marital status. Income determines whether individuals and families qualify for federal subsidies or newly-expanded Medicaid in some states, while location also plays an important role; based on rates for lowest-cost silver plans, for which federal subsidies are available, the lowest average premiums are found in Minnesota, Tennessee, Utah, Oregon and Arizona.
Conversely, the highest-cost states according to average monthly premiums are Wyoming, Alaska, Mississippi, Connecticut and Vermont. In fact, the annual difference in cost between Minnesota and Wyoming is $3,564.
Average Savings Account Rate
Compare this with the average savings account rate: Nationally, savers can expect to earn just .11% APY in their accounts, on average. In order to save up enough interest over the course of a year to cover annual heathcare costs, you would have to deposit $3,381,818 and leave it untouched for all 12 months.
However, like Obamacare heath insurance premiums, where you live makes a difference.
In New York, the average savings account rate is .20% APY, which equates to a $1,914,000 annual deposit to cover the yearly average premium cost of $3,828. On the other hand, the average savings account rate in North Dakota is only .04% APY, which means residents would need to save a whopping $10,500,000 in an account for one year in order to earn enough interest for the annual plan cost of $4,200.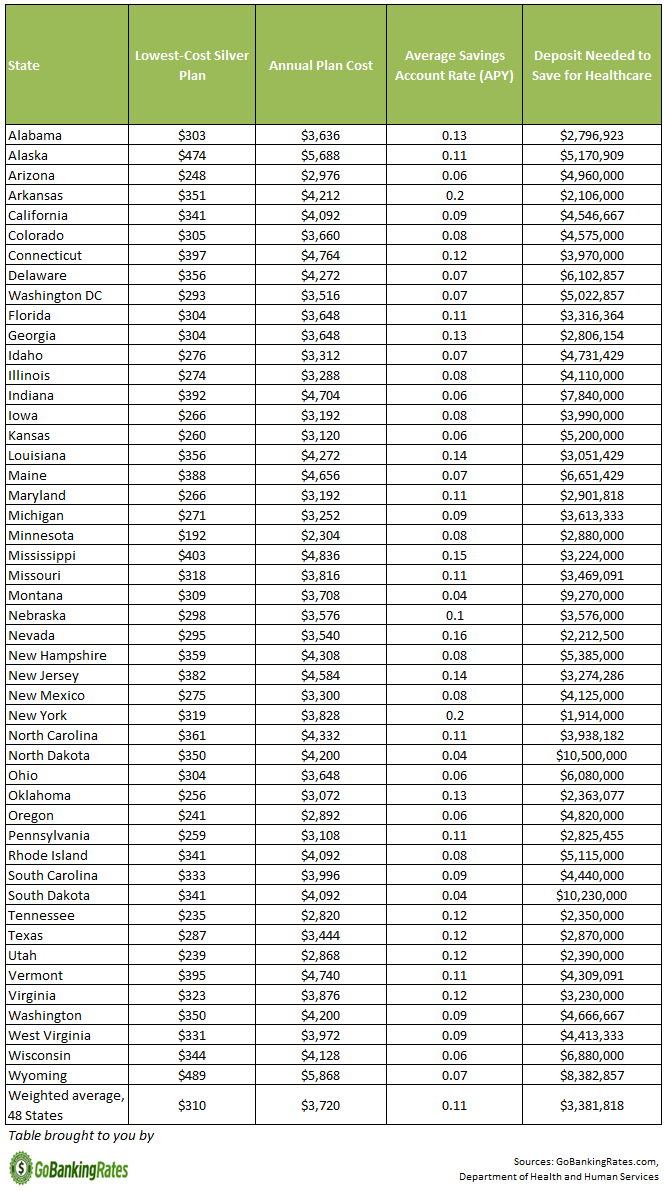 What these numbers show us is that Obamacare has done more to ensure Americans are covered by health insurance, not necessarily that they can afford it. A large portion of adults are still lacking the tools needed to build financial security, such as a stable job market and a source of safe, consistent earnings on savings. How can we expect anyone to afford health insurance if their paychecks are stretched thin and savings efforts go unrewarded?
If the Obama administration would like to see more Americans with the financial means to buy insurance and remain healthy, it will first need to address the root of the problem — not the cost of health care in America, but the absence of opportunity to build wealth in the first place.
About This Study
Savings account data was compiled from the GoBankingRates interest rate database, which in partnership with Informa Research Services, Inc., aggregates interest rates belonging to more than 4,000 local, national and online banks and credit unions. Although the information has been obtained from the various financial institutions, the accuracy cannot be guaranteed.
All rates are as of October 10, 2013 and based on a $10,000 deposit. Please note that rates are subject to change at any time at the discretion of individual banks and credit unions, and rates may have changed since the date of publication.
The lowest-cost silver-tier monthly premiums under Obamacare were collected from Marketwatch.com, which supplied weighted averages by state based on data released by the Department of Health and Human Services in September. According to the Marketwatch report, rates in 47 states and Washington, D.C. (Hawaii, Kentucky and Massachusetts have yet to disclose their rates) were analyzed and the rating area weights are constructed based on county-level population under the age of 65.
Note: An earlier version of this study included total deposit projections based on an incorrect Excel formula. Calculations have been reviewed and updated to reflect the correct deposits required to earn interest equivalent to healthcare premiums in each state.
Photo: danielmoyle