5 People Share the Brilliant Ways They Slashed Their Medical Bills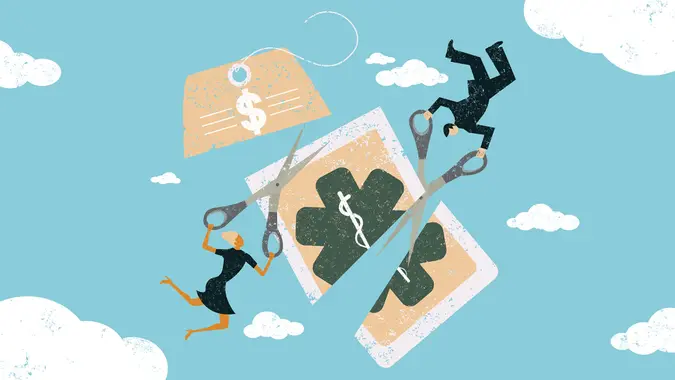 ©GOBankingRates
Americans spent $3.65 trillion on healthcare in 2018, according to an Axios analysis of federal government data. That breaks down to an average of $11,121 per person — which is nearly $400 more than the average spent per person in 2017.
While healthcare spending has increased for many Americans, some have figured out savvy ways to keep down the cost of medical care. Learn from these real people who have employed creative strategies to reduce their medical bills.
Don't Miss: 21 Hacks To Reduce Your Healthcare Costs This Year
Opt For a Direct Primary Care Service
Paul Moyer, founder of the blog SavingFreak.com, discovered a way to slash his medical costs when he heard a radio interview about less expensive healthcare. The doctor being interviewed was talking about direct primary care — a membership service that some physicians offer instead of accepting insurance.
Moyer decided to ditch his traditional health insurance and sign up for a direct primary care plan, which requires a monthly fee but provides his family with unlimited access to a primary care physician. "If I have a problem, I can call them, and if they are not available, they call me back in less than 30 minutes," he said. "Also, many times they can diagnose me over the phone and call in the prescription."
Potential Savings: Hundreds of Dollars a Month
Moyer's family of five had to pay close to $1,600 per month for a policy with a $12,000 deductible through the Affordable Care Act health insurance marketplace. Now, he pays $658 per month for the direct primary care plan and a healthcare sharing account from Medi-Share, and has a deductible of $5,500. So, by switching from an insurance policy to a direct primary care service, Moyer saved $942 per month on health insurance premiums and needs to spend $6,500 less to reach his deductible.
Make Your Money Work for You
You can search for direct primary care providers near you on the Direct Primary Care Coalition's website.
Related: Pros and Cons of Flexible Spending Accounts
Contest Unfair Medical Bills
When Vivian Young's husband had a colonoscopy, they were told by his doctor that it would be a free screening test under the Affordable Care Act. However, when the couple received an initial billing summary, the cost was $8,000 before insurance and their deductible kicked in. "Apparently he had polyps removed, which made the 'screening test' become a 'diagnostic test,'" said Young, who is a senior content manager at Good Night's Rest.
The couple thought the charge was unfair, so they decided to negotiate the medical bill. Young did research online before speaking with an insurance customer service representative. "I told her that according to the ACA, if a polyp is discovered and removed during a screening colonoscopy, it is considered part of the routine screening. Hence, no charge," Young said.
Potential Savings: Thousands of Dollars
The insurance representative had no answers for Young and gave her another number to call to contest the charges. "I had to call repeatedly for over three weeks until the charges were removed," she said.
However, Young's husband was sent another bill with a $1,250 facility usage charge from the doctor's office. "Apparently patients get charged for the privilege of stepping foot into their facility and using their equipment," she said. So, more calls were made to get this charge removed. In the end, the couple paid $0 — proving that contesting unfair medical bills can pay off.
Find Out: 13 Ways To Survive Rising Healthcare Costs
Get Medical Treatment Abroad
A good way to reduce medical bills is to get treatment outside of the U.S., said Suzanne Garber, co-founder of Gauze, a database of professionally vetted hospitals around the world. In fact, Garber directed and produced "Gauze: Unraveling Global Healthcare," a documentary about getting medical treatment abroad. She visited 174 hospitals and 24 countries, and interviewed 65 healthcare experts on access to care as well as its quality and affordability.
Make Your Money Work for You
"The results were not necessarily surprising when contrasting each of the three components with healthcare in the USA," Garber said. "In almost every aspect, most other countries that we visited fared better in two out of the three criteria."
Potential Savings: Thousands of Dollars
Garber discovered firsthand how much cheaper it can be to get treatment overseas. She had diagnostic testing done for arthroscopy and a possible hip replacement in Singapore and Hong Kong. Her cost for a full day of tests, scans and visits with doctors was $29. Garber said she would've been billed $7,300 for just an MRI in the U.S.
Of course, there are travel fees to consider if you're interested in seeing a doctor outside of the country. Depending on the procedure, though, the costs for international flights and accommodations could still be less than the cost of treatment in the U.S.
Read More: Getting Medical Treatment Overseas Saved This Travel Blogger Money
Make Sure All Providers Are Covered in Your Network
Insurance companies contract with doctors and healthcare professionals to provide care for their policyholders. Before getting any sort of healthcare service, it's important to check whether the provider is covered in your insurer's network, said Marissa Sanders, a personal finance expert at Simple Money Mom.
"If there is no partnership, your insurance is less likely to cover any of the expenses that you are billed," she said.
Potential Savings: Hundreds of Dollars
When Sanders gave birth to one of her three children, she learned the hard way that getting care from an out-of-network provider can cost more. "While my provider was in network, the anesthesiologist that did my epidural was not," she said. "I was charged the out-of-network price for that procedure, resulting in an extra $200. Next time, I made sure all providers were going to be in network."
Make Your Money Work for You
Good To Know: Costly Health Insurance Traps and How To Avoid Them
Check For Errors in Your Medical Bills
When you get a medical bill, Sanders recommends going through it with a fine-toothed comb. "It is absolutely imperative that you check your itemized bill for things like duplicate charges, canceled tests or procedures, upcoding, incorrect quantities, incorrect patient information and price gouging," she said. "If you find errors, call your provider or hospital immediately to dispute the charge to make sure it is corrected."
Potential Savings: Hundreds of Dollars
Sanders once discovered on a medical bill that she had been charged three extra times for pain medication at $100 per dose. "I was able to get this corrected, saving me $300," she said.
And, when Sanders gave birth in a hospital, she was billed for two rooms — one for her and one for her baby. "I found that others only had one charge for room and board since mom and baby stayed in the same room," she said. "I disputed this charge and saved $1,000."
Related: 18 Medical Expenses You Can Deduct From Your Taxes
Research Prices Before Deciding On Care
There's a good chance that you usually compare prices before making a major purchase. You should get in the habit of doing the same thing before deciding on medical treatment. However, be careful about where you get your price information.
"Many hospitals are now posting their prices for procedures, room and board, and more," Sanders said. "However, these are direct-pay prices. It is not what you will pay if you have insurance."
Make Your Money Work for You
So, check with your insurance company to get a better idea of what you'll be charged.
Potential Savings: Hundreds of Dollars
Once, because Sanders didn't compare prices before getting care, she ended up paying more than what was necessary. "I went to an urgent care that charged as a hospital visit instead of an urgent care visit," she said. "This resulted in $200 in extra costs. Had I known this, I would have gone to a different urgent care."
To find out where you can receive care for less, check your insurer's website to see if it provides estimated costs for various providers and procedures.
Compare: Best and Worst States for Health Insurance Costs
Compare Medicare Drug Coverage Options
Medicare Part D prescription drug coverage can help offset the high cost of medication for older adults. However, it's important for Medicare recipients to review the various Part D plans to see which one offers the best coverage for the drugs they take, said Danielle K. Roberts, co-founder of Boomer Benefits, an insurance agency that specializes in Medicare benefits.
"Many people enrolling into Medicare don't know that any little mistake made in the initial Part D enrollment could end up costing you unnecessary charges for your prescription drugs," she said.
Companies that provide Medicare Part D coverage categorize prescription drugs into tiers, with tier one being the cheapest and tier four being the most expensive. However, insurers categorize drugs differently, Roberts said. While one plan might categorize a drug as tier one, another might categorize it as tier two.
Make Your Money Work for You
Potential Savings: Hundreds of Dollars a Month
Roberts said it requires a bit of homework to review Part D plans, but your efforts to find the right one for you can pay off significantly. "Comparing different Part D drug formularies can help you determine which insurance plan covers the prescriptions you need at cheaper costs to you, which can result in saving you hundreds of dollars each month," she said.
If you're already signed up for a plan that categorizes the drugs you take in higher tiers, talk to your doctor about similar drugs you could take that might be cheaper, Roberts said.
Consider: 15 Best Places To Retire for Lower Healthcare Costs
Find Pharmacies With the Cheapest Prices
Because the cost of prescription drugs can put a big dent in anyone's budget — not just those on Medicare — it pays to shop around for a pharmacy offering the lowest prices on your medications.
"The price of a drug at Walgreens could vary dramatically from another local pharmacy down the street," Roberts said. "There are great apps like GoodRx that will let you instantly compare prices in your area."
Potential Savings: Hundreds of Dollars a Month
With an app such as GoodRx, you can enter drug names and your ZIP code to see which local pharmacy has the cheapest price. For example, a search for the blood pressure medication Losartan at pharmacies in Los Angeles found that the price can range from $28 to $70. Before filling your next prescription, check to see where you can get it for the lowest price. If you take several different medications each month, the savings could be significant.
Make Your Money Work for You
Click through to learn how to find the best (and cheapest) health insurance.
More on Saving Money on Healthcare