Should You Redo Your Healthcare Plan? Here Are the Pros and Cons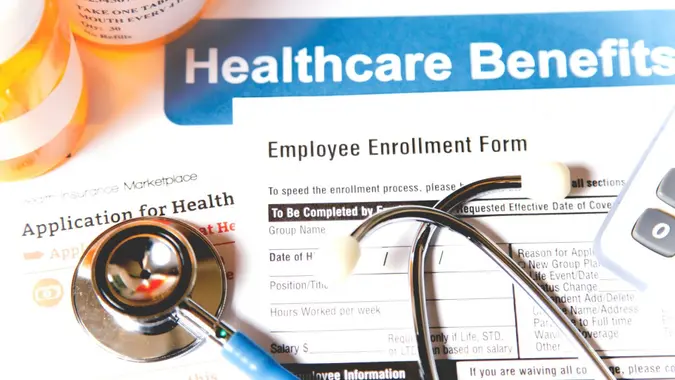 fstop123 / Getty Images/iStockphoto
No matter what your current healthcare plan situation is, you have options. You can shop for private health insurance directly from an insurer, from an agent or broker or from an online health insurance seller. Or you can visit the Marketplace at HealthCare.gov and shop for plans.
Read: These States Have the Cheapest Healthcare Costs
While the open enrollment period (set by your employer or through the government) is usually the only time you can change your healthcare plan unless you have a qualifying life event, the IRS detailed in Notice 2021-15 that it is allowing employers to offer employees the options to make changes prospectively to healthcare coverage during 2021. The options include enrolling in health insurance, changing from one employer-sponsored healthcare plan to another or withdrawing from an employer-sponsored healthcare plan in favor of enrolling in a healthcare plan not sponsored by the employer.
Additionally, President Biden announced on March 23 that, as part of the American Rescue Plan, a special enrollment period will be extended through Aug. 15 on HealthCare.gov so that people can get Marketplace coverage without waiting for the next open enrollment, which occurs Nov. 1 through Dec. 15 each year.
"Selecting the right health insurance can be a difficult and costly process, and with the added concerns and health risks brought on by the pandemic, it's time for people to look at the gaps that exist in their healthcare plans," said Sina Chehrazi, CEO and co-founder of Nayya.
Make Your Money Work for You
See: 10 Companies That Offer Health Insurance to Part-Time Employees
"It's a tough reality, but roughly one-third of employees lack an understanding of their health benefits and the coverage selected during enrollment, meaning that people, more likely than not, have the wrong plans. Having the wrong healthcare plan can negatively impact a person's financial and physical well-being."
Here are a few reasons why you should or shouldn't redo your healthcare plan.
Pro: You May Be Able To Save Money
If you enroll in a new healthcare plan through your employer or through Marketplace, you may be able to save money. Colleen Corrigan, a life and health agent with Wallace & Turner Insurance in Springfield, Ohio, offers this insight about plans purchased through the U.S. government healthcare exchange website.
Check Out: 14 Cheap Ways To Invest In Your Health
"The wave of job losses caused by the pandemic have disrupted many people's incomes and insurance arrangements," she said. "Beginning in February 2021, President Biden opened a special election period through healthcare.gov for consumers, giving enrollees additional time to reevaluate coverage needs with expanded tax credits or subsidies, which help to reduce monthly premiums. Most people who do not have access to health insurance will qualify for a subsidy. The Centers for Medicaid & Medicare Services says on average, one out of four enrollees in Marketplace coverage will be able to upgrade to a higher plan category that offers better out-of-pocket costs at the same or lower premium compared to what they are paying today."
Make Your Money Work for You
Pro: You May Be Able To Enroll in a Plan That's a Better Fit
Not only can you save money, but you might also be able to find a plan that's a better fit for your current and upcoming needs.
"You can select a new plan that best fits your needs by first identifying a few things about yourself," said Alex Cronk, a registered health insurance agent and owner of The Health Plan Critic. "Do you visit your doctor often or take expensive prescription medications? Do you have a chronic illness like diabetes or congestive heart failure? If so, a plan like a PPO, HMO or POS would provide comprehensive coverage for a higher monthly premium, but lower out-of-pocket costs. If you are healthy and rarely require medications, an HDHP provides coverage for a lower monthly cost, but higher out-of-pocket costs if you ever incur a medical expense."
More: 10 Things To Check When You're Enrolling in Health Insurance
Con: Out-of-Pocket Costs You've Already Paid May Not Count
A downside to changing your healthcare plan is that any out-of-pocket costs you already paid on your current Marketplace plan probably will not count toward your new deductible. This holds true even if you stay with the same insurance company, according to HealthCare.gov. Before you change plans, call your insurance company to find out if you'll need to start over entirely to meet a new plan's deductible.
Make Your Money Work for You
And if you have health insurance through your employer and switch to a new health plan, the amount you paid toward your deductible may not transfer to your new plan, either. Before you make a switch, check with your employer to find out if you're eligible for a deductible credit transfer.
Con: You May Not Be Able to Switch "Metal" Categories During a Special Enrollment Period
If you qualify for a special enrollment period for Marketplace plans, your options for changing plans may be limited, according to HealthCare.gov.
Read: 20 Highest- and Lowest-Paying Jobs in Healthcare
Marketplace plans are divided into metal categories: Bronze, Silver, Gold and Platinum. The Bronze level offers the lowest monthly premiums but the highest costs when you need care. Silver offers moderate premiums and moderate healthcare costs. Gold offers high monthly premiums but lower costs for healthcare. And Platinum offers the highest monthly premiums out of all levels but the lowest cost of healthcare.
While you may be able to change to a new plan within the same plan category as your current plan — such as Silver to Silver — you may have to wait until the next open enrollment period if you want to change to a different plan category, such as Bronze to Silver.
What Else Should You Know About Marketplace Plans vs. Other Healthcare Plans?
It pays to shop around for insurance coverage if you're interested in getting the best coverage for the best price.
See: 10 Cheap Ways To Better Your Health
"Many shoppers whose income is too high to qualify for a subsidy may be better off with health plans sold directly by insurance companies," said Corrigan. "These plans will not be listed on Healthcare.gov. A trusted broker can help you navigate these options. However, once a consumer begins shopping for plans outside of Healthcare.gov/Marketplace, the plans are not held to the same standards as the plans offered through the Affordable Care Act/Marketplace rules. These premiums are often lower in cost but will not include minimum essential coverage such as preventive care or pre-existing conditions."
More From GOBankingRates
Make Your Money Work for You