How To Do Your Full Holiday Budget Now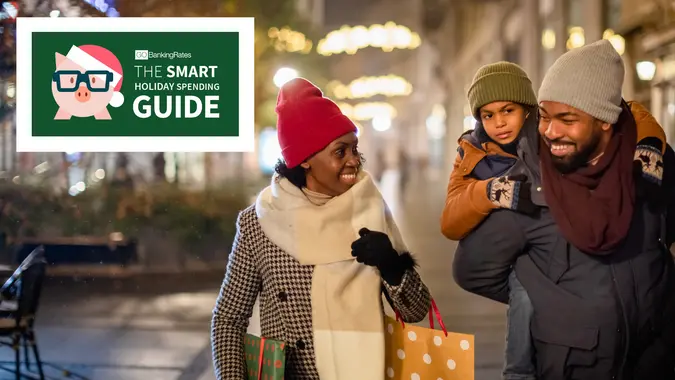 Black Friday, which is always the Friday after Thanksgiving, falls on Nov. 26 this year. And because Black Friday is when retailers traditionally offer some of the biggest sales of the year, it's a great time to get a jump on your holiday shopping while taking advantage of discounts.
We've Got You Covered: The Smart Holiday Spending Guide
Helpful: How To Use a Credit Card Like a Pro This Holiday Season
However, heading into the holiday season without a budget is a mistake that could leave you with maxed-out credit cards or a depleted savings account. Avoid procrastinating and get your full holiday budget completed now by following these steps that will help you get organized and keep your spending on track.
Set a Holiday Spending Budget
Setting a holiday spending budget is essential, so you'll know exactly how much you have to spend.
"Set a non-negotiable spending limit," said Tionna Hicks, certified financial education instructor and founder of The Honest Plan. "This is an amount that you come up with after adding up how much you can save in your remaining paychecks, the money you have already saved and any extra income that will be given to you (ie holiday bonuses)."
List All of Your Holiday Expenses
Next, you'll need to determine how you will allocate your holiday budget. If your budget is limited, you'll need to prioritize your expenses by listing your must-haves first. Items or expenses that you can ultimately live without should be listed last.
Make Your Money Work for You
"Carefully consider and list everything, and everyone, you expect to spend money on during the holiday season," said consumer finance expert Tanya Peterson, vice president of brand for Freedom Financial Network. "Include gifts (specify individuals and amount), cards (and postage or any online cost), decorations, holiday meals and year-end tips for newspaper carriers, housecleaners, doormen, hairdressers and other service providers. Add in travel expenses if applicable."
Important: Why Do We Spend So Much Each Year on Holiday Shopping?
Adjust Your Gift List
If your budget won't support all of the gifts you have listed, you'll need to make some adjustments.
"If the budget looks tight, but you do not want to take someone off your gift list, remember that the gift of time truly can mean much more than a packaged gift," said Peterson. "Depending on what you can do, you could make plans to shovel snow during the winter or do spring yard work for a neighbor or family member; offer babysitting services for a family member if appropriate, or plan a kids' afternoon outside for neighborhood families. Putting together a video for far-away family or friends can be a great solo or family project."
Have a Backup Plan
There's always a chance that you may need an extra gift or two, and planning in advance for those scenarios can help you avoid blowing your budget.
"Figure out now what you'll gift someone who you may have forgotten to include on your list," said Steffa Mantilla, certified financial education instructor and founder of Money Tamer. "If you can bake, a cookie platter or brownies are great gift ideas for someone you're not good friends with but might have slipped through the cracks."
Check Out: Expect All-Time High for Holiday Sales Despite Supply Chain Issues and Labor Shortages
Set a Timeline
The holiday season is hectic, so setting a timeline is important to make sure you are able to cross off items on your list and save money while doing it.
Make Your Money Work for You
Once you know what you need to purchase, give yourself a timeline that deduces when you need to purchase each item in time for the holidays," said Carter Seuthe, CEO, Credit Summit. "You can align the timeline with your search for deals, maximizing your opportunity to save the most money."
Keep Track of Your Spending
When shopping for the holidays, it's easy to fall victim to impulse purchases or spend more than you planned on specific items. Avoid budget snafus by keeping an ongoing pulse on your spending.
"Getting your budget down on paper doesn't mean your job is over," said Olivia Tan, Florida-based personal finance coach and co-founder of CocoFax. "You still need to keep track of your spending as you shop to make sure you stay within its limits. By keeping a running tally of how much you've spent in each category and how much you still have left to spend, you won't risk blowing through your entire budget in one shopping trip like Wile E. Coyote running blindly off the edge of a cliff."
Guadalupe Sanchez, founder at Budgeting in Blue, suggested creating a simple Google sheet or Excel spreadsheet with three columns — recipients, gift(s) and price paid. Fill it in after each shopping trip to keep track of your spending and stay on budget.
More From GOBankingRates
Last updated: Nov. 3, 2021