27 Ways to Save Money at Best Buy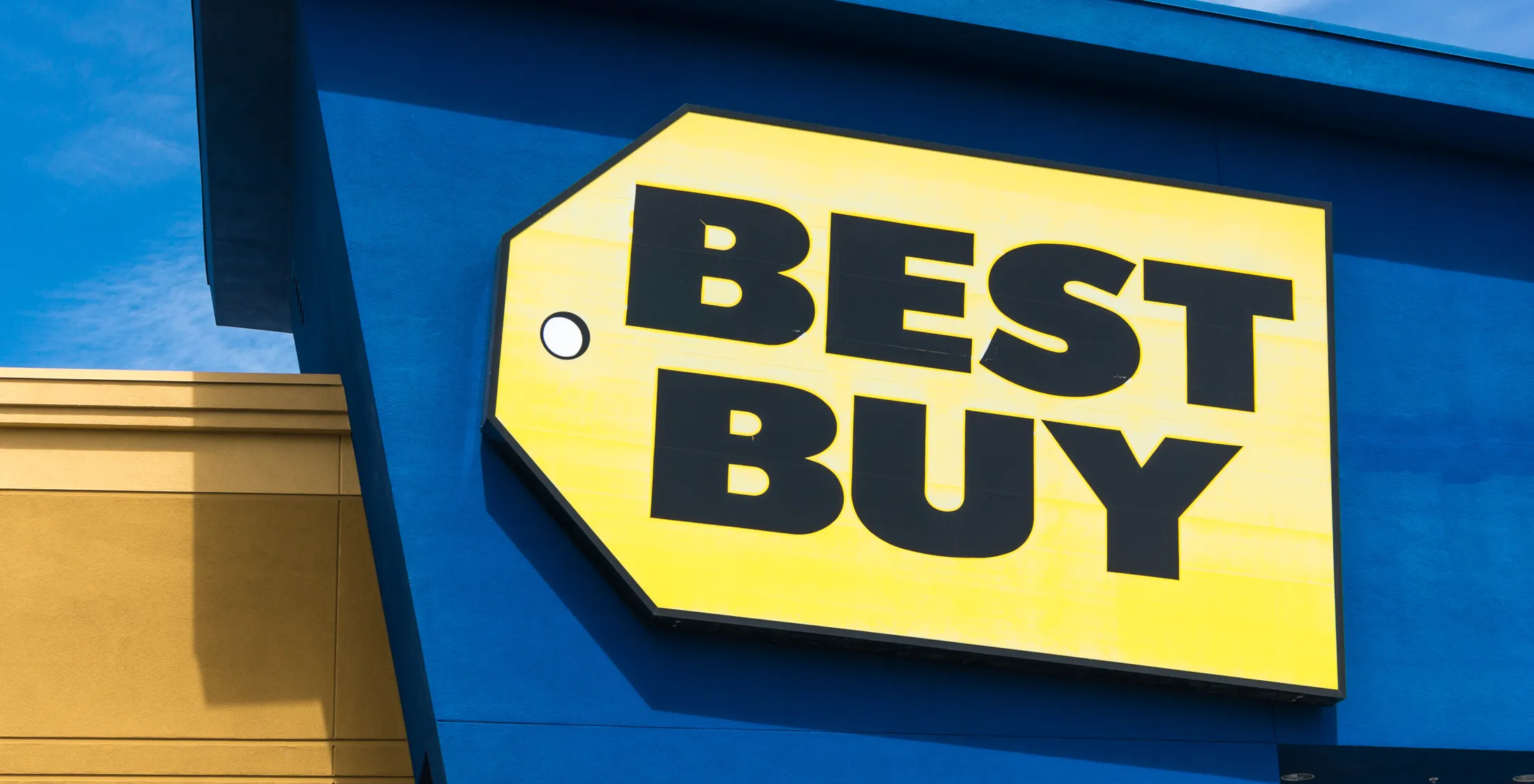 Play it right, and Best Buy can be just that: a best buy on everything from TVs and dishwashers to laptops and printers. But maximizing your savings at the retail giant will take more than just walking in and hoping to find a deal. Click through for 25 great ways to make Best Buy items even cheaper.
1. Download the Best Buy App
We know, we know. Your smartphone is filled to the speakers with apps. But this one might save you money.
"The Best Buy mobile app is a handy savings tool with a variety of useful functions," said Kerry Sherin, senior content manager at Offers.com.
Using the app, you can get alerts on daily deals, clearance sales and open-box discounts, plus access to weekly ads with information on promos and special pricing, she said. You can also manage your My Best Buy rewards and gift card balances, and more she said. It's well worth a few megabytes.
2. Get a Price Match
Best Buy will price match Amazon, Newegg, TigerDirect and other online retailers, as well as local retail competitors like Target and Walmart
"Use an app like ShopSavvy or Amazon Price Check to find out how much the same product is selling for elsewhere," said Kendal Perez, a savings expert with Coupon Sherpa. "And then request a price match from a store associate," she suggested.
Make Your Money Work for You
3. Take Advantage of Free Shipping
Best Buy is also pretty good about shipping, especially during the holidays, said Perez.
"Over the past three years, Best Buy has waived free shipping minimums ahead of the holiday shopping season," she said. "Take advantage of this offer while you can. In the interim, most orders ship within two days for free when your total is $35 or more."
4. Use In-Store Pickup
If you're shopping online during non-free shipping times, or you don't meet the $35 minimum, you can have the item shipped to your local store for free, said Regina Conway, consumer expert for Slickdeals. She said this works great if you're buying something for a friend in another city or state, or for parents buying something for their son or daughter away at college.
"Simply ship it to a store near them under the Friends & Family pickup option," said Conway.
5. Create a Wedding Registry
The savings probably aren't enough to justify getting married, but engaged couples who want to save on large appliances or electronics should create a wedding registry with Best Buy, said Perez.
"Through the 'group gifting' option, guests can contribute whatever amount they want toward the couple's purchase of a big-ticket item," she said. "Additionally, Best Buy extends a 10 percent discount to the registered couple for whatever [their] guests don't buy, as well as extended returns and exchanges for gifts that don't work out or aren't quite right."
6. Apply for the Best Buy Credit Card
If you shop at Best Buy often, consider applying for a My Best Buy credit card.
"As a cardholder, you'll receive 5 percent back in rewards for every $1 you spend at Best Buy," said Sherin. "You'll get 6 percent back if you spend more than $3,500 per year." Plus, you get 10 percent cash back on your first purchase with the card.
Make Your Money Work for You
7. Join the My Best Buy Gamers Club
If you're a gamer, you should check out the free-to-join My Best Buy Gamers Club to earn points on gaming console purchases, plus double points on video game trade-ins, said Sherin.
"You can use the rewards certificates towards almost anything at Best Buy," she said. "Throughout the year, you'll also receive exclusive offers on games and gear."
There is also a Gamers Club Unlocked Club, which costs $30 for a two-year membership. Sherin said it comes with more perks and discounts, and might be worth the cost for the avid gamer.
8. Use Coupon Codes
Before you shop, look for coupon codes at savings sites like CouponSherpa.com, RetailMeNot.com and Slickdeals.com, which have Best Buy coupon codes that could save you 20 percent or more off your order.
"These offers change regularly so make sure you bookmark and check back often," said Conway.
9. Consider Refurbished Items
If the new item you want is simply too expensive, consider refurbished items at Best Buy Outlet, advised Amy Chang, lifestyle savings expert at Slickdeals.
"If you don't [mind] buying something that's not brand new, refurbished items can save you 50 percent," she said.
And don't worry, refurbished doesn't mean riskier, said Offers.com's Sherin. "Refurbished items have been repaired, restored and verified to work by expert techies, and come with a 15-day exchange policy," she said.
10. Ask for Extra Stuff
While results might vary from store to store, said Conway, you can negotiate at Best Buy.
"Generally, this is only something you would do with larger-ticket items, and your chances for success increase if you ask for a bonus item, rather than a flat discount," she said.
For example, she suggested asking for free cables or similar accessories to go with your television purchase, or free installation on large items.
Make Your Money Work for You
11. Shop Near the End of the Month
If you want the most negotiating power, hit Best Buy near the end of the month, said Conway.
"Sales associates set goals they want to reach each month so if you head in store around that time, you could have more room for negotiating a better deal," she said.
12. Shop Best Buy's Black Friday Sale
Mark your calendar for Nov. 25, when this year's Best Buy Black Friday sale kicks off.
"Every year, shoppers form lengthy lines to shop the legendary Best Buy Black Friday sale, when they can snatch up limited-time doorbuster deals on the hottest products of the season," said Sherin. "During the sale, Best Buy takes hundreds off the prices of TVs, computers, tablets and more."
13. Follow Up on Cyber Monday
Cyber Monday at Best Buy kicks off Nov. 28, and the celebration lasts a whole week. Best Buy's Cyber Week offers specials every day, and includes deals on its website, said Sherin.
"The company releases deals on nearly everything in the store," she said. "And visit BestBuy.com to land the latest tech for up to 50 percent off."
14. Avoid Accessories
Unless you get them thrown in for free, it's best to avoid the accessories aisle at Best Buy, said celebrated consumer savings expert Andrea Woroch. Items like cables, protective cases and other extras are usually not a great deal.
"You can usually find better prices on eBay or Amazon for these things," she said.
Make Your Money Work for You
15. Skip the Extended Warranty
Give the extended warranty a pass too, said Woroch.
"The manufacturer warranty will suffice and if you use a major credit card, it will usually double the manufacturer warranty," she said. Just remember to pay off that credit card bill quickly, or you'll be giving up some of your savings to credit card interest charges.
16. Buy Energy Star Items
Certified Energy Star products are designed to minimize energy use and save money. So this move is not only good for your pocketbook, it's good for the planet — and Best Buy is a great place to make it happen, said Sherin.
"Awarded Energy Star Partner of the Year for the last three years, Best Buy offers a large variety of energy-saving appliances," she said. "You may even qualify for a rebate for … up to $100."
17. Buy Apple
While you can't beat the Apple Store cool factor, it might not be the best buy on computers, said Benjamin Glaser of DealNews.com.
"Out of all the certified Apple retailers, Best Buy features some of the best deals on Apple products," he said "Throughout the year, Best Buy runs sales on Macs, iPhones, Apple Watches and more. During past major sales, the retailer has taken as much as $250 off select Macs."
If you want to stack savings, consider trading in your old iPhone through its trade-in program. You can get estimates on what your old tech is worth on the site.
18. Buy Appliances in Bulk
Yep, you heard that right. If you have a list of appliances for a remodel or other reason, hit Best Buy, said Perez. You might get rebates of $100 to $400, or more.
"Through Oct. 30, for example, LG is offering up to $1,000 back in a Visa prepaid card when consumers buy four or more LG kitchen appliances," she said. Another example she cited: KitchenAid, Maytag and Whirlpool are all offering an extra 10 percent discount to customers who buy three or more select kitchen appliances through Oct. 31.
Make Your Money Work for You
19. Join Reward Zone
Best Buy's rewards program is called Reward Zone, and it's free to join. You receive one point for every $1 spent, and once you accrue 400 points, you receive a $5 reward certificate.
"It's not the most robust reward system, but if you shop there frequently, you can save up rewards and apply them to a future purchase," said Perez. She added that, "Best Buy also offers bonus points for select purchases throughout the year."
20. Use a Student Discount
Are you — or a family member — in college? Best Buy gives college students discounts on many items, said Conway.
"All you need is a .edu address to sign up, and coupon codes will be emailed to you," she said. Deals can be found on everything from hair dryers and coffee makers to laptops and software.
21. Buy Discounted Gift Cards
Big spender? Check online gift card marketplaces like Cardpool.com to pick up Best Buy gift cards at a discount. You can get as much as 5 percent off, said Sherin. It's not a lot, but she said you can use the gift card toward sale items, or combine gift cards with coupon codes to save even more.
22. Check Best Buy's Weekly Ad
Best Buy publishes a digital weekly ad, found on its site, promoting current sales, featured deals and new products.
"Browse through the pages to explore electronics, appliances, entertainment and more at special prices," said Sherin. "When you find a deal you like, simply click to navigate directly to the offer on the site."
Make Your Money Work for You
23. Shop During Major Holidays
Apparently, Best Buy is a festive, holiday-loving place. In fact, said Sherin, Best Buy celebrates major holidays by launching some of its biggest sales of the year.
"Shop Best Buy on and around major holidays, such as Thanksgiving, Presidents Day, Memorial Day and Fourth of July, to score deals on the season's hottest electronics and appliances," she said.
Don't be tepid about other holidays, either. Even Columbus Day has great deals.
24. Buy Open-Box Items
Best Buy has a nice inventory of open-box items both in store and online, said Coupon Sherpa's Perez. She said these can save you 25 percent.
"Open-box items are usually located in the center of the store, or you can shop Best Buy's open-box webpage at Best Buy Outlet to find out which stores in your area carry the open-box products you want," she said.
You can also use coupons on the items. "I purchased an LG microwave from the open-box inventory and saved 45 percent with a coupon and Rewards redemption," said Perez.
25. Set Up Deal Alerts
Sites like Slickdeals.com allow you to tap into an army of consumers who will alert you to great deals.
"Slickdeals has a community of more than 10 million users who are all out there scouring the best deals at any given time," said Conway. "If you're in the market for a Best Buy item, simply set a deal alert, and you'll be notified when there's a great deal on that item."
26. Save Your Receipt
How does some retroactive price matching sound? If Best Buy lowers the price of an item you bought during its return or exchange period, it will refund you the difference upon request.
"If you monitor the price of a product and keep your receipt, this can be a good way to get a little cash back," said Sherin. It's like a surprise rebate.
Make Your Money Work for You
27. Shop Seasonally
Certain items go on sale at certain times of the year, said Sherin, so if you can wait till the best time to buy, you'll get a great deal.
"Veterans Day sales show discounts on appliances, Black Friday has deals on electronics, and the cheapest time to buy a TV is right after the Super Bowl," said Sherin.