Does Amazon Price Match?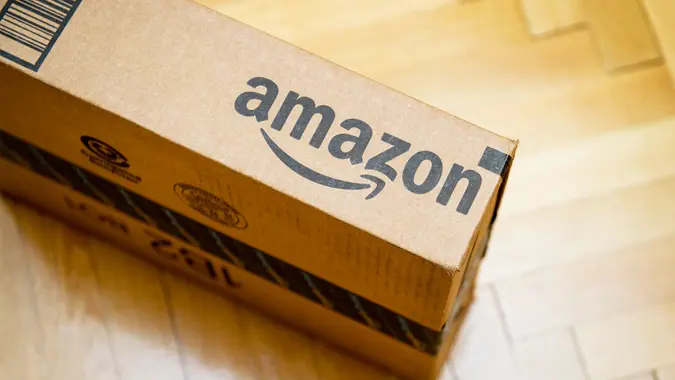 AdrianHancu / iStock.com
Most consumers find shopping on Amazon.com incredibly convenient, with a vast inventory of items at competitive prices and (often free for Prime members) next-day or even same-day delivery. But what if an item you want is cheaper at another online or local retailer? Is it possible to get a discount or price adjustment? Here's a look at Amazon's price match policy and the best ways to save money when shopping on the site.
See: 3 Easy Tips To Turn Your Credit Woes Into Wows
Does Amazon Offer Price Matching?
Unfortunately, if you'd like to price match an item on Amazon that's cheaper at another online or local retailer, you're out of luck. Amazon does not match its competitors' prices.
By way of explanation, Amazon's policy on price matching states: "We strive to maintain low and competitive prices on everything we carry. We constantly compare Amazon's prices to our competitors' prices to make sure that our prices are as low or lower than all relevant competitors."
Make Your Money Work for You
While Amazon's lack of a price-matching option looks disappointing, the free shipping it offers Prime members may make up the difference in the cost of a product. Plus, it still offers plenty of ways to save money. 
Does Amazon Offer a 30-Day Price Guarantee?
You might be wondering whether you can request a price adjustment on Amazon if the price of an item drops after you purchase it. Amazon notes that it does not offer post-purchase price adjustments. 
For non-preorders that drop in price, customers may still have the option of returning their purchase and buying it again at the new lower price. The standard return period for most items fulfilled by Amazon.com is 30 days. Amazon refuses returns on some items, such as groceries, downloadable software products and certain personal care products.
The return policies of third-party sellers on the marketplace may differ from the official Amazon policy.
Other Ways To Save on Amazon
So, if price matching is out, what other ways can you save when shopping on Amazon? Here are a few tips.
Amazon Prime
An Amazon Prime membership may be a no-brainer if you purchase on Amazon regularly. At $139 for an annual membership, Prime offers plenty of perks, deals and free shipping. Shipping costs can start to add up, and at a certain point, buying an Amazon Prime membership is worth it just for the free shipping alone.
Make Your Money Work for You
Depending on the item and your location, Amazon Prime orders may reach you in two days, one day or even on the same day. In select locations, Amazon Prime members can get grocery deliveries from Amazon Fresh in only two hours.
Prime members get exclusive deals and savings on various items, including prescription medications. In addition, Prime members get access to the Prime Video streaming service, ad-free music and podcasts on Amazon Music, and unlimited cloud photo storage.
Digital Coupons
Amazon offers digital coupons for a wide range of products. Look at the Amazon Coupons page to see what savings are available. You can clip a digital coupon by clicking on a button, and your discount will be applied at checkout. Many products have a digital coupon on the product page, and you only need to check the appropriate box to apply the coupon before adding the item to your cart.
Subscribe and Save 
Through Amazon's Subscribe and Save program, Prime members and non-members can set up recurring subscriptions for everyday household items such as food, hygiene products, pet food, makeup and skincare products. Through Subscribe and Save, you can get automatic free shipping and up to a 15% discount on five or more items shipped to the same address.
Make Your Money Work for You
The Subscribe and Save program can be a great way to save money on household staples you use regularly.
Buy Pre-Owned on Amazon Warehouse
Before buying things like appliances, electronics or new sports equipment on Amazon.com, check whether there are any offers for the same item on Amazon Warehouse. Amazon Warehouse can offer great deals on pre-owned, used and open-box products. Amazon takes care to rigorously check all items that go on sale on the Amazon Warehouse site and give them a condition rating. The possible condition ratings for Amazon Warehouse items are:
Used — Like New
Used — Very Good
Used — Good 
Used — Acceptable 
Final Take
While Amazon does not offer price matching, you can still find many other ways to save while shopping on the site. Now that you know some tips for saving money, apply them to your Amazon purchases in the future. Looking for good deals may take a bit more time, but the satisfaction of finding some significant savings can often make it all worth it.
FAQ
Does Amazon offer a preorder price guarantee?

Amazon does have a separate price guarantee for items bought as preorders

. For both physical and digital copies of games, movies, books and music bought on preorder, Amazon will charge you the lowest price between the moment you place your preorder and the end of the release day

. This preorder guarantee only applies to items sold by Amazon.com and not those sold by other sellers on the Amazon marketplace

. Amazon will charge your credit or debit card only once it ships your preorder to you

.

How long do Amazon refunds take?

How long it takes Amazon to process your refund after you return an item depends on the payment method used during the initial purchase

. For credit cards, the standard period is three to five business days, and for debit cards, checking accounts and

SNAP EBT cards

, the process may take up to 10 business days

. If you would like to receive your refund faster, you may be able to choose an Amazon gift card as a refund method

. Amazon processes gift card refunds in two to three hours.
Editorial Note: This content is not provided by any entity covered in this article. Any opinions, analyses, reviews, ratings or recommendations expressed in this article are those of the author alone and have not been reviewed, approved or otherwise endorsed by any entity named in this article.
Make Your Money Work for You