Amazon's Latest Gimmick To Attract Shoppers Adds TikTok Flare to Shopping Experience — How It Works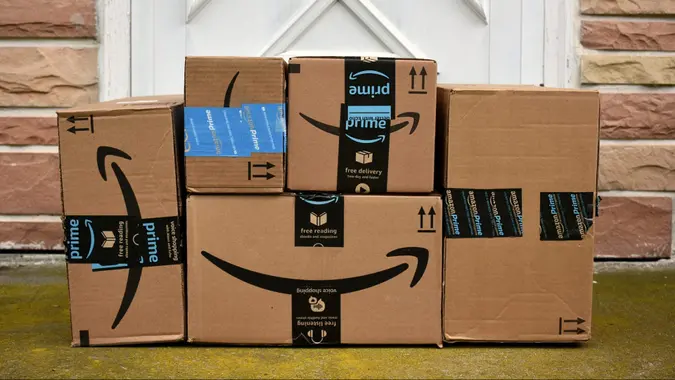 Julie Clopper / Getty Images
Just in time for the holiday shopping season, Amazon is taking notes from social media giant TikTok with its latest app feature — Amazon Inspire, an in-app shopping feed. The new feature allows shoppers to discover and shop products personalized to their interests based on photo and video content from other customers, social media influencers and brands.
See: Holiday Tipping Trick: Amazon Tips Your Delivery Driver $5 If You Say These Magic Words
Find: 3 Easy Tips to Turn Your Credit Woes into Wows
Here's how to use Amazon Inspire.
Tap the Light Bulb Icon
To get started with Inspire, open the Amazon Shopping app and tap the "light bulb" icon.
Set Up Your Feed
Here, one checks off interests that apply to them. This could be anything from gaming to interior design to skincare. This step is what enables Amazon to deliver photo and video content that is personalized and the scrolling can commence.
Make Your Money Work for You
Scroll and Shop
While scrolling through one's personalized feed, Amazon app users can tap on tagged products to reveal more information, including their prices. They can also access reviews and add items to their cart.
Amazon Inspire arrives at an interesting time for the retail and streaming giant. Though the company recently announced that this past Thanksgiving holiday weekend was its biggest ever — with "millions of deals shopped," according to Amazon exec Doug Herrington — the company also announced plans to lay off 10,000 employees on Nov. 16. The move comes at a time when shopping activity in general is changing, as consumer priorities shift amid inflation.
Take Our Poll: How Has Inflation Impacted Your Holiday Shopping Plans?
More: Target, Amazon and 4 More Retailers That Will Reward You for Turning in Your Old Stuff
Inspire is for the Amazon app only and — at present — is only available to select U.S customers. In the coming months, accessibility will roll out to all U.S customers using the app.
More From GOBankingRates
Make Your Money Work for You