Does Barnes & Noble Price Match? Here's How To Save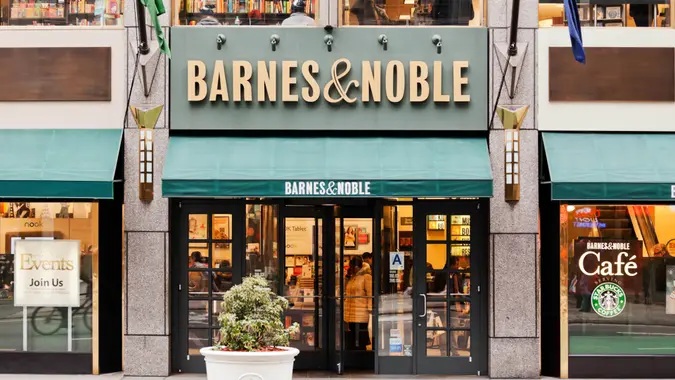 aluxum / Getty Images
Barnes & Noble is one of the last major bookstores with physical locations nationwide. Even though bookstores used to be a permanent fixture, most readers purchase books online now. 
The bookseller has kept up with the digital era with an impressive online presence, including a robust website. But the company's pricing might be a different story. 
Barnes & Noble does not price match with other retailers. However, that doesn't mean you can't score a great deal on a book from Barnes & Noble. 
Here's everything you need to know about how to save money at Barnes & Noble. 
See: How To Get Cash Back on Your Everyday Purchases
Barnes & Noble Does Not Price Match
According to the company's price matching policy, Barnes & Noble does not match the prices of other retailers, such as Amazon, Target and Walmart.
If you buy a book from Barnes & Noble and realize that another company offers a cheaper price, Barnes & Noble will not refund the difference. 
How To Save Money at Barnes & Noble
Even though Barnes & Noble doesn't price match, there are many other ways to save money at the retailer. Here are some of the best strategies.
1. Become a Member
Store loyalty programs can help you save money, and Barnes & Noble revamped its membership options to include additional perks. You must pay a $39.99 annual fee for its Premium Membership option. But once you're a member, you can access the following bonuses: 
10% discount on most purchases
Free shopping with no minimum 
A free tote bag each year
10% off Nook devices and accessories
Free beverage upgrade at Barnes & Noble cafes
Free treat for your children's birthdays
Exclusive offers and deals
Make Your Money Work for You
The membership can quickly pay for itself if you regularly buy books or visit Barnes & Noble bookstores. Beyond that, the 10% discount might help you secure lower prices for books than what you can find at other retailers.
2. Utilize Free Shipping
If you don't have a membership, Barnes & Noble offers free shipping on orders $40 and over. It's a valuable perk if you shop online since the prices are typically lower than what you can find in-store. 
You order multiple books at once, access the cheaper online prices and avoid shipping costs, maximizing your savings. 
3. Shop the Sales
Barnes & Noble offers regular sales both online and in person. Typical offers include buy one, get one, 50% off for select books and 30% to 40% off specific items. The company has a sales page on its website so that you can stay up to date on current offers. 
4. Buy Bestsellers
If you're interested in bestsellers, Barnes & Noble has a long-standing deal that can help lower costs — 30% off hardcover bestsellers. The promotion applies whether you're shopping in person or online. 
What Is Price Matching?
Price matching is when a company agrees to honor a competitor's lower price. Even though it lowers a company's profit, it encourages customers to shop at the store, which can offset some of the money lost. 
For example, imagine you buy a shirt at Company A for $21.99. You're happy with your purchase until you notice an advertisement online for the same shirt at Company B. There's one significant difference, though — the price for the shirt at Company B is $15.99 due to a sale. 
Make Your Money Work for You
Here's where price matching can help. Some stores will honor lower prices from other retailers. If you return to Company A and request a price match in person or via chat, and the company offers it, you can get a refund of $6. 
Similarly, some stores will price match against their own sales. If an item goes on sale after you buy it, the store will refund you the difference between what you paid and what it currently costs. 
It's a win-win for you and the store because you are once again happy with your purchase, and the store has regained a loyal customer. 
Bottom Line
Even though Barnes & Noble doesn't price match with competitors, there are other ways to save money. You can become a member, shop the sales and take advantage of free shipping. Plus, if you're on a super tight budget, there are plenty of ways to get books for free. 
FAQ
Are books cheaper on Amazon or Barnes & Noble?

Depending on the title, some books are more affordable on Amazon, while others are cheaper on Barnes & Noble. To ensure you're getting the lowest price, check the prices on both sites before placing your order.

How can I save money at Barnes & Noble?

One of the easiest ways to save money at Barnes & Noble is to shop the sales and bestsellers. The retailer regularly offers 30% off hardcover bestsellers, which can help reduce costs. There are also regular sales where you can buy one, get one 50% off. If you're an avid reader, you might want to consider a Barnes & Noble membership. There's a $39.99 annual fee for the Premium Membership option, but it can pay off quickly, depending on how many books you buy.
Make Your Money Work for You
Editorial Note: This content is not provided by any entity covered in this article. Any opinions, analyses, reviews, ratings or recommendations expressed in this article are those of the author alone and have not been reviewed, approved or otherwise endorsed by any entity named in this article.