Should You Buy Cleaning Supplies at the Dollar Store?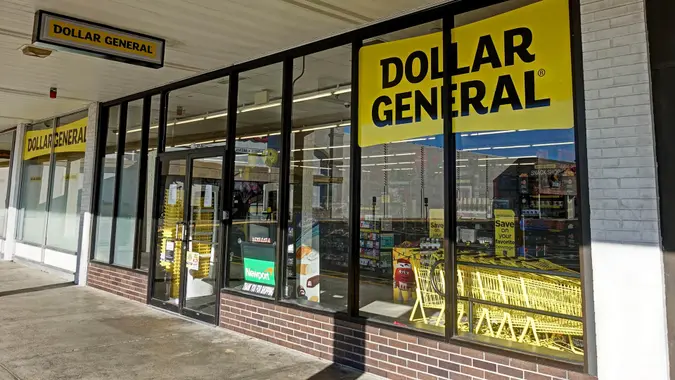 QualityHD / Shutterstock.com
Shopping at the dollar store can be the best idea, or the worst idea. Some items are surprisingly more expensive there than at big-box retailers, while others are inarguably the best-priced. Unfortunately, every category has its nuances, so you can't simply follow the rule of buying all of a certain type of product there. Buyer discretion is always advised.
This applies to cleaning products as well, which is why GOBankingRates consulted a number of shopping experts to learn their top strategies for buying dish soaps, laundry detergent and other common household items. Take a look, and then see the items you should definitely pick up at the dollar store, and others you might want to buy elsewhere.
Consider Unit Price and Brand 
"It's fine to purchase some cleaning supplies at dollar stores as long as you need smaller amounts and ensure that you're getting the best unit price," said Julie Ramhold, consumer analyst with DealNews. "Most of them have at least some name-brand items, as well, although they also typically have their own store brand items. Either way, it's best to purchase brands you trust, and make sure you're not paying more than you would by shopping elsewhere."
Online Could Be Better 
Dollar stores aren't exactly known for their in-store bells and whistles, but surprisingly it's not just the space that may be subpar — it's the brick-and-mortar prices, too. When shopping these discount havens, you can often find better savings online.
Make Your Money Work for You
"Right now, CouponFollow has discounts available for Dollar Tree and Dollar General," said Trae Bodge, smart shopping expert at Truetrae.com.
Beware of Toxic Chemicals
While getting the best deal is important, you may not want to do it at the cost of your family's health. Unfortunately, a lot of the cleaning products that are well-priced at dollar stores are also brimming with toxic chemicals.
"According to the Retailer Report Card, which is a website that gives retailers a grade based on the number of toxic chemicals their products use, Dollar Tree scored a C+ and Dollar General scored a C-," said Michael Outar, founder and author at Savebly. "This is compared to Walmart's A- and Target's A+."
Read the labels of cleaning products before buying them at dollar stores, and when possible opt for vinegar-based solutions instead of products filled with ammonia.
Buy These Cleaning Supplies at the Dollar Store 
Name-Brand Sponges and Scrubbers
"I like to purchase powdered cleaners at the dollar store as well as name-brand sponges and scrubbers," Bodge said. "These items are great for tough cleaning jobs and purchasing them at a dollar store is a fantastic value."
Goo Gone
"Depending on which dollar stores you shop at, you can find as little as a 2 oz bottle or as much as a 12 oz bottle, and it'll still be cheaper than what you'd pay at stores like Walmart," Ramhold said. 
Make Your Money Work for You
Comet Cleaner
"If you're looking for the traditional Comet powder, you'll pay around $1 for 21oz at dollar stores," Ramhold said. "You may be hard-pressed to even find the powder at big-box stores, depending on the area you live in."
Lime-A-Way
"Dollar stores have bottles of toilet bowl cleaner going for $1.25 for 16 oz.," Ramhold said. "At big-box stores, even multipacks of 16 oz bottles don't work out to being close to that price." 
LA's Totally Awesome All-Purpose Cleaner
"The value of this product is very good because the cleaner works really well and lasts a long time, plus the price is great as well," said Outar. "You can get a 20-oz bottle for $1.25 at Dollar Tree or Family Dollar which is just $0.06 per oz and if you are lucky, you can get the 32-oz refill bottle for $1.25 which is even more of a deal."
LA's Totally Awesome Window Cleaner With Vinegar
"This product has been tried and tested and it holds up to the test," Outar said. "It is able to clean glass surfaces effectively without leaving streaks and you don't have to use much to clean. It does have a vinegar smell but it doesn't linger for too long."  
Cleaning Caddies
"Made of plastic, this is something you will want to replace once a year and you won't feel bad when you're only spending a buck from the dollar store," said Andrea Woroch, budgeting expert. "Comparatively, you're looking at paying about $8 for one from Target."
Cleaning Bucket
"You can find cleaning buckets at your local dollar store and there's no reason to spend any more," Woroch said. "Big-box stores like Target sell similar options for 5 times the price."
Make Your Money Work for You
Reusable Latex Gloves
"The best deal is at the dollar store when you opt for the generic brand," Woroch said. "It's not a huge savings compared to the generic brand option at Walmart but every bit of savings adds up." 
Buy These Cleaning Supplies Elsewhere 
Fabuloso
"You'll spend anywhere from $1 to $6 on different sizes at dollar stores, so some of them may be a better purchase than others," Ramhold said. "But in most cases, you'll save by shopping at big-box stores for this one."
Arm & Hammer Fresh Scentsations Carpet Odor Eliminator
"You can buy a 16 oz box for $1.25 or a 30 oz box for $2 at dollar stores," Ramhold said. "[But] at big-box stores, you can expect to pay around $1 and $1.72, respectively."
Lysol All-Purpose Cleaners
"You'll find a better unit price at big-box stores in nearly every case," Ramhold said. 
Off-Brand Sponges and Scrubbers
"I would say that sometimes these items are off-brand and of poor quality," Bodge said. "It's not a good value if the sponge you bought at a dollar store falls apart after the first use."
Dish Soap
"Dollar stores will charge around $1 or more for small bottles of the stuff, but stores like Walmart will charge around 97 or 98 cents for similar sized — or even bigger — bottles," Ramhold said. "Unless it's a matter of convenience, skip the dollar stores for this one."
Liquid Detergents
"You don't know how long the products have been sitting on the shelves at the dollar store," Bodge said. "Because liquid detergents can lose their potency over time, you could potentially be purchasing a less effective product, thereby wasting money instead of saving."
Make Your Money Work for You
Laundry Bleach
"Many laundry bleach bottles don't come with the concentration mentioned on the label," said Elice Max, a shopping analyst and co-owner of EMUCoupon. "Generally, this means they are low in quality. Learn about ingredients that are present in different items and their concentration levels. Doing this will also help you avoid products that come with chemicals that are a risk to your health. It will also enable you to purchase better products in conventional stores."
Spray Bottles
"This may seem like a good deal at your dollar store, but with retailers like Dollar Tree raising prices to $1.25, you can actually save by picking up a spray bottle at Walmart from their Mainstays brand for under $1," Woroch said. 
Cleaning Cloths
"Many people think cloths are just cloths and the dollar store cloths will get the job done just fine," Outar said. "They will get the job done but not for long and that's the issue. Dollar store cloths are very thin, weak, and just cheaply made. So, even though they are cheap, you won't get a lot of uses out of them which will cause you to re-purchase the item frequently."
Planning Ahead Is Key 
Remember that going in with a plan and a budget are essential when shopping at dollar stores — same as with any other retailer. "Planning prior to visiting any store is half the job done," said Kyle Kroeger, founder at The Impact Investor. "I say this because once you have planned beforehand, you are less prone to falling prey to whimsical and impulsive buying. You are more likely to only get what you require, and not spend excessively."
Make Your Money Work for You
More From GOBankingRates