10 Costco Essentials You Shouldn't Buy Anywhere Else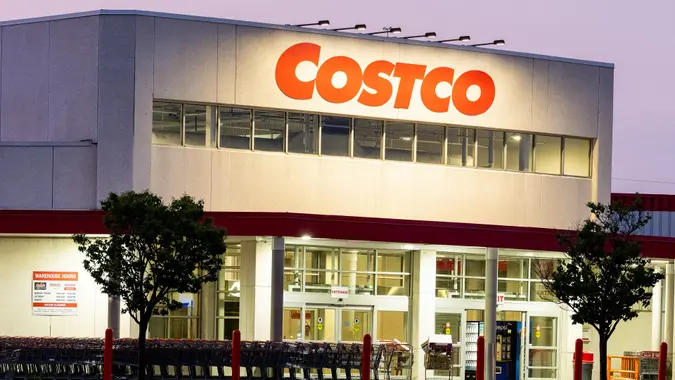 Steven_Kriemadis / iStock.com
Costco is a shopper's dream. The expansive aisles, the thrill of the hunt, and those irresistible deals make it a haven for shoppers everywhere. But beyond the bulk deals, there are some items so extraordinary in value and quality that buying them elsewhere might mean you're not getting the best bang for your buck. Here's a rundown of Costco essentials you'd be wise to pick up during your next warehouse run.
1. Rotisserie Chicken
For just $4.99, you can snag a fully cooked rotisserie chicken. Not only is it an unbeatable deal, but the taste and quality rival those of pricier options. Whether you're cooking for a family or just yourself, this chicken can serve as a base for countless meals.
2. Kirkland Signature Olive Oil
This staple in many kitchens gets the stamp of approval for both its quality and price. Touted by chefs and food connoisseurs, Kirkland's olive oil stands toe-to-toe with pricier imported brands.
3. Gas
If your local Costco has a gas station, you're in luck. The fuel prices here are typically lower than at other local stations, making it a smart stop before any long drive.
4. Prescription Glasses
Eye care can be pricey, but Costco Optical offers some great deals on frames and lenses. Plus, they consistently receive high marks for their customer service and quality.
Make Your Money Work for You
5. Tires
The next time your car needs new tires, check out Costco's automotive section. Not only do they offer competitive prices on top-tier brands, but the installation package comes with fantastic perks like rotation, balancing, and flat repairs.
6. Batteries
From AA to AAA and everything in between, Kirkland Signature batteries are both affordable and reliable. Stock up and you'll be ready for any device or toy that needs a power boost.
7. Organic Produce
If you're looking to incorporate more organic items into your diet, Costco has you covered. Their selection of organic fruits and veggies is expansive and typically priced lower than other retailers.
8. Dog Food
Pet parents will appreciate the dog food offerings. The Kirkland Signature Nature's Domain dog food is not only a steal, but it's made with high-quality ingredients that rival premium brands.
9. Alcohol
The Kirkland Signature line doesn't stop at groceries. Their wines, liquors, and beers have all received commendations for quality and taste. So, whether you're hosting a party or just enjoying a quiet evening, they've got the perfect sip for you.
10. Photo Printing
In the digital age, physical photos hold a unique charm. Costco's photo center offers unbeatable prices for prints, photo books, and more, ensuring your memories are beautifully preserved.
The Bottom Line
While there are myriad reasons people love shopping at Costco, the real treasures are those products that offer exceptional value. The next time you venture into this shopper's paradise, remember this list. After all, why pay more elsewhere when Costco offers both quality and savings in one convenient location?
Make Your Money Work for You
Editor's note: This article was produced via automated technology and then fine-tuned and verified for accuracy by a member of GOBankingRates' editorial team.
More From GOBankingRates