10 Costco Items That Have the Highest Rated Reviews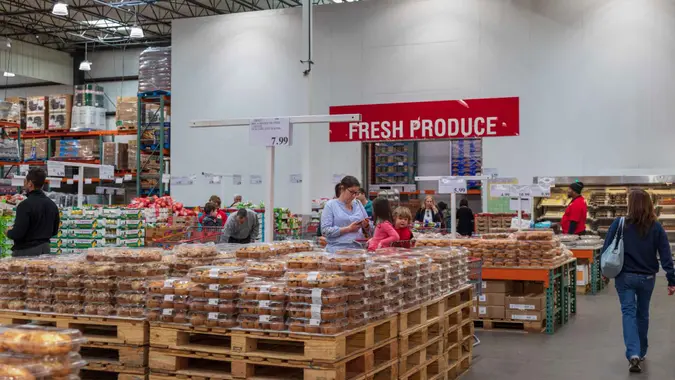 artran / Getty Images
To say Costco members are loyal is an understatement. There are Instagram accounts and websites devoted to Costco, and the warehouse club has become something of a travel destination, CNBC Make It reported. One couple even made the decision to get married at Costco — the location of their first date.
So why does the retailer have a cult-like following? Low prices and high-quality items, with the company's Kirkland Signature brand being a customer favorite. Here are 10 Costco items with the highest ratings to grab on your next shopping trip.
Alcohol
Costco has a wide selection of wine and liquor at great prices, but two selections consistently get positive reviews from shoppers.
Kirkland Signature's Cabernet Sauvignon is a favorite, and SheKnows reported that it can stay fresh for 20 days after being opened. According to The Motley Fool, Costco sells a bottle of its Cabernet for $9.99, but prices vary by location.
Another highly rated beverage is the Kirkland label vodka, and SheKnows claims that there are rumors that it's Grey Goose in disguise. Both are sourced from France's Cognac region, but Costco's version will only set you back $20.
Fresh Atlantic Salmon Filet
Costco sells huge filets of salmon that can be divided into several servings, according to Business Insider. You can buy it in bulk and freeze the extra filets to make them last longer. The salmon is also skinless and boneless, noted The Kitchn, and prices are typically around $12.99 per pound.
Make Your Money Work for You
Honey
Organic raw honey can be expensive, but Costco sells high-quality honey at a great price under its Kirkland Signature brand. Costco sells organic raw honey in three 24-ounce honey bear plastic bottles for $17.99 on Costco.com. Another favorite is the five-pound plastic bottle of Wildflower Honey for $17.99.
Leggings
Costco's famous Kirkland Signature leggings come in several colors, and TikToker Ashley Marie seems convinced that Lululemon actually makes these leggings, Parade reported.
"Overall, I think Kirkland signature leggings are an excellent comp to Lululemon — they have similar stitching, side pockets and feel," she told Parade.
You can pick up a pair at your local Costco or Costco.com for $17.99.
Maple Syrup
Costco sells large, 33-ounce bottles of organic 100% pure Grade A maple syrup for $14.99. Tara Zeller told Business Insider she drives four hours to pick up her Costco favorites, including a bottle of maple syrup for her kids.
Muffins
All grocery stores sell muffins, but they're nothing compared to Costco's. The warehouse sells six muffins in each pack in the bakery section, and you can typically purchase two packs for the price of one, which is $8.99, according to Summer Yule Nutrition and Recipes. Muffin flavors may vary by season and store location, and you can also freeze them to enjoy later!
Rotisserie Chicken
The wholesale chain's $4.99 rotisserie chicken is a Costco staple, and it's reportedly a "loss leader" for the company, Eat This, Not That! reported. However, Costco sells the beloved chicken below its market value to attract customers to the store, where they will hopefully purchase more profitable items.
Make Your Money Work for You
Costco's rotisserie chickens typically weigh around three pounds when cooked, and there are countless ways to eat it.
Sheet Cake
Costco sheet cakes are back after a brief hiatus. When Costco announced its sheet cake would be discontinued in May 2020, thousands of angry customers signed petitions and left angry comments on the retailer's Facebook page, Cheapism reported. Prices increased from $19 to $25, but Reddit users noted that the cake is still a great deal.
"$25 is still so good for the size and quality compared to any grocery store," one Redditor wrote, per Cheapism.
The $1.50 Hot Dog and Soda Combo
While this isn't an item you'll find on shelves, Costco's $1.50 hot dog and soda combo is a customer favorite. There's even a viral t-shirt design celebrating its cult status, CNBC Make It reported.
Tires
Next time your car needs tires, head over to Costco. Not only can you find a great deal on tire prices, SheKnows indicated, but your tire installation also includes rotation, balancing and nitrogen tire inflation.
More From GOBankingRates