Costco Online Shopping: 10 Best Ways To Save Money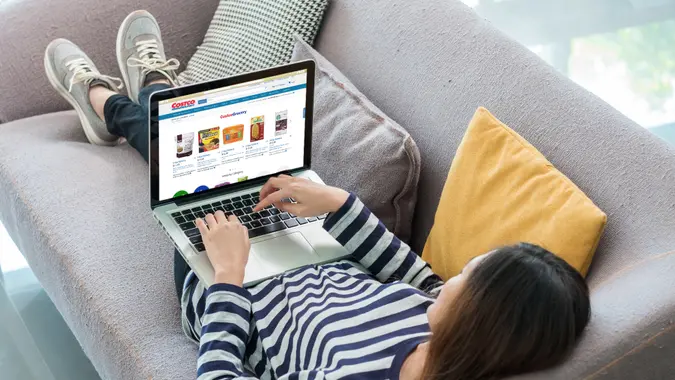 Weedezign / Getty Images/iStockphoto
If you're one of the 105.5 million Costco members worldwide, you've likely wandered the vast aisles of the warehouse giant, marveling at the variety and value offered. But you might not have experienced Costco's online shopping.
See: How To Get Cash Back on Your Everyday Purchases
In today's world, convenience and savings are key, and Costco brings that right to your fingertips with Costco.com. Before you start adding items to your cart, however, here are the 10 best ways to make your online Costco shopping experience a little less heavy on your wallet. 
1. Download the Costco App
If you haven't already, take the time to download the Costco app. Not only will it make shopping at the warehouse club more convenient due to its ability to allow you to store your credit card, create mobile shopping lists and view your purchases and receipts, but you can also receive messages about Costco's newest promotions and special offers.
2. Browse the Costco Coupon Book
Browse the current Costco coupon book before shopping to see if there's anything on your list (or not) that you can get a great deal on. Deals are included for both online shopping and in the warehouse. Slickdeals claims to usually publish Costco's new ad preview a few days before it goes live.
3. Purchase Nonperishable Items in Bulk
For nonperishable items like canned goods, paper goods or diapers, consider buying in bulk from Costco.com. After all, this is what the warehouse giant is known for. This strategy can significantly reduce the price per unit on your household staples when compared to buying them at your local grocery store. And because the items won't spoil, there's no reason not to do it — unless you just don't have the storage space. 
Make Your Money Work for You
4. Buy Gift Cards for Less
Costco.com offers discounted third-party gift cards, which means that you don't have to give them away — you can use them to your advantage. Whether you're planning a trip to a favorite restaurant, going shopping at a certain retailer or streaming entertainment, buying these gift cards can mean substantial savings. For instance, you can find four $25 Domino's gift cards for $79.99, which will save you $20 over time if you frequent the pizza chain.
5. Shop Kirkland Signature Brand Whenever Possible
Kirkland Signature, Costco's store brand, offers a variety of quality products, from almond butter to wine, at lower prices compared to name brands. Trying them could lead to big savings. Plus, some Kirkland Signature products are reported to be actually name brands in disguise, such as the warehouse chain's diapers and batteries. Do the brand names Huggies and Duracell ring a bell?
6. Keep an Eye on Clearance Items
The clearance section on Costco.com often features great deals on a wide variety of items, including beauty supplies, handbags, groceries and jewelry. The Krazy Coupon Lady suggests searching the term "whilesupplieslast," with no spaces, when shopping on Costco.com to see everything Costco has listed on clearance.
7. Keep Tabs on Price Adjustments
Costco's price adjustment policy can also help you save. If an item you bought from Costco.com drops in price within 30 days, you can get a refund for the difference. All you have to do is fill out a form on Costco.com. Note, however, that Costco does not cost match warehouse prices with Costco.com prices.
Make Your Money Work for You
8. Use Your Favorite Shopping Extensions To Get Extra Savings
Whether you like Capital One Shopping, Honey, Rakuten, PriceBlink or one of the many other shopping extensions available, allowing them to work in the background while you shop at Costco.com can help you save by alerting you to better prices elsewhere, allowing you to earn cash back and other benefits.
9. Shop for Major Appliances
Of course, you'll want to comparison shop to make sure you're getting the best deal, but buying major appliances from Costco.com might be worth it. When you buy your next refrigerator, stove or washing machine at Costco.com, you'll get free delivery and installation, free haul away and free basic installation parts — all in the price you pay for the appliance.
10. Shop for Tires
Costco claims that other tire shops find it difficult to beat its warehouse deals, so it could pay off to shop for tires at Costco.com. Tire installation at Costco costs $19.99 per tire and includes rotation, balancing, nitrogen tire inflation and flat repairs for the life of the tire. A warranty for mileage, road hazard and manufacturing defects is also included with some exceptions. You'll also see current deals and promotions for tires when you shop online.
Is Costco Online Shopping More Expensive Than In-Store Shopping?
If you're worried that you'll spend more shopping Costco online than you would if you visited one of its warehouse clubs, Costco states on its website that products sold online could have different pricing than the products sold in your local Costco warehouse. The price increase could result from any shipping and handling fees that are charged for delivery to your home or business.
Make Your Money Work for You
As a heads up, Costco does indicate on the item's product page when an item is available online and in the warehouse with the message, "Item may be available in your local warehouse for a lower, non-delivered price." However, even if some of your favorite items are cheaper to purchase in person, don't forget about the great online-only deals Costco offers, which are sure to help you score big savings.
Use These Tips To Save When Shopping Online at Costco
Shopping online at Costco offers convenience and variety — often at prices that can't be beat. And it's easy to access; all you have to do is navigate to Costco.com or use the Costco app. Even though Costco spending can be a smart move, remembering to use these tips can help you amp up your savings and provide a boon for your budget. 
Editorial Note: This content is not provided by any entity covered in this article. Any opinions, analyses, reviews, ratings or recommendations expressed in this article are those of the author alone and have not been reviewed, approved or otherwise endorsed by any entity named in this article.