8 Coupon Apps That Really Work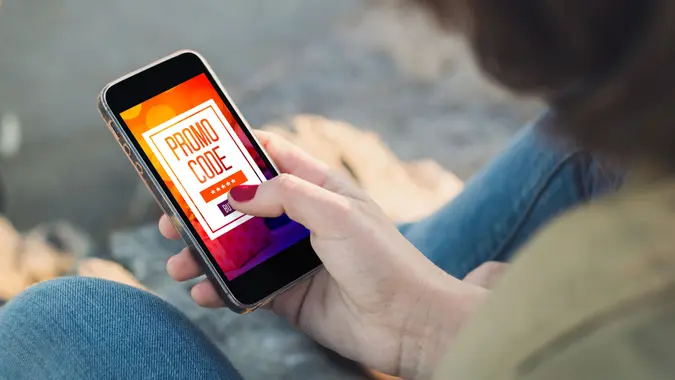 ©Shutterstock.com
We all want to save a few dollars, don't we? But clipping coupons, thumbing through advertising circulars and going from store to store is so time consuming. Well guess what? You don't need to do that anymore.
Savings are at your fingertips via several apps and browser extensions that either can help lower your bill immediately, deliver cashback rebates or be redeemed for gift cards to your favorite merchants. And they're for everything from groceries to clothing to gadgets and medicine.
Here are eight such apps and extensions that will bring you savings or rewards, and using them for things you planned to buy anyway can put a significant amount of money back in your pocket over a year's time.
Coupon Sherpa
Coupon Sherpa has coupons and promo codes from more than 100 merchants, but it also offers good old-fashioned in-store coupons to help you save money on groceries and other household necessities. You might have to print some of the coupons to take to the store, but the savings should make it worth it. Coupons are available for a huge variety of items, from new tires to lunch discounts. The site has about 30,000 coupons and codes.
Target
Unlock savings at Target by downloading the app. It will give you access to hundreds of Target Circle offers on products throughout the store, show you the sale items and help you cash in on extra offers. You'll get the savings immediately, whether you shop in store or online for store pickup or delivery.
Make Your Money Work for You
Fetch Rewards
Snap a photo of your receipt when you buy groceries, clothes, gas, fast food and more and submit it via the app to earn points. If there are participating brand items on the receipt, you'll get bonus points. You also can search the app for specific items that will earn more points. Refer a friend to the app for 2,000 bonus points, too. As your points grow, you can redeem them for gift cards to a variety of retailers.
Capital One Shopping
Install the Capital One Shopping extension on your desktop browser and let it find the best bargains for you. When the extension detects you're shopping, a notification will pop up that lets you know there could be coupons to redeem, a lower price somewhere else or cashback offers. It compares prices at more than 30,000 retailers, and the Capital One Shopping website says it saved customers $160 million last year. Then, redeem your cashback rewards for gift cards.
Honey
The Honey browser extension will look for lower prices at 30,000-plus sellers, and will even search Amazon to try to find a better price with a different Amazon retailer. Another perk is if you're considering a purchase but not ready to buy, you can add it to your Droplist on the extension. You'll get notified if the price drops. Honey reports its users receive a 17.9% average discount and $126 in annual savings.
Rakuten
Sign in to the Rakuten app, or get the desktop browser extension, to start earning cash back. Rakuten partners with major department stores, specialty shops, wireless providers and more to provide cash back on what you buy. The percentage of the purchase you'll receive back varies by store and often by the day, as frequent promotions will increase your savings. You'll get your rewards back in cash.
Make Your Money Work for You
RetailMeNot
Ready to check out online and you see the box to enter a promo code? If you don't have one, don't complete your transaction without checking RetailMeNot first. You can score deals such as free shipping, 20% off your purchase or even money off a pizza just by finding a coupon code. RetailMeNot also has a desktop browser extension that will run an auto search for the codes for you.
GoodRx
You've undoubtedly seen the commercial where the worried mom approaches the drug store counter to see how much her son's prescription will cost. It's more than she can pay — but then the pharmacy clerk tells her about GoodRx, and the day is saved. Even if you have prescription insurance, you can often find a cheaper price through GoodRx than your copay. Before you pick up your medication, check the app for the cost. If it's less than what the drug store charges, show the price you found to the clerk for an adjustment. The company says 75% of its customers have insurance, and more than 70,000 pharmacies accept the plan.
With money-saving apps and browsers like these readily available today, there's no reason to pay full price. Start using them!
More From GOBankingRates: