Does Costco Take Apple Pay?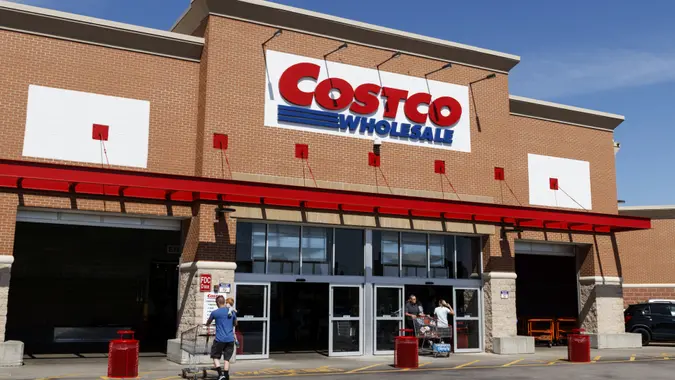 jetcityimage / Getty Images
Mobile payment methods like Apple Pay are quick and convenient ways to pay for purchases, and using them eliminates the need to carry cash. They're also becoming more popular. More than 85% of merchants in the United States accept Apple Pay as a form of payment.
See: Find The Upside To Every Purchase
Whether you've already adopted Apple Pay or are debating making the switch, you might want to know if Costco accepts it. Customers at Costco can use Apple Pay to pay for most purchases in the warehouse store. Read on to find out how it works.
What Forms of Payment Does Costco Accept?
Like most retailers, Costco accepts multiple types of payments when you're ready to check out. If you're shopping in a Costco warehouse store, you can use the following payment methods in addition to cash and personal or business checks:
Mobile payments (Apple Pay, Google Pay, Samsung Pay)
Costco Shop cards
Debit and ATM cards (PIN-based)
EBT card

Traveler's checks

Visa credit cards
Does Apple Pay Work at Costco Gas Stations and Pharmacies?
According to the company's website, Costco gas stations do not accept Apple Pay. However, you can pay with a Visa credit card, a debit or ATM card, or a Costco Shop card.
If you pick up your prescriptions at a Costco pharmacy in the store, you should be able to use Apple Pay at checkout. However, you need to use a Visa, Mastercard, Discover or Costco-branded credit card to pay for Home Delivery Pharmacy orders made through the website.
How Do You Use Apple Pay at Costco?
To pay for your purchase using Apple Pay, you need to bring your iPhone or Apple Watch to the checkout line. Let the cashier know how you plan to pay or select it as an option when prompted by the register.
Make Your Money Work for You
Open Apple Pay on your device (phone or watch) and make sure you've selected the card you want to use. Then position your device so the contactless reader can read it. If you're using an Apple Watch, you should hear a noise and feel a vibration when the reader has collected the information it needs. When prompted, you can remove your device and complete the checkout process.
Is Apple Pay Safe To Use at Costco?
In some ways, using Apple Pay in a store is safer than paying with cash or a card. You may feel more secure having your payment in hand, but you can lose or misplace cards and money. Also, when you swipe a credit card, information like the account number and expiration date may be shared with the merchant.
Apple does not keep a record of your card number on its servers or on your device. Instead, it sends only the information the merchant needs to complete the transaction, such as your contact information. This decision to protect your information increases the security of the transaction.
Final Take
Apple Pay is a quick and simple — and safe — way to check out at a Costco warehouse store as long as you have an iPhone or Apple Watch. If you plan to use this payment method, set up your Apple Pay account before you visit the store and make sure your card or account is linked.
FAQ
Can you use your phone to pay at Costco?

Yes, you can use your phone to pay at Costco if you use Apple Pay, Google Pay or Samsung Pay. To use your phone, you have to be present in the physical store and cannot use a mobile payment at the gas pumps outside the store.

Can you use Apple Pay on the Costco app?

Costco's website does not list Apple Pay as an accepted payment method for purchases made through the mobile app. However, you do have the option to pay with Discover and Mastercard credit cards in addition to Visa cards.

Does Apple Pay work on Android phones?

Apple Pay is designed for use on iPhones, so Android users cannot use Apple Pay. Alternatives for Android users include Google Pay and Samsung Pay (available for people who have a Samsung phone).

What is a Costco Shop card?

A Costco Shop card is a gift card members can use in the store to pay for their purchases. When you buy a Shop card, you choose how much money to transfer to the card. You can check the balance of the Shop card online by entering the card number and PIN.
Make Your Money Work for You
Editorial Note: This content is not provided by any entity covered in this article. Any opinions, analyses, reviews, ratings or recommendations expressed in this article are those of the author alone and have not been reviewed, approved or otherwise endorsed by any entity named in this article.