Dollar Tree: 9 High-Quality Items To Buy in April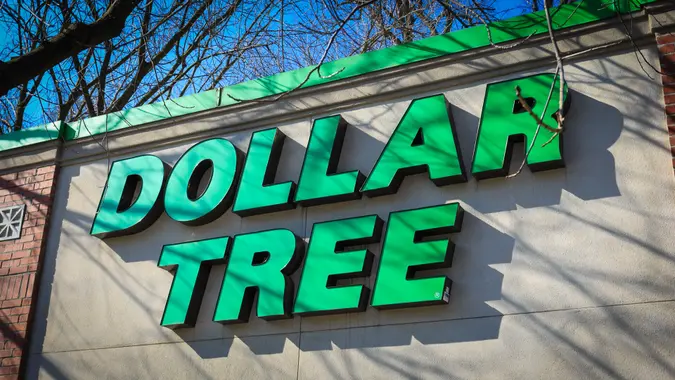 Cassiohabib / Shutterstock.com
The name Dollar Tree might give the impression that the store's items aren't worth paying more for. The truth is that some items at Dollar Tree are actually high-quality and affordable.
GOBankingRates found top quality items you can get at Dollar Tree for a super low price. 
Price: $1.25 each
These solar-powered lights are a cute way to get your yard ready for spring and summer. Collecting power from the sun during the day, these add a pop of light to your garden at night. Customers report in reviews that the lights last a long time, and are very durable.
Price: $1.25 for a pack of 3
Perfect for gardening, each of these terra-cotta pots comes out to only $0.42 a piece. They offer the sturdy and visually appealing clay material that keeps plants safe from the elements, while being the envy of all of your neighbors.
Poll: Are You Concerned About the Safety of Your Money in Your Bank Accounts?
Price: $1.25 each
These trellises can help plants stay in their place, or provide a surface for climbing plants to grow. They also offer some curb appeal to your yard. Many customers buy several at a time and report how much cheaper they are than similar ones offered at hardware stores.
Make Your Money Work for You
Price: $1.25 for a pack of 2
These knives are great to have on hand for upcoming barbecues this summer. Each knife has a serrated blade that won't stain, so it will hold up great over time. One reviewer talked about how these knives have held up through years of use.
Price: $1.25
Give your sunglasses and eyeglasses a refresh with this cleaner that's safe for anti-reflective glass, plastic and polycarbonate lenses. A similar product costs $4.79 for half the amount of liquid at CVS.
Price: $1.25 each
Signal it's summer with these super cute flamingos. Each one stands 13.5 inches tall. You can get a flock and you'll still be spending under $5. Customer reviews say they're a great addition to the yard, especially for the price. 
Price: $1.25 each
Display all your spring flowers with these gorgeous glass vases. One review praises the vase, saying "Good quality vases. They are exactly what I wanted."
Price: $5.00 each
Make Your Money Work for You
These sandals are perfect for the beach. The sandals are made from EVA, which is  extremely elastic for comfort, and offers low-temperature toughness, stress-crack and UV radiation resistance.
Price: $5.00
Take a load off with this cute, fleece foot stool. With all those outdoor activities during the summer, your feet are going to get tired, so it'll be great to have this at home to rest.
More From GOBankingRates
Make Your Money Work for You