Don't Buy These Things at Dollar Tree (According to Experts)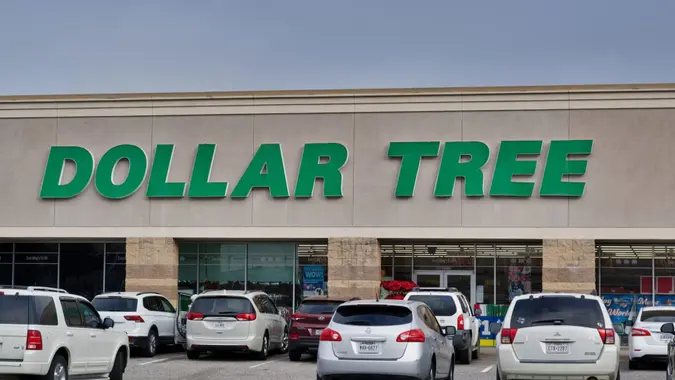 Brett_Hondow / Getty Images
Dollar stores are becoming increasingly popular as inflation remains a fixture of modern American life amid a turbulent economy. Retailers such as Dollar Tree, Family Dollar, and Dollar General offer personal, household and food items at very low prices, and in most cases, are seeing high demand for their product as consumers look to save a few bucks due to budget constraints.
However, not everything found in these stores is a great deal or worth purchasing.
To help you make informed shopping decisions, GOBankingRates has compiled a list of items that experts recommend avoiding when shopping at Dollar Tree:
Fresh Produce
Though certain Dollar Tree locations sell fresh produce, they aren't necessarily known for having the freshest selection. While Dollar Tree offers a range of affordable products, including fruits and vegetables, these items are often limited to canned or frozen options.
Crystal Luce, spokesperson for Dollar General, told NBC News, "Dollar stores are not designed to accommodate all your shopping needs." Luce explained that their aim is to "fill in the gaps between major shopping trips rather than providing a full grocery selection."
For fresher produce, or produce in general, it's best to visit a grocery store or local farmer's market.
Make Your Money Work for You
Vitamins and Supplements
Consumer Reports warned that vitamins and supplements sold at dollar stores may lack quality or value due to the lack of regulation. According to its experts, it's advisable to look for labels such as USP or NSF International for some level of oversight if you decide to purchase them.
Generic Batteries
While cheap batteries may seem like a bargain, frugality expert Jen McCaffery advised against purchasing cheap batteries from dollar stores. She explained: "Dollar store batteries are likely to leak. For example, the 'heavy-duty' packages of batteries you might find at the dollar store from brands such as Sunbeam and Panasonic may seem like a bargain at $1 per pack. But both packages were stamped with a warning that recommended you use them only for low-drain devices."
To avoid potential harm, it's recommended to invest in higher-quality batteries from reputable brands.
Incandescent Light Bulbs
Dollar Tree often stocks old-fashioned incandescent light bulbs. John Galeotafiore, associate director of product testing at Consumer Reports, warned that these bulbs are known for being energy inefficient and prone to burning out or breaking easily.
"To save time and money," wrote Galeotafiore for Consumer Reports, "note the details of the bulb you're replacing, so you don't end up with something that isn't quite right."
For longer-lasting and more energy-efficient options, consider purchasing LED or CFL bulbs from other retailers.
Canned Goods
Canned goods may offer convenience and extended shelf life, but be cautious when buying them from dollar stores. Amy Keating, food safety and testing program leader for Consumer Reports, advised caution when buying canned goods from dollar stores. She indicated that the kind of canned goods available in dollar stores often have higher sodium or sugar content.
Make Your Money Work for You
Additionally, dented or bulging cans should be avoided as they may compromise the safety of the food inside.
Toys and Children's Items
Experts also advise against buying toys and children's items from Dollar Tree. These products may not undergo rigorous safety testing, potentially posing risks to children. For safer alternatives, consider purchasing toys from reputable retailers that adhere to safety standards.
Costco's Best Deals? Employee Reveals 10 Standout Buys for Your Money
While it's important to exercise caution when shopping at dollar stores, there are still several items that experts deem suitable for purchase. Lisa Gill, a pharmaceuticals reporter at Consumer Reports, suggested that personal care items like shampoo, soap, feminine care products, and toothpaste can provide good value at dollar stores. Additionally, according to Keating, milk and eggs are typically fresh and healthy options as long as you check the expiration dates.
The article above was refined via automated technology and then fine-tuned and verified for accuracy by a member of the GOBankingRates' editorial team.
More From GOBankingRates