Don't Shop at Wegmans on This Day of the Week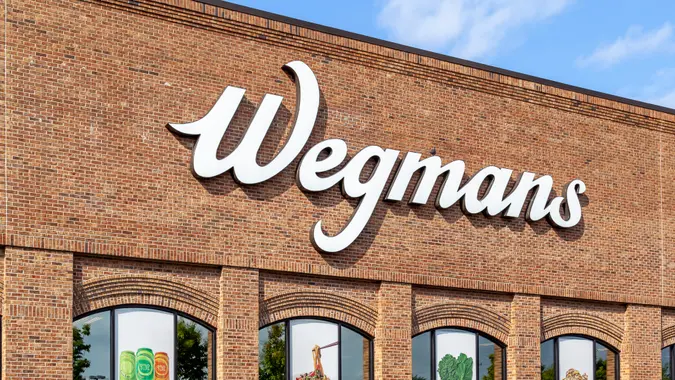 JHVEPhoto / Getty Images
Originally founded in New York in the mid-1910s, Wegmans has since expanded. Now, this private supermarket chain has 110 stores across several other states, including Maryland, North Carolina, Pennsylvania and Massachusetts.
Although Wegmans is a smaller grocery store chain, especially compared to giants like Kroger's, it excels in many areas, such as in its high-quality selection of fresh and packaged goods and commitment to providing exceptional customer service.
It also tends to be open nearly all day, depending on where you live, making it more convenient for those who have irregular schedules or prefer shopping outside of peak times.
On that note, there are certain days of the week that are better to shop at Wegmans, just as there are days that are best avoided. If you're planning your next — or first — shopping trip to this store, here's what you need to know.
Worst Days To Shop at Wegmans: Fridays and Saturdays
The worst days to plan your shopping trip to Wegmans are Fridays and Saturdays, since this is when the store tends to be at its busiest. On weekends in particular — aside from early Sunday morning — you're more likely to get stuck in longer checkout lines.
You also might want to avoid going on Tuesdays or Thursdays, unless your specific location gets its shipment in the day before. Otherwise, the shelves might have a more limited selection, especially if your local Wegmans is a hotspot for the people living in your area.
Make Your Money Work for You
While you're at it, try to avoid going after work on the weekdays. This is true even for Mondays and Wednesdays, days in which it's typically better to go shopping at Wegmans. As with the weekends, you're more likely to get caught up in traffic and crowds because most people plan their shopping trips at these times.
Best Days To Shop at Wegmans: Sunday, Monday and Wednesday
In many locations, Wegmans is open from around 6 or 7 a.m. until midnight, seven days a week. But the best time to shop is generally in the morning, but only on specific days of the week.
"The best day to shop at Wegmans is at 8 a.m. on Monday mornings," said Samantha Landau, consumer expert at TopCashback.com. "This is when the stock is fresh and it will be unlikely that your favorite items are out of stock. And with low crowds, you're more likely to have a stress-free experience."
Melissa Cid, a consumer savings expert at MySavings.com, seconded this, saying, "Shop early morning on Sunday when the new week's ad is released; you'll get your pick of the latest deals and groceries on sale."
Plus, Sunday mornings tend to be slower paced for many people. This often results in fewer crowds and shorter lines at checkout.
Make Your Money Work for You
If you can't make it to Wegmans on Sunday morning, Cid suggested going on Wednesday instead.
"Wednesday is the next best day to shop when you're likely to have shelves restocked from the weekend rush," Cid said. "Wednesday is also when Wegmans loads up new digital coupons in their app."
Ways To Save Time and Money at Wegmans
Looking to save money and time at Wegmans? Here are a few strategies that can help:
Check how busy your store is online. If you do a quick Google search, you might be able to see your local Wegmans' most and least busy times. This can give you a rough idea of when to go.
Join Wegmans' loyalty program. Many grocery store chains offer loyalty programs, and Wegmans is no different. Joining their loyalty program is free and can save you money on various items purchased in the store. "The store's loyalty program is a great starting point to get rewarded on your regular grocery purchases," Landau said. "You can score exclusive coupons and discounts simply by using your loyalty card or entering your phone number/email address whenever you shop."
Use coupons and cash-back apps. Cid suggested, "Save money at Wegmans with the Shopper's Club app, where you can clip coupons right from your phone and redeem at checkout. Double dip your savings at Wegmans with a cash-back app like Ibotta. I like to check my Ibotta app and Wegmans app for digital coupons to see what offers I can stack before I shop."
Make a grocery list before you go. Not only can making a grocery list help save you time in the aisles, but it's also a great way to avoid impulse buys and cut down on expenses. And if you plan your meals right, you can avoid having to go shopping when Wegmans is at its busiest.
Get to know the aisles. If you're familiar with the layout at your local Wegmans, you can organize your shopping list to optimize your shopping strategy and reduce how long you spend in the store.
Take advantage of cash back. Certain debit and credit cards earn cash-back rewards on your everyday purchases. If you shop with a cash rewards card, you'll start earning rewards. Once you've accumulated enough, you can redeem your cash to lower your grocery bill.
Be aware of sales. Purchasing things you need while they're on sale can be a great way to save money. But be aware that Wegmans will often organize discounted items in a way that encourages impulse buying. Try to avoid adding anything to your cart that's not on your list — even if it's half off. Instead, check the current sales online and plan your grocery shopping around those.
See whether your local Wegmans is hiring. If your local Wegmans seems to be constantly on the lookout for employees, it could be a sign that the store is short-staffed and that you're going to experience longer lines. Of course, you can always go to self-checkout to avoid this. But if other shoppers have the same idea, you might not save much time.
More From GOBankingRates