20 Everyday Products You Use That Are Still Being Affected By Coronavirus
Sneakers, soda and iPhones are all being impacted.
The coronavirus has affected buying habits and supply chains all across the globe. Factories in China shut down first, causing shortages in many of the products you use every day which are manufactured in China or depend on parts that are manufactured there. Many factories in the United States are still at a standstill, causing other products to be in short supply. Other items are actually suffering from a decrease in demand, with a loss of sales in the Asian market that could be indicative of sales decreases in the U.S. as well.
From soda to toothbrushes, here are 20 everyday items that are being affected by the coronavirus.
Last updated: April 1, 2020
1/20
Hadrian / Shutterstock.com
iPhones
If you're due for an upgrade, you might have to wait a while to get your hands on the latest iPhone model. Some of the phone's parts, including its camera lenses, are manufactured in China, so the coronavirus-related closures there have put a pause on the production. Apple analyst Ming-Chi Kuo told MacRumors that Apple's iPhone production will not significantly improve until the second quarter of 2020.
2/20
mapodile / Getty Images
Laptops
Popular laptop manufacturer Lenovo relies on components from the Hubei province in China — ground zero of the coronavirus outbreak. Because factories in the area were closed, the brand is likely to experience manufacturing and sales delays, the South China Morning Post reported.
Hewlett Packard Enterprise also announced that its supply chain had been disrupted as a result of the coronavirus, CNBC reported.
3/20
Pictures_n_Photos / Shutterstock.com
Diet Soda
The coronavirus-related closures in China have disrupted Coca-Cola's supply chain for the artificial sweeteners used in its diet and zero-sugar drinks. The company said in late February that those products could be in shorter supply if the outbreak continues to spread, CNN reported. 
4/20
Wachiwit / Shutterstock.com
Video Game Consoles
While you're stuck at home you might want to get a new video game console — or at least some new video games for the one you have. If your console of choice is the Nintendo Switch, you may be out of luck. In February, Nintendo announced that the coronavirus is delaying the production of the Switch console and accessories, The Verge reported.
Since that February announcement, "Animal Crossing: New Horizons" has become the most popular video game on the market, making the Switch even more of a hot commodity. It has been sold out since April at major retailers like Amazon, Target and GameStop. Analyst Daniel Ahmad told Business Insider the console wouldn't be reliably back in stock until June.
5/20
mokjc / Shutterstock.com
Coffee
Starbucks reopened 85% of its stores during the first week in May, with the goal of getting almost 90% of locations open by June 1. Still, grabbing a morning coffee will look different for the foreseeable future. Drive-thrus are open but most counters are not. Customers are encouraged to use the Starbucks app to pay ahead and pick their drink up at the door.
6/20
jacoblund / Getty Images/iStockphoto
Pharmaceutical Drugs
Many drug ingredients are manufactured in China, so it's possible that closures of factories there could lead to a lower supply of these drugs in America, NPR reported. Don't panic yet, however — many drug manufacturers in the U.S. stock up on these ingredients in advance so there are no shortages right now, but there could be some down the line.
In Photos: A Look Inside Consumer Life Across the US Affected By the Coronavirus
7/20
Africa Studio / Shutterstock.com
Household Products
Procter & Gamble — which manufactures a number of household goods ranging from laundry detergent to paper towels — announced during a February conference that closures in China would affect the production of its products in different ways.
"We access 387 suppliers in China that ship to us globally more than 9,000 different materials, impacting approximately 17,600 different finished product items," said Jon Moeller, Procter & Gamble's chief operating officer and chief financial officer, according to Forbes. "Each of these suppliers faces their own challenges in resuming operations."
8/20
coldsnowstorm / Getty Images
Sneakers
Adidas does roughly 23% of its business in China and has 19% of its manufacturing capacity there, Adidas CEO Kasper Rorsted told CNBC. Because of this, the coronavirus is causing "a painful setback" for the company's business, he said. The demand for Adidas products has also been decreasing as people have focused on buying more essential items. 
9/20
kate_sept2004 / Getty Images
Beauty Products
People aren't buying as many beauty products as a result of the coronavirus outbreak. Estee Lauder — a major company in the space — trimmed its fiscal 2020 per-share earnings forecast as sales declined, Reuters reported. These sales dips are largely due to a decline in air travel and consumer traffic in shopping and tourist areas. Plus, with much of the workforce working from home, there's no real need to put on makeup right now.
10/20
Martin Good / Shutterstock.com
Luxury Fashion Items
Although it remains to be seen if people will continue to shop for designer clothes in the U.S. with stores shutting down across the country, luxury fashion brands like Burberry have already taken a hit with store closings throughout China, Business Insider reported.
Supply chain disruptions in China might also lead to a shortage of luxury apparel down the line. For example, Ralph Lauren said that its supply chain disruptions may impact some of its fourth-quarter orders, CNBC reported.
11/20
agbstock / Shutterstock.com
High-End Liquor
Will you be breaking into the good stuff during your social distancing? If China's behavior during the coronavirus shutdowns is any indication, many Americans will not be — or at least they won't be replenishing their supplies when they finish what's already in the liquor cabinet.
Europe-based spirit companies Remy Cointreau and Pernod Ricard — which make Remy Martin cognac and Chivas Regal whiskey, respectively — are likely to see a big hit on their bottom line due to the coronavirus. That's because these brands have high exposure to the Chinese market, and they suffered losses after celebrations were canceled for the Chinese New Year, typically one of the busiest periods for alcohol consumption, Reuters reported. The brands could also see a hit in profits due to a decrease in tourism, retail and duty-free sales.  Not to mention with bars closed throughout many U.S. cities, the demand for these high-end spirits could be lower stateside as well.
12/20
withGod / Shutterstock.com
Golf Clubs
Stock up on golf clubs while you still can, as Callaway Golf said the coronavirus would likely have an impact on its supply chain. The company has also seen a decrease in "near-term demand for our products in China as well as potential demand in the markets outside of China, particularly neighboring markets," CNBC reported.
13/20
JJFarq / Shutterstock.com
14/20
Kerkez / Getty Images/iStockphoto
Large Appliances
Whirlpool, a popular manufacturer of washers, dryers and kitchen appliances, said that it had experienced supply chain interruptions as a result of the coronavirus, CNBC reported.
15/20
LunaseeStudios / Shutterstock.com
Beer
Anheuser-Busch — the parent company of Budweiser, Michelob Ultra and other popular beer brands — lost $285 million in expected revenue due to the coronavirus outbreak and cancellation of Chinese New Year celebrations, CNBC reported. It's not all bad news though — the company has now pivoted its focus to producing and distributing bottles of hand sanitizer to help meet the growing need for the product. We'll cheers to that.
16/20
Everything You Need / Shutterstock.com
Jeans
It might be a while until you can go to the store to find a perfect-fitting pair of new jeans. Abercrombie & Fitch, Levi Strauss and more retailers have temporarily closed their stores across the U.S. This will no doubt impact these companies' bottom lines, with Abercrombie stating that the coronavirus is expected to lower the company's sales by as much as $80 million in 2020, CNBC reported.
Crocs
Popular clog brand Crocs manufactures all of its products abroad, with its main suppliers in China and Vietnam, CNN reported. That means there is likely to be a supply chain interruption, as well as a drop in sales due to a loss of its retail presence in Asia. Despite predicted losses in revenue for the year of up to $60 million, the company is doing its part to give back during the health crisis. Crocs is now giving free shoes to healthcare workers, the company's CEO announced on March 26.
18/20
cihatatceken / Getty Images/iStockphoto
Tires
It seems that many people are complying with orders to shelter in place, as tire sales have been on the decline. Goodyear Tire & Rubber Company has halted its manufacturing operations in North, Central and South America due to the decline in demand resulting from the coronavirus, Cleveland.com reported.
19/20
Kristen Prahl / Getty Images/iStockphoto
Fancy Toothbrushes
Health technology company Philips, which sells hospital equipment and personal health products ranging from large medical scanners to toothbrushes, has seen a loss in sales — and supply chain disruption — due to the coronavirus in China.
"The impact on public life and the industry in China is […] affecting the demand for Philips' consumer portfolio in the country and Philips' global supply chain," the company said, according to CNBC.
It remains to be seen if the same will be the case in the U.S. — perhaps people will be less willing to shell out $200 for a toothbrush at a time where job loss is so prevalent.
20/20
August_0802 / Shutterstock.com
Athletic Apparel
Under Armour, a leading sports apparel company, had already been experiencing sales decreases in North America before the coronavirus pandemic hit. Now with stores temporarily closed, this could likely mean even steeper sales declines. Plus, because the company sources so many goods in China, this could mean less supply would be available anyway. 
More From GOBankingRates
About the Author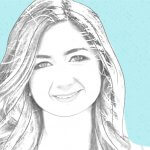 Gabrielle joined GOBankingRates in 2017 and brings with her a decade of experience in the journalism industry. Before joining the team, she was a staff writer-reporter for People Magazine and People.com. Her work has also appeared on E! Online, Us Weekly, Patch, Sweety High and Discover Los Angeles, and she has been featured on "Good Morning America" as a celebrity news expert.