12 Ways To Make Your Dinner Fancy Without Overspending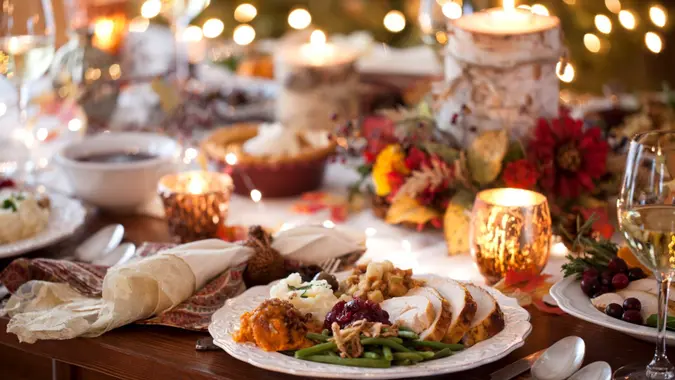 Liliboas / Getty Images
With supply chain chaos and rising inflation, those who are eager to deck the halls this holiday season may find themselves up against some financial challenges. In a time when spending is not only encouraged — but expected — it can be tough to stick to a budget and still feel like you got the most out of the yuletide. Those hosting holiday dinner parties may feel especially under pressure to put on a decadent show and go the extra mile to make everything perfect — even if it requires spending extra. 
Find Out: Black Friday vs. Cyber Monday: Which Has the Better Deals?
Read More: If Your Credit Score Is Under 740, Make These 4 Moves Now
But you needn't break the bank to host your very own banquet. There are plenty of ways to make your holiday dinner fancy without overspending. GOBankingRates consulted experts to learn their best tips and hacks for hosting a dinner party so festive and opulent that your guests may think you spent twice the amount you did.
Make Your Money Work for You
Shop Stores Like Aldi And Trader Joe's
"You might not think it's possible, but you can pick up tasty appetizers for less at these stores," said Julie Ramhold, consumer analyst at DealNews. "For instance, Aldi routinely offers baked brie kits every holiday season that come with a round of brie, a stoneware dish to bake it in, and a topping — usually honey and pecans, or a cranberry glaze for around $6 to $7. It's around 10 oz altogether, so it likely won't be enough on its own, but if you're adding it to a spread, it's an elegant appetizer that won't cost a fortune."
Likewise, if you want to do a charcuterie board, Ramhold suggests heading to Trader Joe's, where you can pick up a few packs of meats with three types in each for less than $10 a pop. 
"That might sound pricey, but these boards are meant for grazing, so a little goes a long way," Ramhold said. "Fill out your board with your favorite cheeses, then add some fruits like grapes. Grab a baguette and slice it into small rounds, toast them up, and lay them on the board with a small jar of honey or fancy jam and that'll be a nice spread to tide your guests over on the way to dinner."
Make Your Money Work for You
Create Mood Lighting With Candles
"A mood is set by good lighting," said lifestyle expert Shakir Malik. "Dim the lights and light a few candles to set the mood. In the middle of your table, arrange the candles to serve as centerpieces. Concerned about open flames? Choose flameless candles."
Skip Individual Cocktails
"Sure, having a ton of different alcohols on hand can make for a lively party and cater to a variety of tastes, but it can also get expensive quickly," Ramhold said. "Rather than setting out an array of alcohol and mixers for your guests, embrace the punchbowl. You can create sangrias or spiked ciders easily and for a fraction of the cost of having everyone make their own drink throughout the night (especially if they have a heavy hand when they pour)."
Ramhold noted that you can also employ a slow cooker to go the hot drink route, like hot chocolate spiked with Kahlua. 
"You'll also be able to control the alcohol this way and ensure things don't get too rowdy as the night wears on," Ramhold said. "Serve your concoction in fancy-looking cups or glasses, and no one will think twice about the fact you're all drinking the same thing."
Make Your Money Work for You
Get Goblets From The Dollar Store
"I often have my 6-year-olds drink their water out of fancy goblets (we paid one dollar for them at a thrift store)," said Monique Soltani, journalist and wine pro. "We set the entire table like we're serving royalty. The food can be french fries but it feels like we're dining in a palace based on the presentation."
Use Hand-Picked Flowers For Table Decor And Cloth Napkins
"Picking flowers from the front yard and making centerpieces out of them, free and fun," Soltani said, adding that cloth napkins make all the difference in the world.
Dress Up Frozen Foods
"Don't hesitate to buy frozen items, such as a frozen turkey and vegetables — when thawed, it's just like the real deal," said Michelle Keldgord, co-founder, BakingHow. "Just make sure you jazz it up a bit. For example, I cook my turkey in a crockpot with onion soup mix and a pinch of water. I will steam veggies and douse them in butter, parmesan cheese, and some garlic powder."
Make Prosecco Floats For Dessert
"Prosecco Floats are a simple dessert that requires very little preparation," Malik said. "A bottle of Prosecco and a pint of sorbet are all you need. Make your own sorbet, if you're feeling particularly classy. When you really want to impress your friends, use a cocktail shaker to make whipped cream. You'll look awesome while doing this versus using an electric mixer."
Keep The Menu Simple
"Keep it as simple as you can and choose a couple of appetizers, especially if you're doing something like hors d'oeuvres as they can get time consuming to make," Ramhold said. "Then opt for a simple main dish — turkey and ham is popular this time of year, but a roast chicken is also a good option, or you could even think outside the box and do something outside your comfort zone.
Do Appetizers Only
"Another idea is to do a whole dinner of appetizers," said Seb Evans, co-founder of Banquist. "Instead of doing a traditional three-course meal which can be costly, do heavy appetizers instead. Make sure you have a variety of both meat and vegetarian options but, keep it fun. The hors d'oeuvres are sometimes the best part, so serve some unique options." 
Look For Ways To Get A Free Turkey
If you do opt to go the traditional main course route and serve a turkey, be sure to take advantage of discounts, coupons and possibly even a free bird. 
"If you spend [the required amount] at ShopRite with a Price Plus Card before November [24] you'll receive a free turkey up to 21 pounds," said Maria Juvakka, founder of Chic Pursuit. "Similarly, if you spend [$150] on certain products at BJ's you can get a free Butterball turkey. The opportunities are out there, you just have to do a little digging."
Go Thrifting
"To save myself a lot of money when throwing dinner parties, I take advantage of thrift stores," said Nora Mitchell, editor-in-chief of Household Advice. "They often have unique vintage items that I can reuse and feel good about using as I am not contributing to single use plastics that end up in the landfill." 
Mitchell added that by thrifting, she has found some very rare pieces that always get compliments. 
Keep Your Guest List Small
"This is the absolute easiest way to bring your vision to life without spending a fortune. By keeping your guest list small, you'll be able to afford a few splurges without feeling like you're sacrificing your whole plan just to stay on a budget," Ramhold said. "In addition to keeping costs down, you can devote more time to your guests if you host 8-10 people (or even less) rather than twice that many, which may end up making you feel harried and leaving you little time to visit or enjoy yourself."
More From GOBankingRates
Make Your Money Work for You