11 Tricks To Earn Significant Cash Back With Ibotta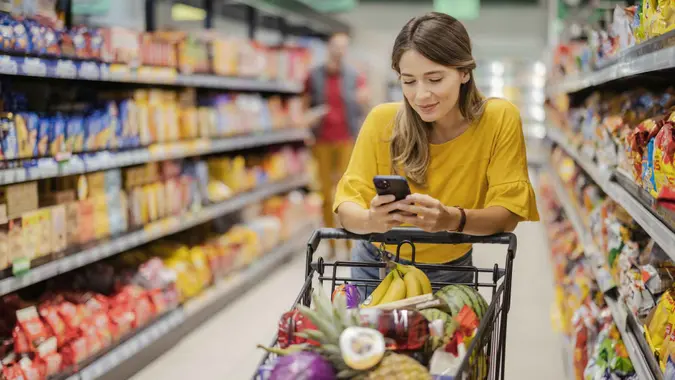 PixelsEffect / Getty Images
Ibotta is a popular cash-back app that allows Savers — Ibotta users — to earn money back on in-store and online purchases from more than 2,000 retailers. You can save on everything from groceries to gas, and with the following tricks, you can maximize those earnings.
See: How To Get Cash Back on Your Everyday Purchases
11 Tricks To Earn More Cash Back With Ibotta
Since its start in 2011, Ibotta has given back more than $1.5 billion to Savers. These tips can help you maximize what you get back from Ibotta:
Check for Ibotta offers before each shopping trip
Know how to find the newest and best Ibotta deals
Watch for "Any Brand" and "Any Receipt" rebates
Earn Ibotta bonuses
Install the Ibotta browser extension
Follow Ibotta on social media or get its newsletter
Shop during Ibotta events
Earn Ibotta referral bonuses
Buy gift cards
Match Ibotta offers with coupons
Grow your Ibotta earnings
1. Check for Ibotta Offers Before Each Shopping Trip
Ibotta requires you to select the offers you want to redeem before you shop, so don't forget to check the app before heading to the store or jumping online. Also, remember to upload your receipt within seven days of the purchase date and time, or you may not earn your cash back.
2. Know How To Find the Newest and Best Ibotta Deals
Ibotta adds hundreds of new offers to the app weekly. To make it easier to find new offers or the best deals more quickly, use Ibotta's filters to display offers tagged as "What's hot," "Best value" or "New offers" so you don't overlook any of the best savings.
Make Your Money Work for You
3. Watch for 'Any Brand' and 'Any Receipt' Rebates
Many offers on Ibotta are brand- and product-specific, just like any normal coupon you would clip. However, there are two types of offers that give you more freedom:
Any Brand offers give you cash back on the brand of your choice
Any Receipt offers enable you to earn a specified cash-back amount simply by uploading a receipt from a grocery store trip
4. Earn Ibotta Bonuses
You can earn bonus cash back on Ibotta by meeting specific redemption requirements, such as buying a particular brand or product during multiple shopping trips or redeeming a minimum number of Ibotta offers during the month. On the Ibotta app, you'll find a section detailing available bonus offers and how to earn them.
5. Install the Ibotta Browser Extension
Ibotta's browser extension allows you to earn cash back from online retailers and works similarly to other cash-back shopping portals, such as Rakuten or PayPal Honey. Once installed, the extension also provides access to price-tracking tools that can alert you to the best time to buy.
6. Follow Ibotta on Social Media or Get Its Newsletter
Ibotta uses its social media channels and newsletter to inform Savers of giveaways, popular offers, new app features and more. On Ibotta's social media channels, you may also pick up new earning tips from other Ibotta Savers.
7. Shop During Ibotta Events
Occasionally, Ibotta has special days during which you can earn additional cash back on purchases. During these promotional days, you may get two to three times more cash back for your purchases.
Make Your Money Work for You
8. Earn Ibotta Referral Bonuses
When you join Ibotta, you get a unique referral code to share with others to invite them to join the platform. If someone joins using your referral code, once they redeem their first offer and upload a receipt, you earn a $10 bonus. Ibotta also runs promotions that allow you to enter into drawings when people sign up using your referral code.
9. Buy Gift Cards
You can earn instant cash back when you use Ibotta to buy gift cards from over 130 retailers and restaurants. This feature is not yet available to all Savers, but watch for it as another source of Ibotta savings.
10. Match Ibotta Offers With Coupons
Some offers restrict the use of coupons on the offer purchase, but many do not. You can redeem manufacturer or store coupons when you purchase and cash back on Ibotta when you upload your store receipt. As long as you're uploading receipts, consider uploading them to the Fetch app, too, and earn points you can redeem for gift cards.
11. Grow Your Ibotta Earnings
Once your cash-back balance reaches $20, you can transfer the funds to your bank or PayPal account or purchase a digital gift card with your earnings. Transfer your Ibotta cash into a high-yield savings account to earn interest on your earnings.
How Much Money Can You Make on Ibotta?
Ibotta doesn't disclose on its website how much the average Saver gets in cash back each month. How much you can earn depends on how often you use the app and whether you take advantage of strategies that maximize your cash-back returns. 
You can earn with Ibotta in the following ways:
Redeeming offers
Completing bonuses
Referring new users
Is It Worth It To Use Ibotta?
Ibotta allows you to earn cash back on everyday purchases, so it's certainly worth the time to save on the things you're already buying. While the above tricks can help maximize your earnings, remember that Ibotta offers won't always provide the best deals. Compare prices from different retailers, especially on larger purchases, to ensure you're truly saving money.
FAQ
Does Ibotta give you real money?

Yes, you earn real money with Ibotta. You can send your earnings to your bank or PayPal account.

What are the disadvantages of Ibotta?

Some of the disadvantages of the Ibotta app include the following:

You must claim offers prior to purchase.
Some stores, such as Walmart and Dollar General, don't allow you to earn Ibotta cash back on an offer if you use a store coupon for the product at the time of purchase.
You can't combine coupons or offer codes with cash-back offers through the Ibotta browser extension.
You can't cash out until your Ibotta account balance reaches $20.

What is the $3.99 fee on Ibotta?

If you don't use the app for 180 consecutive days, Ibotta changes your account status to inactive. If you have an Ibotta cash-back balance, a $3.99 maintenance fee is deducted every 30 days until you redeem an offer to reactivate your account or your account balance reaches $0.
Editorial Note: This content is not provided by any entity covered in this article. Any opinions, analyses, reviews, ratings or recommendations expressed in this article are those of the author alone and have not been reviewed, approved or otherwise endorsed by any entity named in this article.