Keep Your Cash When Buying Groceries, Gas, Utilities and More With AARP's 'Great Ways To Save' Guide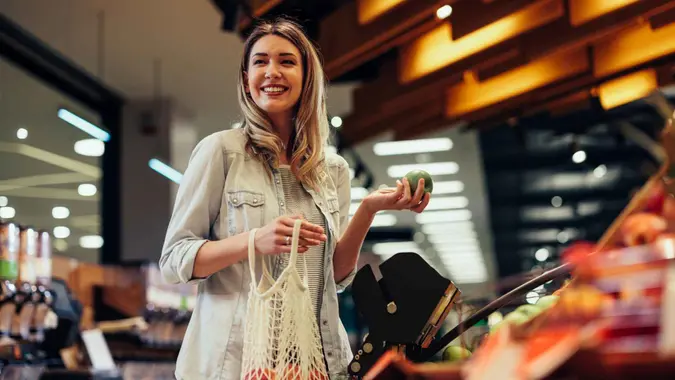 bernardbodo / Getty Images/iStockphoto
If there's ever a time in life to save as much money as you can on discretionary spending, it's when you're retired and living on a fixed income. That's especially true now with prices on many consumer items still high, even though overall inflation has been on a decline.
Saving money in retirement takes on added importance amid an ongoing rise in the average life span. It's not uncommon for seniors to live another 25 to 30 years after leaving the workforce, which puts a premium on squeezing every nickel you can.
To help seniors cut down on spending, the AARP recently published an updated guide on "99 Great Ways to Save" on everything from food and energy costs to travel, entertainment and home repairs.
Here's a look at some of the AARP's tips on how to save on groceries, gas, utilities and more.
Groceries
Get grocery items for half price. According to the AARP, the Flashfood app works with grocery stores to offer deals of up to 50% off items that are nearing their sell-by date. You can pay for the items through the app and pick them up at a designated zone in chains such as Giant, Stop & Shop and Tops.
Keep two grocery shopping lists. The first should include items you need for the coming week. The second is a running list of pantry items and household supplies that might run low in the next month or so. Buy those only when items are on sale, then get enough to last for a few months.
Eat leftovers before they go bad. Designate a shelf or bin in your fridge for leftover or overly ripe food to be eaten before other items. This will help ensure you don't have to toss food out.
Download your grocery store's app. Two-thirds of supermarkets have digital deals accessible only on their app, according to the AARP.
Take advantage of credit-card perks. If you have credit cards with cash-back deals, make sure you use them on the right buying categories. For example, you might have a card that offers 5% back on food purchases. Visit websites like CardRates and NerdWallet to compare your card with others.
Use coupons when ordering online. The average grocery shopper could save more than $300 per year by using online coupons for at-home purchases, according to CouponFollow survey. Install a browser extension such as Honey, Cently or Rakuten to automatically find and apply the codes for you at checkout.
Make Your Money Work for You
Cars/Gas
Buy big-box gasoline. Gas at Costco and Sam's Club can be 25 cents per gallon cheaper than at other gas retailers. That might save you more than the annual membership fee if you live nearby and drive lots of miles.
Keep your tires fresh. Worn tires can lower your gas mileage, meaning you'll have to fill your tank more often than you would with new tires. According to some estimates, fresh tires can improve fuel economy by as much as 11%.
De-junk your trunk. Every 100 pounds of extra weight in your car could reduce your gas mileage by up to 2%, according to the U.S. Department of Energy. Extra weight also will cause parts such as the suspension, shocks and brakes to wear out faster.
Use phone apps to find the cheapest gas prices. A number of gasoline apps can help you save money at the pump by steering you to the best prices in your area. Popular apps include GasBuddy, Gas Guru, AAA Mobile, Google Maps and Waze.
Don't change your oil just yet. Although it's a good idea to ensure your oil gets changed regularly, you don't necessarily need to change it every 3,000 miles, as some suggest. Many newer cars use a synthetic oil that needs changing far less frequently.
Travel
Time your airline ticket purchases. Research shows that by booking domestic air travel 28 to 35 days before departure, you'll save an average of 10 percent compared with travelers who waited until two weeks or less before flying.
Go off-season. One of the best ways to save on travel is to go when everyone else isn't. Fewer travelers means lower prices at hotels, restaurants, car rental services, etc. You get the added bonus of avoiding traffic jams, long lines and crowded tourist areas.
Travel during the week. Along the same lines, if you travel on weekdays rather than weekends you're likely to score better deals on hotels and air fares. Some resorts offer discount prices on Sunday-through-Thursday packages.
Skip traditional car rentals. Car-sharing services such as Zipcar and Turo can often save money compared with traditional car rentals if you pick the one that suits your purpose. Zipcar members pay a monthly or annual fee with gas, 180 miles, maintenance and parking included. Turo, a peer-to-peer car-sharing marketplace, offers a variety of vehicles from sprinter vans to sports cars.
Make Your Money Work for You
Entertainment
Get group rates. If you're taking your kids or grandkids to a show or sporting event, you can save up to 50% by booking as a group. You might need to get a few families to go — it can take up to 20 people to qualify — but the savings are huge.
Hit happy hour. According to the AARP, you can save about 35% on food and 20% on drinks by dining during happy hour rather than peak dinner hours or later. Sites such as Happable.com can help you get details on happy hour deals at local restaurants.
Ask your library for a culture pass. Many public library systems have passes for free admission to museums and other cultural attractions. Check your local library's website or stop by the front desk for details.
Utilities
Use a toaster oven instead of a full-size oven. Granted, this isn't always possible — especially if you're roasting a turkey or some other item that won't fit into a toaster oven. But in all other cases, you'll slash energy use — and utility bills — by using a toaster oven instead of a conventional oven. Toaster ovens also preheat much faster than full-size ovens, which helps you save time.
Install a tankless water heater. Tankless heaters cost about the same as traditional water heaters but also last longer and are up to 34% more energy efficient. These are ideal for empty nesters who don't need as much hot water as large families.
Unplug power vampires. Leaving your unused phones, tablets and other cordless devices plugged into chargers wastes electricity and money. You can save an average of $100 a year by unplugging them. The same holds true for TVs, cable boxes, game consoles and computers.
Make Your Money Work for You
More From GOBankingRates