7 Quality Items That Bargain Hunters Can Find at Target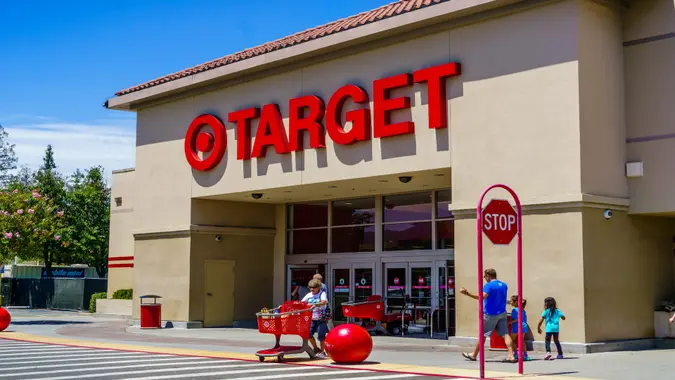 Sundry Photography / iStock.com
Who doesn't love a great bargain? While Target does often have some awesome deals on everything from home furnishings to clothing and groceries on a regular basis, it's probably not the first place you think of when you think of bargain hunting.
However, you might want to reconsider, because savvy shoppers can, in fact, find big deals at this big-box store with a little help from experts, who find the best Target deals around.
Threshold 300 Thread Count Ultra Soft Fitted Sheet
There's nothing that says luxury quite like high quality sheets, but paying luxury prices can be a real bummer. According to Julie Ramhold, consumer analyst with DealNews.com, "These Threshold sheets are super comfortable and fit mattresses that are anywhere from 9 to 18 inches deep, which is an excellent range. They come in a variety of great colors, so you can branch out beyond just white and beige, as well as in sizes twin to California king."
The even better news is that they're super affordable, starting at just $15 (queen sheets are $25), so Ramhold says "there's literally no good reason not to get some." She adds, "Even if you only need some spare sheets for guest beds, the value of these sheets can't be beat."
Method Hand Soap
Method is a cleaning supply company known for products made with more natural scents and less harsh chemicals. It's great for home and office use, especially for sensitive skin or if you have to clean frequently.
Not only will you keep surfaces, and your hands, sparkling clean, you can do so for a great price. According to the Krazy Koupon Lady, Method's liquid hand soap is on a deal — get four of them for less than $11 at Target.
Make Your Money Work for You
Powerade Sports Drink 8-Pack
If you have kids in sports, dance or other activities, or are an active person yourself, you might get tired of water as the only choice for replenishing thirst. Instead, refuel with tasty electrolytes that aren't loaded with a lot of sugar by checking out this awesome deal on 8-packs of Powerade sports drinks.
They are only $3.37 at Target right now, which is just $0.42 cents per bottle, according to the Krazy Koupon Lady.
Brightroom Modular Storage Boxes
Are you feeling a spring cleaning jaunt coming on? Consider simplifying your organization process with these Brightroom modular storage boxes.
Ramhold loves this product, which comes in small, medium and large and in clear or gray tint. "Some sizes may also have white boxes available, but those seem to be harder to track down and I'm not sure if they're being restocked or not. These boxes are priced at $3, $4, and $5 depending on the size but the great thing about them is that the lids are universal and because of their design, the boxes can easily be stacked no matter what size you opt for."
Brightroom 6-Piece Plastic Drawer Organizer
Brightroom just knows how to offer great deals for home goods. Another of their products that Ramhold raves about as a bargain is this 6-piece plastic drawer organizer.
"This kit comes with six different sized containers for just $10 so if you aren't sure how you want to organize items, this makes the task very convenient. It's especially ideal for bathroom and desk drawers, and they're easy to wipe clean too so you don't have to worry about them looking grubby after years of use," she explains.
Brightroom Two Tiered Slide Out Organizer
While we're on a Brightroom roll, check out their two-tiered slide out organizer. Ramhold says you can probably put this setup anywhere, but she found it especially useful under the bathroom sink to help organize cleaners and extra products that aren't used on a daily basis.
Make Your Money Work for You
Best yet, "It's only $20 and it's available in 3 finishes, so if you want to leave it out, there's a finish that'll fit your decor."
Disney Activity Table & Chairs Set
An incredible deal right now that will delight your child and improve the look of a bedroom or playroom is this Disney activity table and chairs set. It's usually $49.99, but right now it's on sale for $14.24 at Target, according to the Krazy Koupon Lady.
Your imaginative child or children can perform arts and crafts, do homework or enjoy snacks with friends — at an incredibly affordable price for you.
More From GOBankingRates