Ride Like Tour Pros on a Budget: Bike Steals and Deals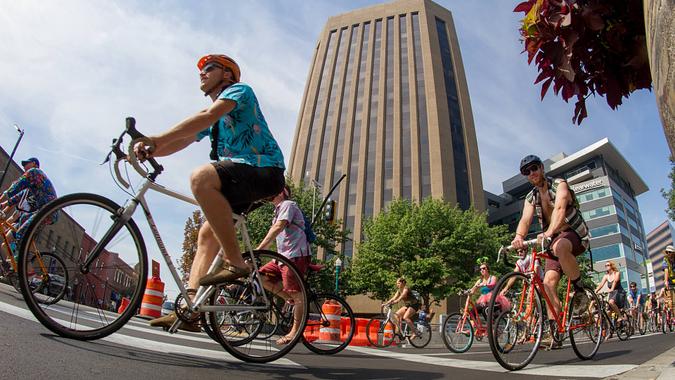 txking / Shutterstock.com
Bicycle pros ride top-of-the-line bikes with features and technology that make them almost as expensive as a small car, prices the average bike rider doesn't likely have the funds to pay for. According to Business Insider, most Tour de France riders, probably the most famous bicycle race in the world, have not one but three bikes at their disposal for the 21-day race. These bikes often weigh as little as 15 pounds for speed and flexibility. If you would like to have just one bike that is of Tour de France quality, but won't break the bank, here are several bikes you can choose from, and how they compare to the ones the pros ride.
Check Out: 15 Times You Should Splurge, Settle or Skip When Shopping
Budgeting: The 50/30/20 Rule: Is It the Best Budgeting Method?
SCOTT Foil 10: $3,899
If you like to ride fast and smooth but you're not necessarily into racing, check out the Scott Foil 10 at $3,899. It's comparable to the SCOTT Foil Team issue, which is almost twice as expensive at $7,899. According to Scott Sports, what separates these two bikes is the drivetrain, wheels and handlebar. Features include fully integrated cable routing and SRAM force eTap drivetrain. The frame, however, is exactly the same (other than color) as its more expensive version.
Make Your Money Work for You
Cannondale Super Six Evo 3: $2,999
In bicycle terms, if you want a smooth and fast ride, you want a bike with a good "stiffness-to-weight ratio." This means both that you get good efficiency out of the power you put into the bike with your feet, and that your bike handles well on the road, without any surprises. The Cannondale Super Six Evo, at just $2,999, is said to have the best stiffness-to-weight ratio ever recorded, according to the bicycling website Active.com. Additionally, it's a bike built for hills as well as flat roads. And you'll save a massive amount of money over its sibling the Super Six Evo Hi-Mod DurAce D12, which is a hefty $11,000.
Save: 23 Secret Ways To Save Money on Amazon
Specialized SL4 Tarmac Comp: $2,950
Specialized is one of the most well-known and sought-after bike brands among pros and amateurs. The Tarmac, a road bike, comes in a number of shapes and sizes, but the SL4 has a frame shape that is similar to the Pros' S-Works Tarmac but made with a less expensive kind of carbon fiber, according to the bicycling website Active.com. It is still light and stiff (an important feature in road bikes) but won't hurt your bank account when you buy it. The professional version runs a pricey $9,500. The SL4 is only $2,950. The frame is light and stiff enough to compare to the S-Works Tarmac the Pros ride.
Make Your Money Work for You
Read More: Cheap Places To Travel On $100 a Day Or Less
Credit: 10 Credit Cards To Consider for Travel Rewards
BMC SLR 02: $2,699
BMC bikes are made for racing by design. The BMC SLOR o2 is a remodeled version of the o1 Durace. Not only have they updated features on the bike itself, the 02 comes in at $2,699 versus the 01's whopping $9,999. According to Active.com, it's especially well-designed for climbing hills and riding over long miles.
If all of these bikes are still out of range, most of these companies have less competitive models available for significantly lower prices yet.
More From GOBankingRates
Last updated: June 28, 2021