Smartphones, Cookies and Other Items That Got Cheaper in 2021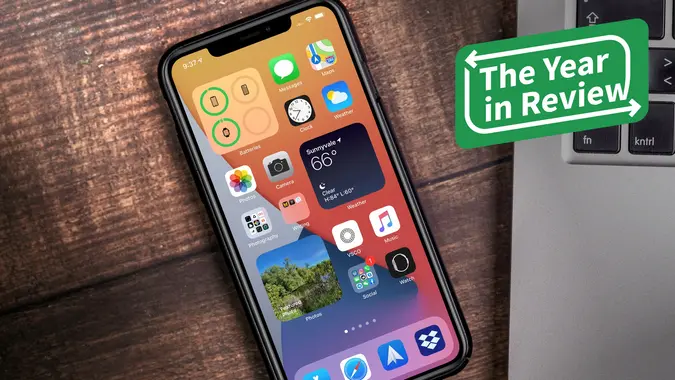 yalcinsonat1 / iStock.com
In 2021, there weren't a whole lot of headlines about the cost of things going down. It was, after all, a year where inflation rose to the highest level in decades and some prices soared so high that it was hard to talk about anything else.
Save More: 4 Costco Items That Have Remained Cheap for Years
For Your Shopping: 21 Items That Are Always Cheaper at Costco
Even so, a handful of things actually got cheaper over the last year — but not many.
According to the most recent data from the Consumer Price Index (CPI), which economists use to measure the rate of inflation, the following items — and almost nothing else — dropped in price between October 2020 and October 2021.
Check Out: Target, Amazon and 4 More Retailers That Will Reward You for Turning In Your Old Stuff
Cookies
In the CPI's enormous "food at home" category, almost nothing got cheaper this year. Cookie aficionados got some good news, but only a little. Not one other item in the "cereals and bakery products" category did anything but go up in price.
Make Your Money Work for You
Frankfurters
Anyone who visited a grocery store in 2021 knows that the meat aisle was no fun for shoppers on a budget. The price of bacon rose by more than 20%, likewise for beef and veal. In fact, in the entire category of "meat, poultry, fish, and eggs," only franks got cheaper.
Good To Know: Unplug These Appliances That Hike Up Your Electricity Bill
Cheese and Related Products
Just as with the bakery and meat categories subcategories, only one entry in the entire "dairy and related products" category went down in price. That would be cheese and related products — despite the fact that the milk that goes into cheese got more expensive.
Lettuce
Lettuce was one of only two products from the "fruits and vegetables" category to experience a price drop in 2021. Everything else — from potatoes and tomatoes to canned fruit — went up in price. It was the only item, period, among "fresh fruits and vegetables."
Find Out: 50 Ways To Live the Big Life on a Small Budget
Frozen Vegetables
The only other entry in the "fruits and vegetables" category that gave consumers a break was frozen vegetables, but the price decrease was only half of that enjoyed by lettuce lovers.
Make Your Money Work for You
Frozen vegetables and the other four items listed so far in this piece are all there is for the CPI's entire sprawling "food at home" category. Everything else — from alcohol and nonalcoholic beverages to snacks and spices — got more expensive.
Check Out: 16 Ways To Save on Groceries Now That Prices Are Rising
Food at Elementary and Secondary Schools
In the "food away from home" category, everything seemed to get more expensive — the cost of restaurants, fast food and even vending machines increased by significant margins. Oddly, it got much, much cheaper to eat at school.
Dishes and Flatware
Bypassing the entire "energy" category, where the cost of literally everything went up, it's time to move onto the "household furnishings and supplies" category. Despite the fact that the segment includes furniture and bedding, appliances and tools, only dishes and flatware were cheaper to buy compared to the year before.
Where You Should Spend: 11 Things Experts Say You Should Never Skimp On
Make Your Money Work for You
Medical Care Commodities
The list then skips over the entire "apparel," "footwear," "jewelry" and "transportation" categories — where every single entry got more expensive — and moves onto "medical care commodities." This category saw an overall price decrease thanks mostly to a drop in the price of prescription drugs and medicinal drugs.
Smartphones
Despite all the talk about the chip shortage and the impact it had on the price of consumer electronics, smartphones offer some of the best news for consumers in the entire CPI. The price of calculators and other "consumer information items" also saw steep price drops despite the increased costs of things like computers and smart home assistants, but smartphone prices fell farthest.
Related: How To Save Money on All Your Monthly Expenses and Bills
Health Insurance
In the broad category of "medical care services," only the price of health insurance went down. Trips to the doctor, dentist and optometrist all got pricier, as did hospital visits, nursing home care and inpatient and outpatient services. 
More From GOBankingRates
Make Your Money Work for You