Spring Cleaning Supplies: 5 Best Deals at Target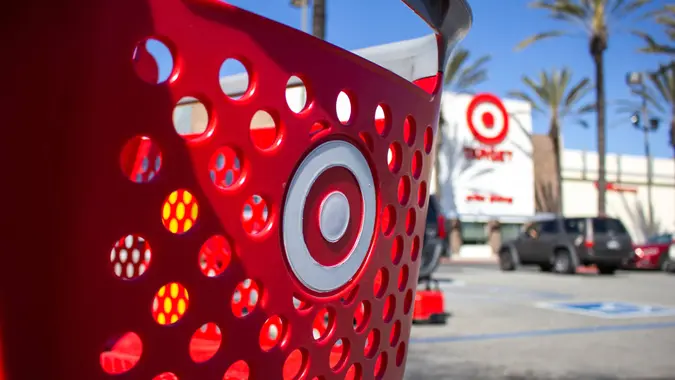 David Tonelson / Shutterstock.com
Brighter, fairer weather is upon us, which means it's time for spring cleaning. From clearing cobwebs out of dark corners to washing your windows and dusting overhead lights, it's time to give your home a thorough scrub down of sorts.
Costco's Best Deals: Employee Reveals 10 Standout Buys For Your Money
More: 3 Signs You're Serious About Raising Your Credit Score
Once you take inventory of what you need to make your home sparkling clean, take a look at these five great deals on spring cleaning supplies at Target.
O-Cedar EasyWring Mop and Bucket System
"This product has gone viral on TikTok for making the chore of mopping much easier and Target has both the basic iteration for $34.99 and the RinseClean iteration for $49.99," said consumer analyst Julie Ramhold with DealNews. "The difference between the two is that the more expensive one has separate chambers for clean and dirty water, which should help to cut down on the number of times you have to change the water out when mopping. This makes the more expensive one likely more suitable for larger areas, but if you're only having to take care of a small room, the basic one may be just fine."
Make Your Money Work for You
Ramhold added, "While these are the regular prices, if you have a RedCard, you can save 5% on your purchase, though these items may also go on sale with the prospect of spring cleaning looming. Given that stores like Amazon and Walmart are basically charging the exact same prices for these items, Target wins out because the RedCard offers a little savings."
up & up Disinfecting Wipes
Disinfecting wipes are great to have on hand to wipe up spills or messes in the bathroom or kitchen — or to disinfect toilet seats and doorknobs. You can even use them to wipe off your phone.
Take Our Poll: What Do You Plan To Use Your Tax Refund For?
"You can get 300 total wipes in this package for just $10.99, whereas if you opt for Clorox wipes, you'll end up paying $12.99 for just 225 wipes," Ramhold said. "Once you break the prices down — around 4 cents per wipe for Target's brand compared to 6 cents per wipe for the name-brand — you're getting one more container and more wipes overall for less than what Clorox costs. In fact, if you opt for the Clorox pack that has four canisters and 300 wipes, you're going to shell out $16.79, which is significantly more than the store-brand same item."
Make Your Money Work for You
Everspring Cleaning Cloths
"If you're moving away from using paper towels for cleaning, this multipack of reusable cleaning cloths is $12.99 for six cloths," said Ramhold. "You'll get two each of different textures so you can tackle various cleaning jobs, and then you just have to toss them in the wash and they'll be good for your next cleaning frenzy."
Rubbermaid Power Scrubber
"This is going to be best for those who want to do a truly deep clean for their spring cleaning. These power scrubbers are usually good for cleaning things like grout and other fine details around the home," Ramhold said.
"This 2-pack at Target is $21.99 but as with everything else on this list, you'll save 5% if you have a RedCard to pay with. And since it's a 2-pack, you can use one head for the bathroom and one for the kitchen and not worry about cross-contamination, even if you clean these brushes super well."
Clorox ToiletWand Kit
"Some people like reusable toilet brushes and others find them pretty gross to keep around," Ramhold said. "These ToiletWand kits are kind of a mix in that the heads are disposable and can just be tossed in the trash after using. One thing about shopping for these items at Target is that if you time it right, you can save on the already affordable price."
Make Your Money Work for You
She continued, "This particular kit is $12.39 and comes with the handle, caddy and 6 disposable scrubbing pads, but right now, you can save 25% on this item by being a Target Circle member (it's their free loyalty program). Tack on an extra 5% savings via a RedCard, and this is a hard deal to beat."
More From GOBankingRates
Make Your Money Work for You