Grills, Patio Furniture and 5 Other Items You Should Stop Buying in Spring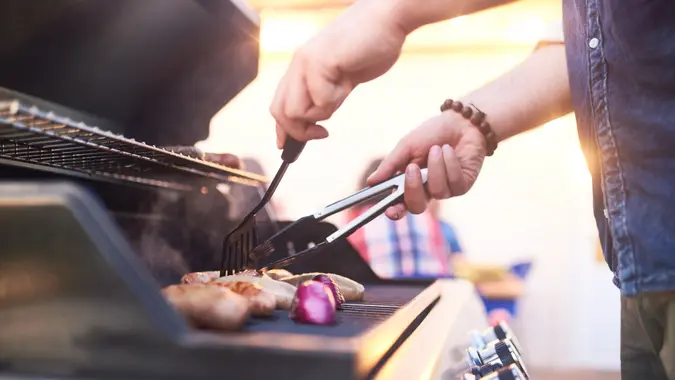 mediaphotos / iStock.com
Spring is the perfect time to shake things up and start fresh, including your spending habits. Why not save some dough by nixing the items that just aren't worth the splurge this season? You'll be able to put that extra cash toward something more exciting.
Costco's Best Deals? Employee Reveals 10 Standout Buys for Your Money
See: 3 Signs You're Serious About Raising Your Credit Score
When the market heats up in the spring, prices on certain items can soar. But don't let that get you down. By staying on top of the market trends, you can make savvy shopping choices and potentially save big bucks. Plus, waiting a bit to make certain purchases can pay off in the long run when prices drop.
With a little bit of planning and foresight, you can make your money go further and get the most bang for your buck. Check out the tips below to see what items you should steer clear of buying this spring and some ideas for other options that won't break the bank.
Grills
This might be a surprise but a classic spring/summer item such as a grill should not be bought in the spring.
Make Your Money Work for You
"The demand is high, so prices are high," said Andrew Meyer, CEO of Arbor. "Instead, you should buy a grill at the end of summer or early fall. You may have to store it until the spring depending on your patio situation, but the savings are worth it."
Meyer said that Labor Day sales usually feature grills for hundreds of dollars off. "It makes sense to wait until after the Fourth of July at the very least to ensure you're not paying full price." You can save hundreds of dollars by buying grills in the off-season and it would be wise to wait until later in the year to get one.
Live Richer Podcast: Scamdemic – Don't Fall Victim to These Money Scams
Lawn Care Equipment
"You may want to avoid buying lawn care or gardening equipment in the spring if you can," said Rex Freiberger, CEO of Gadget Review. "Springtime is when people get out and start working on their yards and gardens again, and that means that demand for equipment is at its highest and thus prices can be hiked up."
Freiberger said that late fall and winter, especially Black Friday sales, are the time to stock up on lawn care equipment and save yourself hundreds of dollars in the process.  
Make Your Money Work for You
Lingerie
This might be an odd one, but you shouldn't slip into any new undies until the holidays.
"You shouldn't buy lingerie in spring because it will be available for a lesser price later on," said Elice Max, a shopping analyst and co-owner of EMUCoupon. "A bra that will be available in a $38 to $48 price range in spring will be in the range of $25 to $35 come November. This means you will save at least $11 if you just delay buying lingerie until the end of the year." 
Patio Furniture
When the weather starts to warm up, you might want to head to the nearest big-box store and grab some cute lawn chairs, but now is not the time. "You might notice when spring rolls around that there aren't as many deals on patio furniture even though this is the typical time you might be in the market for some," said Sean Gilbert, founder of Select Wealth Managers. "This is because most retailers keep the prices at regular cost, or even mark them up as they know consumers are looking for some for their home."
Make Your Money Work for You
Gilbert recommends waiting until winter to find some major discounts at retail stores. This is when they're trying to clear out old stock to make way for cold-weather goods. "Instead of paying upwards of $1,500-$2,000 for a basic patio furniture set, you could be spending closer to $800 when you buy before or after the springtime."
Household Appliances
Want a new dishwasher? Better wait a beat. "The best time to buy home appliances is at the end of the year, from September to December," said Tracy Cheng, shopping expert and founder of fashion and lifestyle blog Girl Shares Tips. "Because at that time, various brands will launch new models, and many old models will be sold at a discount, so at that time you will buy the last year's models at a lower price."
Cheng said you can expect savings in the hundreds of dollars if you hold out for now and wait for the holiday sales. 
Spring Clothing
Looking for a spring refresh for your wardrobe? Maybe it's best to look at what you already have with new eyes, instead. Cheng said that temperatures in spring and fall are usually pretty similar so why not just break out your outfits from last fall and freshen them up with accessories?
"Although it may be alluring to purchase the newest spring trends as soon as they appear in stores, costs are usually highest at the start of the season," said Joseph Counts, CEO and founder of HiStylePicks.  "You can save up to 50% off by waiting a few months for the end-of-season bargains."
Watersports Equipment
Kayaks, canoes, jet skis and other water-based craft are best purchased in the fall. "Watersports equipment [offers] many discounts [that] can be had in the fall and buying off secondhand marketplaces," said Gary Grewal of Financial Fives.
Grewal said you can find savings in the thousands of dollars on these items if you wait until the off-season to purchase.
More From GOBankingRates
Make Your Money Work for You