Stock Up on These 7 Costco Items Now To Save Money Throughout 2023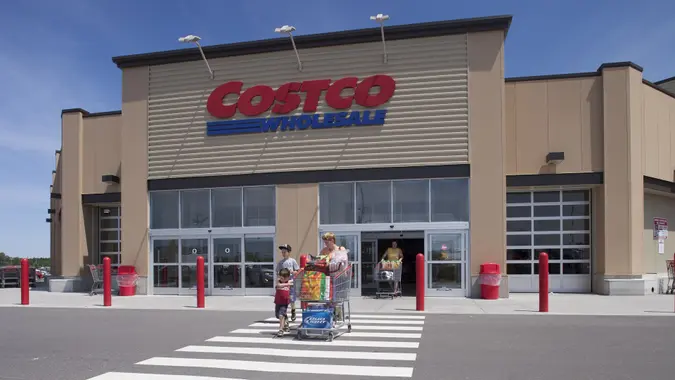 YvanDube / iStock.com
The new year has arrived, and you're ready to put your Costco membership to good use. You joined the warehouse club for its great deals, and you want to make sure you're taking full advantage of them in 2023.
Specifically, you're hoping to stock up on some of the retailer's notoriously low-priced items now to make sure your shelves are filled with the essentials. This will allow you to save money throughout the year because it ensures you won't run out of these items and end up replacing them at another retailer that might be more convenient but also pricier.
Tips: 10 Things To Stop Buying in 2023
See: How To Get Free Gift Cards From Your Everyday Purchases
Find Out: 11 Grocery Items To Buy at Dollar Tree
When planning your yearly budget, Rebecca Gramuglia, consumer expert at TopCashback.com, said it's important to consider which items will be repurchased.
"For example, you know that you'll always need toothpaste," she said. "That is why if you are purchasing in bulk, regularly-used and non-perishable goods are great to stock up on at wholesale clubs."
Make Your Money Work for You
When shopping, she emphasized the importance of comparing cost per unit to make sure you're getting the best deal. However, she noted that buying in bulk isn't always the right option if more of a certain product isn't the best deal for you.
"If you do decide to buy large quantities of an item, whether it's fruit snacks or face wash, always check the expiration date to make sure you'll have enough time to consume [and/or] use the product," she said. "Otherwise, you will need to throw it away and therefore it becomes a waste of money."
Getting ready to head to Costco? Here are seven different types of items to stock up on now to save money this year.
Diapers
A baby essential that adds up fast, Gramuglia recommended buying Huggies Little Movers Plus diapers at Costco. Sold for $41.99 per package, these diapers are available in sizes three through seven.
Prices vary by size, but at Walmart, the same item in a size four costs $66.99 and $74.98 for a size five.
"By purchasing at Costco, you get the wholesale club price and a $10.50 manufacturer's discount," she said. "If you chose to buy the diapers at Walmart, you would be paying approximately $25 more."
Make Your Money Work for You
Personal Care Products
"If you have your tried and true products, look to see if places like Costco offer larger sizes that you may not be able to find at the drugstore," Gramuglia said.  
For example, she noted that Cetaphil Gentle Skin Cleanser costs $17.99 for two 20-fluid-ounce containers at Costco. On the other hand, if you purchased just one bottle of the same-sized cleanser at Target, you'll pay $14.49.
Take Our Poll: What's the First Thing You Would Do If You Won a Big Lottery Jackpot?
Charmin Ultra Soft Bath Tissue
A household essential, Marie Clark, Costco expert and editor of Cost Contessa, said Charmin Ultra Soft Bath Tissue is currently on sale for $5.80 off the regular price.
The sale runs through Jan. 22, allowing you to score a pack of 30 jumbo rolls for $24.19. She said this is a great item to stock up on because it doesn't expire.
Make Your Money Work for You
"This is the toilet paper that I use at our house and I highly recommend purchasing it now in bulk while it's on sale…if you have room to store it," she said.
Cascade Platinum Dishwasher Detergent Actionpacs
Currently on sale for $20.39 — a savings of $5.50 — Clark recommended stocking up on 92-count packages of Cascade Platinum Dishwasher Detergent Actionpacs.
"These work great and are already a good price at Costco, but with $5.50 off it's a super deal," she said. "Plus, they don't take up a lot of space, so definitely a good one for stocking up and saving money throughout the rest of the year as you use them up."
Canned Goods
Costco has a great selection of canned goods with everyday low prices, said Andrew Lokenauth, founder of BeFluentInFinance.com.
"This includes items like canned vegetables, fruits, beans, and soups," he said. "Canned goods have a long shelf life and can be a great option to keep stocked up in your pantry for those busy weeks when you don't have time to cook from scratch."
For example, Costco sells a package of six, 13.66-fluid-ounce cans of Thai Kitchen Organic Coconut Milk, Unsweetened for $14.99, but if you shop at Kroger, you'll pay $4.99 for just one can.
Grains and Legumes
More pantry essentials, Lokenauth recommended taking advantage of Costco's everyday low prices on grains and legumes.
"This includes items like rice, quinoa, oats, beans and lentils," he said. "Grains and legumes are a great source of plant-based protein and can be a cost-effective way to stretch your food budget."
For example, a 4.5-pound bag of Kirkland Signature Organic Quinoa costs $10.99 at Costco, while a 4-pound bag of O Organics Organic Quinoa is more than double — $24.99 — at Safeway.
Baking Ingredients
Another category with always low prices, Lokenauth suggested picking up baking items to have on hand in your pantry.
"This includes items like flour, sugar, baking powder and yeast," he said. "Baking ingredients have a long shelf life and can be a great option to keep stocked up in your pantry for those times when you want to bake from scratch."
For example, a 32-ounce container of Red Star Active Dry Yeast costs $7.49 at Costco, but the same exact item is priced at $14.92 on Amazon.
Strategically purchasing these items from Costco now can allow you to save big throughout 2023. Whether they're currently on sale or just always priced lower than competitors, having these products at your disposal is a decision you likely won't regret.
More From GOBankingRates
Make Your Money Work for You