Target vs. Walmart: Which Store Saves You More Money?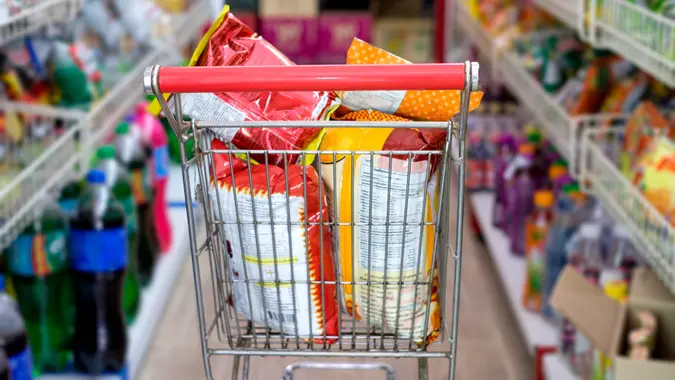 Mumemories / iStock.com
When we think of the greatest rivalries in history, they usually don't involve us pulling out our wallets. But when it comes to the two great department store kingpins – Target and Walmart – choosing which one is right for you could save you thousands.
Find Out: 8 Items To Stop Buying at Grocery Stores If You Want To Save MoneyMore: 7 Things You Should Always Buy at Garage Sales
In this ultimate money-saving showdown between Target and Walmart, we'll explore various features offered by these retail giants to help you make the most of your hard-earned dollars, and help you choose which dog wins the fight.
Target's RedCard
Target's RedCard is a popular option for frequent shoppers. By signing up for the RedCard, whether it's a debit or credit card, you unlock various benefits, including an extra 5% discount on all purchases, free shipping for online orders, and exclusive access to special promotions and sales events. Utilizing the RedCard can lead to significant savings over time.
Walmart's Savings Catcher
Walmart's Savings Catcher is a convenient feature available through the Walmart app. It automatically compares the prices of eligible items you purchased at Walmart with local competitors' prices.
If a lower price is found, you receive the difference in the form of an eGift card. This hassle-free price matching tool ensures you're always getting the best deal available.
Target's Cartwheel and Wallet
Target's Cartwheel app (recently integrated into the Target app) allows users to access digital coupons and discounts on a wide range of products. By scanning barcodes in-store or entering your phone number at checkout, you can apply these savings instantly.
Target's Wallet feature further simplifies the checkout process by allowing users to make mobile payments with their smartphones.
Make Your Money Work for You
Walmart's Pickup and Delivery Services
Walmart has expanded its pickup and delivery services to provide customers with added convenience. With Walmart Grocery Pickup, you can order groceries online and have them loaded directly into your vehicle at a designated pickup location.
Walmart's Delivery Unlimited subscription offers unlimited grocery delivery for a monthly or annual fee, making it a convenient option for busy households.
Target's Designer Collaboration
One aspect that sets Target apart is its renowned designer collaborations. Target frequently partners with high-end designers to create exclusive, limited-edition collections at affordable prices.
These collaborations allow shoppers to access stylish and on-trend products without breaking the bank. From clothing and accessories to home decor, Target's designer collaborations offer unique value.
Walmart's Rollbacks and Everyday Low Prices
Walmart is known for its commitment to everyday low prices. With a vast range of products, Walmart consistently offers competitive pricing. Additionally, the store frequently rolls back prices on popular items, providing customers with even more savings.
Walmart's emphasis on affordability makes it a go-to option for budget-conscious shoppers.
Target's In-House Brands
Target's in-house brands, such as Cat & Jack for kids' clothing and Opalhouse for home decor, offer a blend of quality and affordability.
These brands provide shoppers with a wide selection of products that meet high standards while maintaining competitive prices. Exploring Target's in-house brands can lead to significant savings without compromising on style or quality.
Make Your Money Work for You
Walmart's Savings Spotlight
Walmart's Savings Spotlight is a dedicated section on their website that highlights daily deals and special offers across various product categories. From electronics to household essentials, these limited-time promotions provide additional opportunities to save.
Checking the Savings Spotlight regularly can help you snag fantastic deals on items you need.
While both Target and Walmart offer competitive pricing and a wide range of products, their unique features set them apart from each other. Target's RedCard, Cartwheel, and designer collaborations provide exclusive discounts and access to affordable high-end products.
On the other hand, Walmart's Savings Catcher, pickup and delivery services, and focus on everyday low prices ensure convenience and consistent savings.
I Work at Costco: Here Are 12 Insider Secrets You Should KnowSee: 22 Side Gigs That Can Make You Richer Than a Full-Time Job
By understanding the different benefits offered by each store, you can tailor your shopping experience to maximize your savings and make the most of your budget.
The article above was produced via automated technology and then fine-tuned and verified for accuracy by a member of GOBankingRates' editorial team.
More From GOBankingRates