The Single Best Thing To Buy at Target This November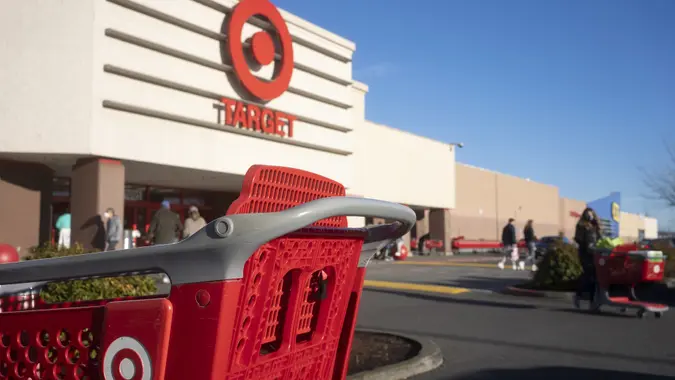 hapabapa / iStock.com
The holiday season is in full swing at Target right now, with cozy throw blankets, Christmas trees and other decorations, pajamas for the whole family and a 25% off toys deal for Circle members.
Whether you're prepping for a Thanksgiving feast, starting your holiday shopping, or refreshing your wardrobe for fall, you'll find so much to love. These are some of the items recently seen at Target rated as must-haves this month — including the No. 1 find you must add to your holiday home decor.
Runner Up: Wild Fable Tech Touch Knit Gloves
Do you often lose your gloves? Are you looking for a pair of affordable yet comfy gloves that also let you use your phone while you're wearing them?
Target's Wild Fable brand delivers with these Tech Touch Knit gloves in 10 colors for just $5, with an additional 30% savings for Circle members right now. At this price, you can buy a pair to match every outfit. And if they decide to run off to join the land of missing socks, mittens and other winter accessories, you're out less than five bucks. These gloves also make a great stocking stuffer, grab bag gift, or even a gift for teacher paired with a Target gift card.
Runner Up: Threshold LED Gel Light Up Scented Candle (Fireside Glow or Forest Fir scents)
TikTok users love Target and often share finds that go viral. TikToker Olivia Messina shared one of the month's hottest finds and we're rating it as one of the top three products to buy at Target right now. The Threshold LED Gel Light Up Scented Candle has wax and a wick in the center of gel embedded with LED lights. When you light the candle, the LEDs emit a soft glow.
Make Your Money Work for You
Unlike other LED candles, this candle uses real fire. It's important to point out the gel and LEDs don't mix with the flame as the candle is in its own little case. It sounds like magic but it's just science that creates a magical mood in any room of your home.
TikToker Vanessa Soto recently reviewed the candle positively on her channel, but some viewers commented that they didn't like the smell of the Forest Fir variety. Soto described it as having a "light Christmasy scent," but also said she "didn't buy it for the scent."
In addition to the Forest Fir scent, there is also a "Fireside Glow" version. Reviewers on Target.com described the smell as everything from "fine, barely there really" to "delightful." You'll have to run to Target to decide for yourself.
For just $10 each, it's worth grabbing a few of each style/scent, as these candles would look great on an end table, a mantel, or as part of a centerpiece on your table.
Winner: Wondershop Gingerbread Holiday Themed Pillows
With so many great products for fall and winter at Target right now, it wasn't easy to pick a winner. But shoppers everywhere are raving about these Wondershop Gingerbread Playhouse holiday pillows.
Perfect for a bedroom, living room couch, or even a playroom or family room, at just $10 you'll want to grab more than one in different styles and cluster them to create a cozy feel. Some of the pillows are reversible, so you can give any room a fresh new look in seconds.
Make Your Money Work for You
The weiner dog and white cat plush pillows are shaped like the animals they represent — making them the most popular choices and potentially hard to find at your local Target. So, grab them if you see them!
Other unconventional shapes include the reversible gingerbread house to polka dot pillow, a Santa to snowman version and a Christmas countdown pillow. There are also conventional square or rectangular pillows.
Pair the pillows with a coordinating Holiday Plush Christmas Throw Blanket for just $7 (originally $10) to complete the look. The combination is perfect for bingeing holiday Christmas specials or Hallmark movies.
More From GOBankingRates