10 Things You Should Never Buy for Retail Price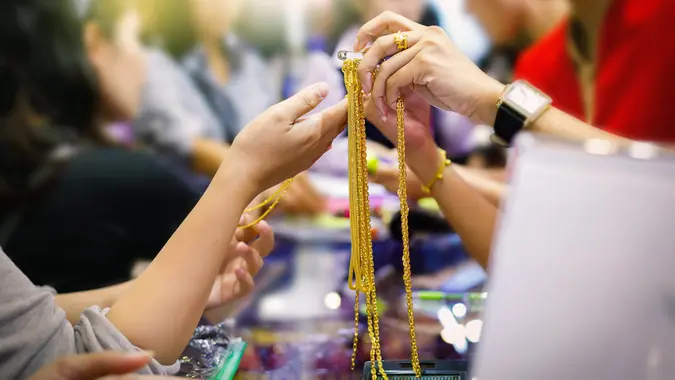 Pixfly / Getty Images/iStockphoto
In a world where frugality and financial consciousness are increasingly valued, successful individuals have honed their skills at securing the best deals and maximizing their purchasing power. While many of us settle for paying full retail price, those with flush pocket books have discovered a myriad of ways to avoid paying top dollar for the products and services they want.
From cutting-edge technology to luxurious vacations, they have mastered the art of strategic spending. Get ready to revolutionize the way you approach your next shopping trip with these key insights and strategies that successful people employ to secure the best deals in any market.
Cars
Successful people never pay retail price for cars, according to Brian Davis, a real estate investor with Spark Rental. "The rich know that everything in life is negotiable," says Davis. "Every service, every commodity, even many physical products. And the trick to negotiation is finding other things the selling party wants, besides money."
When you're in the market for a new car, Davis recommended collecting internet quotes on the models you're interested in, researching the wholesale prices and being willing to walk away if the salesperson won't give you the deal you desire.
Furniture
You don't have to go through the trouble of putting it together yourself to save on new furniture. You can save money on furniture in a few different ways.
Make Your Money Work for You
For one, you can shop online to compare prices. You'll likely find better deals than you would in-store, as prices might be more inflated in a brick-and-mortar location. Check out warehouse sales for huge savings on big-ticket items.
Second, don't worry too much about brand names. Look-alike pieces can be just as comfy and well-made, without the inflated price tags. Last, don't forget to factor in shipping costs. Free shipping can really cut down the final number you're paying for a piece.
Looking to save even more and don't mind a little wear on your next couch or coffee table? Check out local listings on sites or apps like Craigslist, Mercari, OfferUp or Facebook Marketplace.
Formal Wear
From wedding gowns to award-show tuxes, plenty of outfits are meant to be worn by a single person only once. So why would you pay more for a one-time-use item than the other items in your everyday wardrobe?
Savvy shoppers know how to save on clothing they only plan to wear once. They might shop sample and trunk sales, compare prices online or sift through vintage racks in local boutiques. Better yet, they might opt to rent an eye-catching, designer piece instead of buying a new one.
Fashion company Rent the Runway lets customers rent special-occasion pieces for a fraction of the price of buying something new. Pro tip: It doesn't just rent clothes. The company even offers designer clothing for sale at greatly discounted prices.
Make Your Money Work for You
Pets
Want to adopt a furry family member without spending a fortune? Check out your local animal shelters. Adoption fees will run you anywhere between $25 and $300 on average. The costs vary based on the animal's breed, age, medical needs and various other factors.
Those costs are a fraction of what you'd pay when going through a breeder. A puppy that's an in-demand breed from a small litter, for example, might run you upwards of a few thousand dollars to take home. Though this pricing is definitely on the steep end, buying a purebred can cost anywhere from $500 to $3,000 or more — a big jump from the costs of adopting from a shelter.
Electronics and Electronic Gadgets
Successful people never pay retail for electronics and electronic gadgets for a variety of reasons. First and foremost, they understand the rapid pace of technological advancement, which often leads to the release of newer and more advanced models within a short span of time. By avoiding retail prices, they can wait for discounts, promotions or the introduction of newer versions to secure better deals.
Successful individuals are also resourceful in seeking alternative purchasing channels, such as online marketplaces, refurbished options or authorized resellers, where they can find competitive prices.
Air Purifiers
According to Milan Antonic of Air Purifier First, successful individuals have a knack for never paying retail when it comes to high-quality air purifiers. If you can exercise patience, the best time to make a purchase is during a Black Friday sales event.
This annual occasion offers exceptional discounts, with renowned air purifier brands like Levoit, Winix, Toshiba and more available at discounts of 40% or even greater. Black Friday provides the ultimate opportunity to secure the best deals on air purifiers, making it a highly anticipated time for savvy shoppers.
Make Your Money Work for You
Perfume and Cologne
Successful people never pay retail for perfume and cologne, because they understand the fragrance industry is highly competitive, with new scents being launched regularly. To avoid retail prices, they wait for promotional offers, discounts or the introduction of newer fragrances to secure better deals.
They're also great at exploring alternative purchasing channels, such as online retailers, duty-free shops or authorized resellers, where they can find competitive prices.
High-Quality Jewelry
Successful people recognize that the jewelry industry is full of significant markups, often making the retail price considerably higher than the actual value of the piece. To avoid retail prices, successful individuals can explore alternative avenues, such as auctions, estate sales and online marketplaces, where they can find unique and high-quality jewelry at more reasonable prices.
They also understand the importance of assessing the authenticity and value of jewelry and making informed decisions that protect their investment. The key here is research, research, research — go in prepared, and you're on the right track to save some dough on even the finest of jewelry.
Plants
According to Bryan Clayton, the Founder of GreenPal, there is a little-known fact that professional landscapers frequently rely on wholesalers for sourcing their plants and materials. These wholesalers provide them with top-quality, substantial plants and landscaping products at considerably lower costs compared to retail prices.
By tapping into these wholesale channels, landscapers can access an extensive range of high-quality items while enjoying significant savings. This insider knowledge allows them to deliver exceptional landscaping services without compromising on the quality of their materials, ultimately providing value to their clients.
Make Your Money Work for You
Kitchenware and Cooking Appliances
The kitchenware market is highly competitive, with various brands and models available. Individuals can take advantage of sales events, clearance sales or seasonal promotions to secure significant discounts on high-quality kitchenware and cooking appliances.
They also leverage their research skills and online platforms to compare prices and find the best deals from different retailers, as well as exploring alternative options, such as outlet stores, factory seconds or refurbished items, which offer substantial savings without compromising on functionality. 
More From GOBankingRates
Morgan Quinn and Kaitlin Willow contributed to the reporting for this article.